Dragons stay close in rematch before falling to Pikeville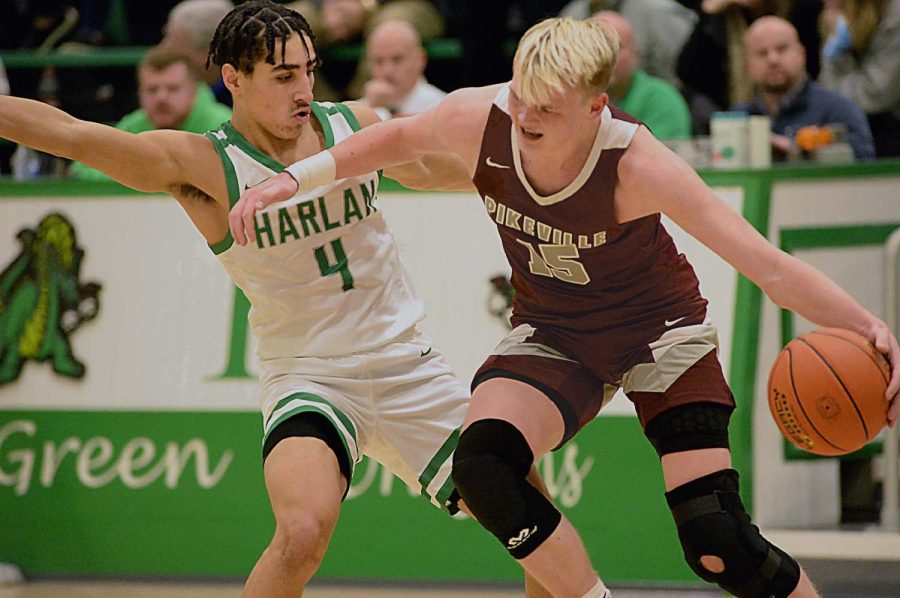 Coming off a 26-point loss last month at Pikeville, Harlan coach Derrick Akal was confident his Green Dragons would put up a much better fight in the rematch.
So was Pikeville coach Elisha Justice, who watched his team hang on after the Dragons had pulled within one with 6:42 left.
"We knew this one would be tough over here," Justice said after the 11-1 Panthers held on for a 63-60 win. "Everyone shoots better at home. We shot it extremely well at home and we expected them to shoot well here. That's a really good basketball team, one of the best in the 13th Region, so we knew we were in for a battle. My guys fought hard and found a way to win, even it was a little ugly."
"We obviously wanted to win the basketball game, but we made some mental errors and missed some easy shots in the last three or four minutes when we got it close," Akal said. "I thought we played hard, but Pikeville is a very good basketball team."
The Panthers, the 15th Region's top-ranked team, played without senior guard Laithan Hall, who scored 19 in the earlier win over Harlan. Senior forward Nick Robinson carried the Pikeville offense, hitting 12 of 13 shots in a 29-point effort.
"I thought we missed some shots early and that caused us to be a little timid, plus one of our best shooters wasn't here," Justice said. "Those guys did a great job defending us and preparing for us. Luckily, we found a way to get in the paint late in the game and found Nick. He is so good at finding the open spots around the basket and playing off these other guys. He has some really good hands and is ready to catch and finish before the defense can react. I've not seen many guys who do what he does."
"I wanted to run them off the 3-point line, and I thought we did a good job there. They really hurt us with 3-pointers over there," Akal said. "Robinson is good around the basket, and he got so many easy baskets. They do a great job of setting him up and finding him, and he's their leading scorer."
Pikeville focused its defensive efforts on Harlan guards Jordan Akal and Kaleb McLendon, face guarding both through much of the game. Akal was limited to 16 points and McLendon was held to two.
"We didn't get as many shots off as usual. They did a really good defensively," Akal said. "I told our guys there would be days like this. They are.a really good basketball team and they schemed well. They did a good job of limiting our good looks, but Jordan had some good looks and they just wouldn't go down. We were happy with the shots we got."
"Everybody will have off nights and we just tried to make it as difficult as we can," Justice said. "I know a couple of Jordan's shots went halfway down and came back out, so obviously we got the roll on that. We just kept fighting and are happy to win one ugly."
Junior forward Jaedyn Gist led the 9-5 Dragons with 21 points and 11 rebounds. Will Austin added 14 points, on seven-of-nine shooting, and eight rebounds.
Harlan took an early 9-6 lead on a 3 by Akal before Pikeville closed the period with a 7-0 run, sparked by two baskets from Robinson.
Alex Rogers provided a lift off the bench for the Panthers in the second quarter as he hit all three of his shots, including two 3-pointers, as Pikeville built a six-point lead and took a 33-30 advantage into the break.
Two straight baskets by Austin put Harlan back on top early in the third quarter, but Keian Warrix and Robinson led an 11-5 run as Pikeville built a 47-43 lead after three periods.
Free throws by Gist and Akal pulled Harlan within one before both teams went cold during a two-minute scoring drought. A 3-pointer by Lukas Manns helped Pikeville gain some breathing room on the way to building a six-point lead. Robinson hit three straight shots in the final 2:30 as the Panthers stayed on top.
Harlan returns to action Saturday at home in the 13th Region All "A" Classic. The Dragons will play Red Bird at 7 p.m. in the final quarterfinal game of the day.
———
Carter Hurley scored 14 points and Charlie Fitzer added 12 as Pikeville claimed 1 61-34 win in junior varsity action. Ian Onkst and Mason Wells chipped in with 10 each.
Matthew Pennington led the 0-2 Dragons with 12 points. Trent Cole tossed in seven. Nate Montanaro and Connor Daniels scored five each. Darius Akal and Derek Pruitt scored two each. Jake Brewer chipped in with one.