Bears win shootout against defending Tennessee state champs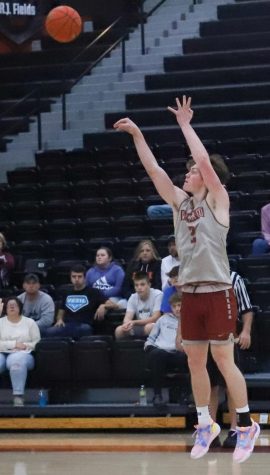 While it won't count on their season record, the Harlan County Black Bears earned an impressive victory on Saturday in their opening scrimmage of the 2022-2023 season with a 100-84 win over visiting Dobyns-Bennett, the defending 4A Tennessee state champion.
Offense dominated the scrimmage as both teams put on impressive shooting displays with Harlan County grabbing the lead early in the opening quarter and holding off numerous runs by the visiting Indians, who brought several key players back from a team that won 32 games last year and defeated Knoxville Bearden in the state finals.
Junior guard Trent Noah, an all-stater last year, poured in 40 points to lead all scorers. Senior guard Daniel Carmical scored 22 points as he supplied a consistent perimeter threat. Sophomore guard Maddox Huff added 16 points and 15 assists. Jonah Swanner and Jaycee Carter each added 10 as all five HCHS starters reached double figures.
Senior forward Dante Oliver scored 36 and senior guard Jonavan Gillespie added 31 to lead the Indians
After a couple of early lead changes, Harlan County took the lead for good with an 8-0 run sparked by Huff, Noah and Swanner. Two baskets by Swanner and two free throws by Carter in a 6-3 run to close the quarter gave the Bears a 27-21 lead.
The teams traded 3-pointers, with three each, in the first two minutes of the second quarter. Carmical heated up at that point, hitting three 3-pointers as the lead grew to 12 before the Indians cut the deficit to 50-41 at halftime.
Noah and Carmical helped the Bears take control, pushing their advantage to 14 midway though the third quarter. Huff also played a big role with three straight assists, Baskets by Swanner and Noah gave the Bears a 74-57 lead going into the final period.
A Noah dunk off a rebound followed by a Huff trey pushed the lead to 80-59 early in the fourth quarter. Two free throws by Huff followed by another Noah dunk helped the Bears reach the century mark in the closing seconds.
———
Harlan County fought back to within one in the final minute of the freshman scrimmage before falling 26-23.
Reggie Cottrell scored 12 to lead the Bears. Aidan Reynolds added seven, including a 3-pointer that cut the deficit to one late in the scrimmage. Ethan Shuler and Kayden Hensley added two points each.
Dobyns-Bennett pulled away in the second half for a 50-33 win in junior varsity action.
Sophomore guard Ethan Simpson scored 12 and Cottrell added 10 to lead the Bears. Reynolds tossed in four, followed by Gage Bailey with three and Brody Napier and Shuler with two each.
———
Harlan County (100) — Trent Noah 40, Maddox Huff 16, Jonah Swanner 10, Daniel Carmical 22, Jaycee Carter 10, Caleb Johnson 2.
Dobyns-Bennett (84) — Jonavan Gillespie 31, Dante Oliver 36, Charlie McHugh 13, Will Hurd 2, Dakari Dixon 2.