Smith steps up to spark HCHS rally in victory over Pineville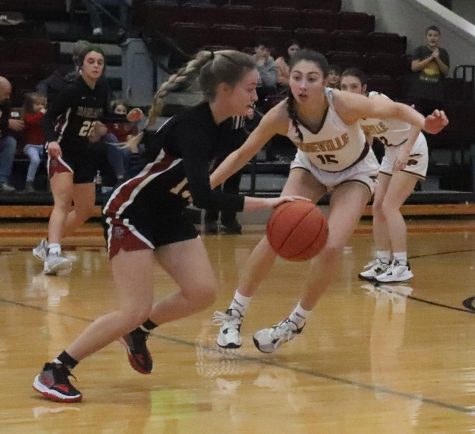 PINEVILLE — Even though she's been a member of the Harlan County girls basketball program for five seasons and a starter for four, Jaylin Smith isn't always the most aggressive player when it comes to shooting the basketball and even draws criticism at times for not taking open shots.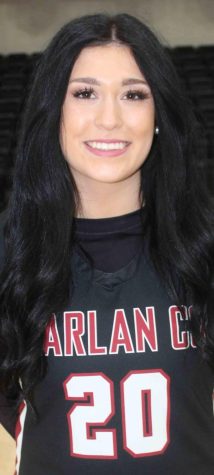 With leading scorer Ella Karst held in check by Pineville and standout guard Nadine Johnson in Thursday's game at the Chain Rock Classic, Smith stepped up when she was needed the most with her Lady Bears trailing by six going into the fourth quarter. Smith hit four of five shots in the final quarter as HCHS outscored the Lady Lions 17-6 on the way to a hard-fought 51-46 victory.
Smith finished with 20 points to lead the 10-2 Lady Bears. Karst and Taytum Griffin added 12 and 10 points, respectively. Harlan County again played without senior guard Hailey Austin, who is expected back next week.
"It took her a while to find the seam and realize they were shading to Ella's side," Harlan County coach Anthony Nolan said. "I have confidence in those girls. We need kids who want to make the plays, and we wanted Taytum at the line at the end. This was a good gut-it-out win you see in the postseason. We had to grind, and I thought defensively we stepped it up in the fourth quarter and got the stops we needed."
The 9-4 Lady Lions were led by freshman forward Rachel Howard with 19 points and 14 rebounds as she hit eight of 10 shots while dominating in the paint. Johnson and Ava Arnett added 10 points each.
Smith opened the fourth quarter with a jumper and then a 3 to pull HCHS within one. Howard and Ava Arnett hit free throws to push the lead to four before Smith scored twice to tie the game at 43 with 3:43 left.
HCHS held the ball for just over two minutes before Nolan called timeout to set up the go-ahead basket by Karst with 1:17 to play. Arnett answered with a 3, the only basket in nine attempts for Pineville in the quarter. Karst hit two free throws to put Harlan County back on top with 47.5 seconds left, then two more after Arnett missed a 3. Griffin put the game away by hitting twice at the line with 17 seconds left.
"Our rotation is a little short without Hailey, so I didn't want Johnson to get a full ahead of steam because she is so tough attacking the basket," Nolan said. "We did a pretty good job the first half defensively but didn't do a good job blocking out. I knew we had change it up in the second half and we picked our spot. Our kids did a good job of being coachable in the fourth quarter."
Pineville struggled early, missing its first nine shots as HCHS took a 6-0 lead on baskets by Taytum Griffin and Smith and two free throws from Karst. Johnson and Malley Smith each converted three-point plays as the Lady Lions cut the deficit to 10-8 by the end of the period.
The Lady Lions owned a 12-3 advantage on the boards in the second quarter to build a seven-point lead while Harlan County was missing its first four shots from the field. Smith scored on a drive and Griffin hit a 3 to cut the Pineville lead to 23-20 by halftime.
Griffin's trey to open the second half pulled Harlan County even, but Pineville went on an 11-3 run to go up by eight. Howard hit three straight shots for Pineville in the quarter and led 40-34 going into the final period.
Harlan County will close play at the Chain Rock Classic on Friday at 11 a.m. against John Hardin. Pineville will play Middlesboro at 6 p.m.