Gamecocks of '55 reflect on unexpected run to state finals
(The 1955 Hall baseball team will be honored during this year's 52nd District Tournament on May 31 at Harlan County High School. The following story was originally published on June 12, 2020)
Jack Morgan thinks of the spring of 1955 as his "Hoosiers" story, still bringing a smile almost 65 years to the day he and a group of childhood friends from Hall High School made history.
One year after tiny Milan High School went on its historical 1954 run to the Indiana state basketball championship, a story told in the movie "Hoosiers," Morgan and several of his friends from Grays Knob enjoyed a similar journey that fell one game short of a state baseball title.
There are numerous similarities between the two teams as Morgan recalled from his home in Cincinnati, all those years after the Hall Gamecocks advanced to the state tournament before falling to Louisville Manual in the championship game. Morgan noted Hall had only "about 300 students" going against a big-city power that is still among the state's largest high schools with just under 1,900 students.
Morgan said one big reason for the Gamecocks' success was the fact that six of the players grew up together in Grays Knob, a small community just south of Harlan that was the home for Hall High School until it closed in 1966 and merged into James A. Cawood High School.
"We grew up playing ball together and it just seemed to come together for us that year," he said. "It was quite a feat considering how small our school was."
"Several of us were born and raised in Grays Knob and we just had three things — football in the fall, basketball in the winter and baseball in the spring and summer," said Joe Shepherd, a freshman right fielder on the 1955 team who now lives in Lexington.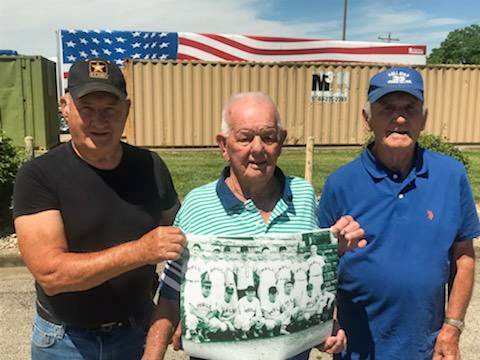 Morgan remembers playing with a "baseball made of tape" on the creek bank in the 1940s. He also recalls that he and pitcher Gillis Adams played one game in the Babe Ruth League in Harlan, in the days before Little League, but noted they were sent home after one game after each had hit home runs.
"They all thought we were too old, but we weren't," Morgan said.
Shepherd, being three years younger, did play Little League in Harlan (which started in 1952) and was on a state championship team before earning a starting job at Hall a few years later.
The Gamecocks practiced on a field that Morgan describes as the "rock garden," on top of a hill overlooking the school.
"There was no infield. It was solid dirt and rock," Morgan said.
"It was the roughest ball field in the country," added Shepherd. "You had to learn how to field the ball or you could get hurt."
The Gamecocks were a senior-dominated team with five senior starters including Adams on the mound, Morgan and Earl Hansel in the middle infield spots, Carlyle Owens at third and Delmer Napier in left field. The remainder of the lineup included O.C. McKeehan at catcher, Wendell Hensley at first base, Dean Sizemore in center and Shepherd in right.
Roman Todoran was the Gamecocks' coach in 1954 and 1955 in the days when the school coaches were often the same for football, basketball and baseball. Anderson said Todoran was originally from West Virginia and found his way to Harlan County after graduating from Eastern Kentucky University. He served a couple of years as assistant, then was head coach in 1954 and 1955. He left for Texas when the Class of 1955 graduated but attended Hall reunions for years.
"I don't think a lot of people even knew we made it that far since we had already graduated and they played the tournament in June," Morgan said. "I remember during our 43rd reunion we honored the coach with a plaque with all our names on it. He told us that was the highlight of his coaching career. He was real close to all of us guys. We all thought the world of him. He died seven or eight years ago."
Hall played its home games at Browning-Leonard Park, next to Harlan Appalachian Regional Hospital, then the home of the Harlan Smokies, a decade before James A. Cawood High School was built. The field was used for baseball and football teams at JACHS for many years and is still the home of the New Harlan middle school baseball team.
It was a golden era of sports at Hall as the Gamecocks had made a previous trip to the state baseball tournament in 1947, defeating Fort Knox 4-1 in the quarterfinals before falling 13-3 to Bellevue in the state semifinals. The Gamecocks were also strong in basketball, advancing to the 13th Region Tournament in 1955, 1957 and 1958, even though all-stater Dickie Parsons left Hall after his freshman season for Harlan before signing with the University of Kentucky in 1957 to play basketball and baseball. Parsons was an assistant basketball for several years at UK.
Shepherd called Parsons "the greatest athlete" he had played with or against.
The Gamecocks advanced to the 1958 regional finals in basketball when Shepherd was a senior before falling to Clay County. Eddie Nelms and Benny Collier were also stars on that Hall team.
Hall defeated Henderson Settlement 17-1, Wallins 33-1, Black Star 15-5 and Evarts 11-9 to win the 1955 baseball district title at Browning-Leonard Park. Adams defeated Evarts' Freddie Helton, a former Hall player, in the championship game. Evarts entered the tournament as the top seed and Hall was coming off a loss to Loyall in the final game of the regular season.
The regional tournament was also at Browning-Leonard Park and featured four district winners in those days. The Gamecocks defeated Somerset 6-5 and Leslie County 12-7 on the same day to capture the regional title as Adams was the winning pitcher in both games and added what the Enterprise described as a "330-foot home run."
While their starting lineup was solid, a lack of depth eventually cost the Gamecocks as Adams was exhausted after pitching two previous state tournament games and basically every game during the season and postseason. Anderson said Adams' younger brother, Charles, pitched occasionally but had little big-game experience.
"Gills pitched every game. That's why we lost in the championship game. He was worn out," Morgan said.
"He pitched in 11 straight games," added Shepherd.
Hall defeated Newport 6-5 in the opening round of the state tournament and then edged Salem 4-3 in the semifinals. Manual rolled past Hall 13-3 after the Gamecocks grabbed an early lead. Morgan doubled in two runs and scored on a hit by Hansel. The Gamecocks were limited to three hits in the championship game as Charles Adams added a single.
Gillis Adams died in 2013, but his daughter, Kim Adams Allison, said her father often talked of his days with the Gamecocks and their unlikely run to the state finals.
"He always said that team made its mark on the game and everyone knew the boys from the mountains had earned the right to be there," she said. "Who would have thought a bunch of boys from the mountains of southeastern Kentucky would play in the 1955 state baseball tournament, much less make it to the championship. Maybe others did not think it, but they did. They believed in their coach and each other. They always stood together and gave the term 'true grit' a new meaning. They were brothers in every sense of the word."
Adams pitched at Union College and then joined the Army before returning to Harlan County. His daughter was a standout basketball player at Harlan High School and went on to play at Transylvania before returning to Harlan as a basketball coach.
Morgan said he spent one year at Union College, then moved to Cincinnati where he worked for over 30 years with the United Parcel Service.
"My dad died in the mines when I was 6 and that's all there was to do in Harlan County, so I moved to Cincinnati," he said.
Napier lives only 10 miles from Morgan in Cincinnati where he worked at Kroger for 54 years before retirement. The trip from Grays Knob to Parkway Field (where the Louisville Colonels' American Association team played) for the state tournament is something Napier says he will never forget.
"It felt like being in the World Series,' he said. "It bothers me even today that we lost in the championship game, but I guess it was quite a feat to finish as the state runner-up."
Shepherd still lives in Lexington but made a trip back to Harlan County earlier this week with Morgan and enjoyed a tour of Harlan County High School and looked at some memorabilia of Hall High School in the front entrance of HCHS.
"It was a special team," added Morgan as his mind wandered back 65 years once more. "It's good to know someone remembers us."