Sheppard, Noah lead coaches all-region squad
Harlan's Akal named coach of the year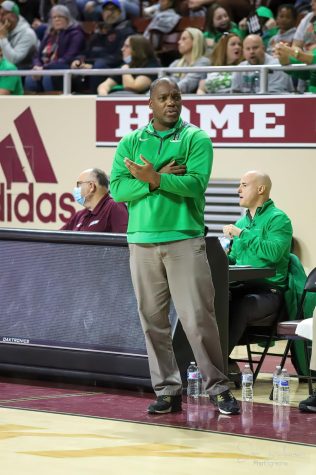 North Laurel senior guard Reed Sheppard leads the 13th Region Coaches Association All-Region Team announced Thursday. Sheppard has averaged 22.3 points and 8.6 rebounds per game for the 23-10 Jaguars, who face South Laurel on Saturday in the regional semifinals. Sheppard, who has signed with the University of Kentucky, is the favorite for this year's Mr. Basketball award after leading North to last year's state tournament while earning all-state honors.
Harlan's Derrick Akal is the choice as coach of the year after leading the Dragons to a 24-8 mark, including a fourth straight All "A" Classic regional title and a seventh straight trip to the 13th Region Tournament, which ended for the Dragons on Wednesday with a hard-fought 55-52 loss to North Laurel.
The all-region first team also featured Harlan County junior Trent Noah, who was second behind Sheppard in votes from coaches. Harlan's Jaedyn Gist, a senior, and Kyler McLendon, a junior, were also first-team selections.
Harlan County sophomore Maddox Huff led the second team, just ahead of Harlan senior Kaleb McLendon.
First team
Reed Sheppard, North Laurel
Trent Noah, Harlan County
Ryan Davidson, North Laurel
Dawson Woolum, Bell County
Hayden Llewellyn, Corbin
Sawyer Thompson, Pineville
Jaedyn Gist, Harlan
Micah Engle, Lynn Camp
Parker Payne, South Laurel
Kyler McLendon, Harlan
Second team
Maddox Huff, Harlan County
Kaleb McLendon, Harlan
Ashton Reynolds, Whitley County
Jordan Mabe, South Laurel
Matthew Warren, Barbourville
Jerrod Roark, Williamsburg
Hayden Harris, Clay County
Eli Gover, South Laurel
Travis Scott, Barbourville
Jude Lakes, Jackson County
All-Region senior academic team
Barbourville — Bryce Messer
Bell County — Jacob Jones and Dawson Woolum
Corbin — Sam Farmer, Parker Norvell and Brody Wells
Lynn Camp — Micah Engle
Middlesboro — Caidden Adkins and Ashton Osborne
North Laurel — Reed Sheppard, Ryan Davidson, Chase Keen, Brayden Caudill and Kyler Elza
Oneida Baptist — Wyatt Smith
Pineville — Evan Biliter
Red Bird — Austin Osborne, Joshua Sumbela and Daniel Manwill
South Laurel — Eli Gover, Caden Jones and Parker Payne
Whitley County — Jamie Fuson, Ethan Keene, Brayden Mahan and Ashton Reynolds
Williamsburg — Caden Hatcher, Jordan Perkins and Dennis Salas