Jackson shocks Corbin, advances to matchup with North in regional finals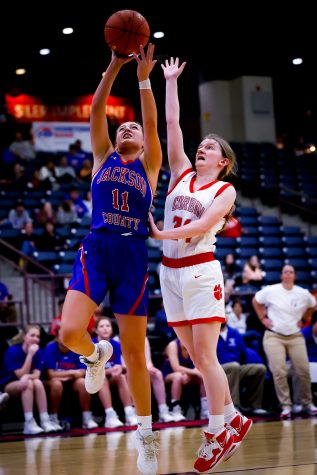 A dominating first half by Jackson County sent Corbin to one of the most shocking and decisive losses for a defending champion in tournament history.
The Lady Generals built a 42-14 halftime lead on the way to a 63-43 victory by shooting 61 percent (17 of 28) in the first half. Corbin shot only 22 percent (six of 27) in the first half and missed all seven 3-point attempts.
Kylee Shannon scored 26 points to lead the 18-13 Lady Generals. Kenady Ward and Abby Gilbert added 14 and 13 points, respectively.
Bailey Stewart paced the 22-8 Lady Hounds with 16 points.
Jackson outscored Corbin 23-4 in the second quarter after leading 19-10 after one period. Gilbert started a late run with a three-point play, then two straight baskets by Ward pushed the lead to 32-14 with 3:45 left in the half. A 3-pointer by Madison Marcum was followed by two baskets from Shannon before another 3 by Madison Marcum pushed the lead to 28 at the break.
Corbin picked up its defensive pressure in the third quarter and cut into the lead but a couple of baskets by Gilbert and two free throws from Ward, then a pass from Ward to Shannon in the final seconds helped Jackson take a 54-27 lead into the fourth quarter.
The Lady Hounds shot 29 percent (17 of 58) for the game while Jackson hit 26 of 46 shots for 57 percent. Jackson owned a 33-17 advantage on the boards, led Ward and Gilbert with 11 rebounds each.
———
North Laurel advanced with a. 67-63 win over South Laurel in the opening game as the Lady Jags held off a late rally.
Sophomore wing Brooke Nichelson scored 28 points to lead the 28-6 Lady Jaguars. Senior guard Emily Sizemore added 24 points.
The 19-15 Lady Cardinals were led by senior guard Emily Cox and eighth-grade forward Peyton Mabe with 17 points each. Shelbie Mills added 11.
———
North Laurel (67) — Jalyn Black 2, Bella Sizemore 10, Brooke Nichelson 28, Emily Sizemore 24, Gracie McKnight 3, Chloe McKnight 0, Marielle Claybrook 0.
South Laurel (63) — Maci Messer 5, Emily Cox 17, Shelbie Mills 11, Kenlea Murray 3, Peyton Mabe 17, Aubrey Bundy 6, Jamie Buenaventura 4, Sydney Blanton 0.
South Laurel 5 21 11 26 — 63
North Laurel 17 12 19 19 — 67
———
Jackson County (63) — Kylee Shannon 26, Abby Gilbert 13, Kenady Ward 14, Madison Marcum 8, Jenna Creech 2.
Corbin (43) — Bailey Stewart 16, Kallie Housley 8, Raegan Walker 1, Darcie Anderson 2, Kylie Clem 9, Mahayla Jordan 2, Sida Hill 4, Izzy Walker 1.
Jackson County 19 23 12 9 — 63
Corbin 10 4 13 16 — 43