Even though he was a Hall of Fame coach, Wilson taught his students more about life than basketball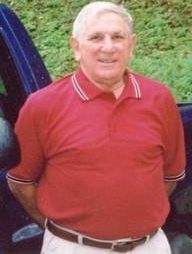 As a teenager who lived and breathed sports, my first lesson in dealing with the disappointments that are so much a part of the games was delivered on a March morning in the S.H. Rowland Gymnasium in a freshman physical education class at James A. Cawood High School.
Not unlike a passerby to a gruesome accident, I wondered what coach John D. Wilson would say the morning after what still qualifies as the biggest upset in 13th Region Tournament basketball history. While the 15-year-old me didn't take notes, as I probably would have in the many years to follow as a reporter, Wilson summed up his feelings in one sentence.
"The sun came up again today," is what I remember overhearing, summing up his Cawood Trojans falling to Pineville to end what appeared headed for the greatest season in school history with a 24-1 record heading into the tournament following a third straight 52nd District title.
While the wins heavily outweighed the losses in over a half century on the sidelines as a basketball coach in several locations across Kentucky, beginning one side of Pine Mountain and ending on the other, Wilson taught many similar life lessons to players and students like me, who may not have known that were more important things in life than basketball. It was not an easy lesson for many of us to learn, but Wilson didn't lose either his faith or his composure in the face of adversity.
There have been lots of stories about the Hall of Fame coach since his death Monday, including how he started basketball programs at Green Hills and Pine Mountain and transformed them at Cawood and Red Bird, not to mention his incredible run of success on the middle school level at Loyall. What I remember most is the class that Wilson always carried himself and the genuine smile on his face, from my days as a kid watching his Loyall and Cawood teams to my years as a reporter when I made the trip over to Red Bird.
"I have so many memories of a great coach and a great man — a man of unquestionable character," said former Cawood point guard Will Clem, a key member of the three district championship teams. "He taught discipline and respect for the game and many other life lessons. I remember vividly him lining us up on the baseline at Loyall and checking our shoe laces. He expected the laces to be without any twists – to be flat, to be perfect
On one trip in the 1990s to watch Red Bird play Evarts, Wilson walked over to the microphone just before the game started because he wanted to introduce two of his former players. Wilson asked David Parks, the Evarts coach at the time, and Greg Coldiron, the Cawood coach at the game scouting, to stand up for a round of applause. Wilson coached both of them during the 1970s at Cawood, but they were both still his "boys," and that's the way thought of them, even if he was trying to beat them both at the game they all loved.
The first time I ever drove over to Red Bird was in 1988 just after Wilson had retired from coaching and teaching, only to accept a job as the next Red Bird basketball job. It was a position he held for a quarter century "after" retirement. He took Red Bird to new heights in the 1990s, reaching the 13th Region finals in 1998 against all odds, only to lose to the same Clay County team that beat his Trojans in 1976. Many are amazed at what Wilson accomplished at Red Bird, but some of us saw him do much the same thing 20 years earlier at Cawood.
Of course, Cawood didn't have the limitations of a small Methodist school with only 100 students or so, but winning was a foreign concept at what later became my alma mater. Cawood had not recorded a winning season in boys basketball in its first eight years of existence, until Wilson arrived in the fall of 1974 with many of his Loyall "boys," who had done nothing but win in the previous several years, including an AAU state championship. Cawood posted its first winning season, at 15-12, in 1975, then won its first 52nd District title the next year and won the first two regional tournament games the Trojans ever played that March at Union College before falling to Clay County in the finals.
Wilson led the Trojans to three straight district titles in 1976 through 1978 and four straight 20-win seasons through 1979 before he was let go as coach. He moved on to Webster County High School after the 1979 season and spent nine years there before moving back to eastern Kentucky and beginning an amazing transformation of the Red Bird program. When I went back to interview him in 1988 it had been nine years since I last saw him as a sophomore at Cawood. Most of us were upset and disappointed that he was removed as coach, and I remember writing a column for the school paper complaining about the board decision at the time. Of course, that column never made print with both my principal and mother, who was a teacher at JACHS at the time, not wanting to stir up trouble.
"I thought I'd be at Cawood the rest of my life," Wilson told me years later in a story for the Harlan Daily Enterprise. "It didn't work out. The Lord works in mysterious ways and everything turns out for the best generally."
Wilson was the same man in 1988 that I last talked to at Cawood in 1979, and he was still the same person in 2013 when we discussed his career following his selection to the KHSAA Hall of Fame. Many would still be bitter about being removed as coach years earlier, and very few people, if any, would have a better reason to feel that way, but it never seemed to me that he had any anger. Parks and Coldiron and all the other Trojans were still his "boys" all those years later. He wanted to beat Cawood, just like every opponent, but there were things in life more important than basketball, even if it was a game he had lived for 55 years. Wilson remembered and loved the people he met and coached along the way, and left the politics for God to sort out.
The games I love so much would be even better if everyone could have the same outlook on life and sports as John D. Wilson.