LOCAL SPORTS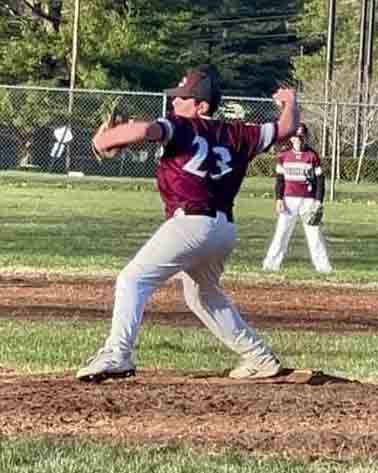 Howard, Casolari lead Redskins to victory
Zayden Casolari and Kayden Adams combined on a four-hitter as Cumberland downed visiting Harlan County 8-2 in middle school baseball action Monday.
Casolari struck out three in 5 1/3 innings. Adams struck out one as he recorded the final two outs.
Brayden Howard led the Cumberland offense with a double. Casolari, Gavvin Lloyd, Hayden Grace and Hayden Cornett added singles.
Brayden Morris led the Bears with a double and single. Jesse Gilbert and Grant Shelton added one single each.
Andrew Vance struck out four in 3 1/3 innings on the mound. Ethan Stewart pitched 1 2/3 innings.
Stewart, Gilbert team on 2-hitter as Bears down Neon
Ethan Stewart and Jesse Gilbert teamed on a two-hitter as Harlan County downed Fleming-Neon 7-3 in middle school basketball action Tuesday.
Stewart gave up threee runs on two hits in three innings, with four strikeouts and one walk. Gilbert struck out seven with one walk in three hitless innings.
Colby Shepherd had a double to lead the Harlan County offense. Grant Shelton, Andrew Vance and Win Cooper added singles.
Smith, Burgan lead Harlan past East Bernstadt
A big night at the plate from Jordyn Smith and another solid effort in the circle from Adelynn Burgan sent Harlan to a 19-6 win over East Bernstadt in middle school softball action Monday.
Burgan struck out six and walked two as she pitched a four-hitter to earn the win.
Smith had two triples, along with a double and single. Burgan and Breslyn Harmon added a double and two singles each. Lacey Lemarr and Gracie Hensley each had one double and one single. Addyson Patton contributed two singles Bella Miniard, Shaedyn Crow and Emilee Shaw each singled once.