Lady Bears rally for walkoff win over Harlan on Brown's fly ball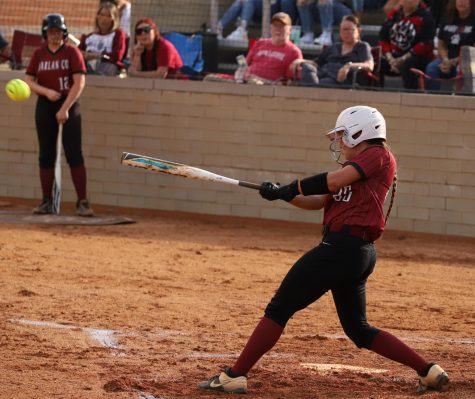 Harlan County rallied from an early 5-1 deficit to knock off visiting Harlan 7-6 on Monday as Lesleigh Brown won the game in walk-off fashion with a sacrifice fly to drive home Jenna Wilson.
Junior catcher Jade Burton continued her recent hot stretch with a four-hit night, following three singles with a double in the seventh to push Wilson to third after she had led off the inning with a walk. Halanah Shepherd also had a big night with a double and three RBI. Haley Austin added a single for the 14-14 Lady Bears, who finished their district slate with a 4-2 mark.
Madison Blair battled back from Harlan's three-run first inning as she pitched a complete game with three strikeouts and two walks.
"I'm so proud of how these girls maintained their composure throughout the game," Harlan County coach Shelby Burton said. "Jade right now is bringing her best game and has really took control of the game behind the plate like we want. Maddy is a coach's dream hitting those spots as consistently as she does."
The Lady Dragons had all their hits from the second through fifth spots in the order. Addison Jackson had a triple and two doubles. Ella Farley added a triple and two singles. Ava Nunez singled three times. Abbi Fields singled twice.
Mallory McNiel started in the circle for Harlan and pitched six innings in two stints, giving up five runs on six hits with three strikeouts and three walks. Amy Roman gave up two runs on two hits in one inning, with one strikeout and one walk.
Harlan grabbed an early 3-0 lead as Ella Lisenbee led off with a walk followed by a single from Farley, a triple by Jackson and singles from Nunez and Fields.
Austin was hit by a pitch in the bottom of the inning and scored on Burton's hit.
Farley, Jackson and Nunez had consecutive hits in the third inning as the lead grew to 5-1.
Burton had an RBI single in the third inning and Shepherd had an RBI groundout to cut the deficit to 5-3. Shepherd had a two-run single in the fifth to the game, then Brown reached on an error to put Harlan County ahead 6-5.
Harlan was down to its last strike in the seventh inning when Farley tripled, then scored the tying run on Jackson's double.
Harlan County plays host to Leslie County on Thursday. Harlan closes its regular season schedule Thursday against Lynn Camp.
———
Harlan 302 000 1 — 6. 11. 1
Harlan County 102 030 1 — 7. 6. 0
McNiel, Roman (5), McNiel (6) and Jackson; Blair and Burton. WP — Blair (12-12). LP — McNiel (4-11).
———
Harlan County suffered three losses over the weekend against very good competition in the Tim Short Classic at Perry Central. The Lady Bears fell 14-3 to North Laurel on Friday and 10-1 to Belfry and 10-0 to Perry Central on Saturday.
Jenna Wilson led the Lady Bears with two singles against North Laurel. Aviya Halcomb, Jade Burton, Halle Raleigh, Halanah Shepherd and Brittleigh Estep added one single each. Estep drove in two runs while Lesleigh Brown, Wilson and Burton scored runs.
Blair allowed 14 runs (six earned) on 12 hits in four innings, with two strikeouts and three walks.
———
Burton had the only hit for the Lady Bears against Belfry with a single.
Blair gave up 10 runs (four earned) on 13 hits with five strikeouts and no walks.
———
Burton and Hailey Austin each had singles for the Lady Bears against Perry Central.
Blair gave up four runs (two earned) on five hits with one strikeout and one walk in two innings in the circle. Shepherd gave up six unearned runs on six hits with four strikeouts and three walks in two innings.
———
South Laurel senior Madison Worley turned in one of her best games of the season as the Lady Cards defeated Harlan County 5-1 on Monday.
Worley gave up three hits and one earned run. She also had five stroke outs. The Lady Cardinals (15-11) did all of their damage in the first three innings, scoring all five runs while never looking back.
Amara Horn had a hit, a run scored, and two RBI in the win for South Laurel while teammates Bailey Frazier and Hannah Carnes also drove in runs.
Burton drove in the Lady Bears' lone run with her first home run. Burton and Austin also added singles.
Blair gave up five runs (two earned) on six hits with five strikeouts and one walk.
———
Knox Central built a 7-2 lead after two innings and coasted to a 12-3 win Monday over visiting Harlan.
Ella Farley led the Harlan offense with two singles. Abbi Fields and Ella Lisenbee added doubles. Addison Jackson, Ava Nunez, Ally Kirby and Gracie Hensley had one single each.
McNiel suffered the loss, giving up eight runs (five earned) on four hits in 2 1/3 innings, with no strikeouts and three walks. Amy Roman allowed four runs on nine hits in 3 2/3 innings, with no strikeouts and one walk.
———
Harlan 200 010 0 — 3. 8 1
Knox Central 431 121 x — 12. 13 0
McNiel, Roman (3) and Jackson; Thacker and Melton. WP — Thacker. LP — McNiel (4-10).