Jackets rally past HCHS for seventh straight 52nd District title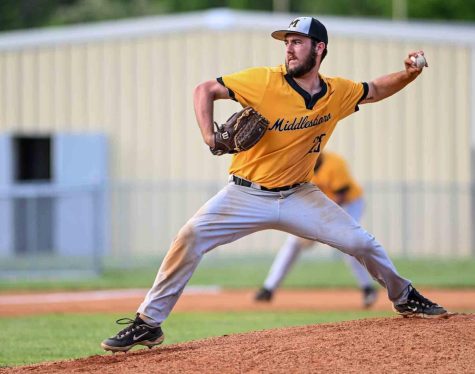 MIDDLESBORO — Nothing has been easy this season for the Middlesboro Yellow Jackets, which may explain why they weren't phased by blowing a five-run lead in the 52nd District Tournament finals Wednesday.
Jonah Swanner's grand slam capped a six-run rally in the fifth inning as the Bears turned an 8-3 deficit into a 9-8 lead. Middlesboro scratched out two runs in the seventh inning to rally for its seventh straight district title, going back to 2016. Chase Adkins singled with out after Harlan County pitcher Tristan Cooper retired Conner Winterberger, the Jackets' top hitter and most valuable player of the tournament, to start the inning. Cooper then walked Brady Carroll while reaching the 120-pitch limit. Brayden Blakley came in to pitch and walked Cole Bayless to load the bases. Case Bayless hit a grounder to Cooper at third, who threw home too late to get Adkins. Cayden Grigsby then executed a perfect suicide squeeze to bring in the go-ahead run.
Isaac Kelly led off the bottom of the seventh with a single, but he was stranded as junior left Kam Wilson retired the next three to end the game.
"This group has stayed together and battled through the ups and downs all year, and we've had plenty of downs," Middlesboro coach John Smith said of his squad, which improved to 16-10. "I give these guys all the credit. They have worked hard, and these five seniors played their tails off. I can't say enough about how proud of them and how they battled through all the adversity we've had this year."
Grigsby, a football star, rejoined the baseball this year after a couple of years away from the game.
"It's his first year back and he's come a long way," Smith said. "He's helped us out a lot at the end of the season and did a great job of getting the bunt down. I thought everyone in the stadium knew it was coming."
The loss was especially painful for the Bears, who entered the tournament as the top seed and had won all seven district games this season before the loss to the Jackets. While Middlesboro starts five seniors, HCHS has only two in its lineup and will bring a.senior-dominated squad back next season.
"We'll have a veteran team next year with a lot of seniors, but this is a hard one to get past with all the effort and time they put into it," Harlan County coach Scotty Bailey said.
Mason Himes, a junior who transferred from Madison Southern and became eligible Wednesday, started the Bears' rally against WInterberger with a solo homer to left to lead off the fifth inning in his first plate appearance with the Bears. Brayden Blakley and Samuel Henson drew walks, then Braydon Burton followed with a bloop single for the second run. Kelly drove in one run with a fielder's choice grounder. After Cooper walked to lead the bases again, Smith brought in Wilson from center fielder. Swanner greeted him with a grand slam left to cap the six-run explosion.
Swanner led the Bears with two hits. Cooper and Burton added two singles each. Himes homered in his first at bat. Kelly, Will Cassim, Alex Creech, Blakley and Henson added singles.
"I've said every year since they (Harlan County) came into the district it's been a battle," Smith said. "I think WInterberger got a little tired, but Harlan County swung the bats and battled back."
Wilson pitched the final 2 2/3 innings to earn the win as he struck out five and walked none while giving up three hits and one run. Winterberger allowed eight runs on nine hits while striking out six and walking six.
"Our guys kept battling. Himes gave us a big lift with a homer in his first at bat, then Jonah hit the grand slam," Bailey said. "I was proud of the way we fought back and never quit."
Cooper gave up 10 runs on six hits with nine strikeouts and four walks in 6 1/3 innings. Blakley allowed no hits in two-thirds of an inning while striking out one and walking two.
Middlesboro scored three runs in the second inning without benefit of a hit as the Bears had three errors. Middlesboro scored two more in the third inning with the help of another error and an RBI single by Winterberger.
Harlan County had three hits in the second inning but scratched out only one run on a bases-loaded walk to Kelly. Swanner beat out a bunt single in the third inning and scored on the Jackets' first and only error of the night to cut the deficit to 5-2.
Wilson had an RBI triple and Connor Mason followed with an RBI single in the fourth inning. Cooper had an RBI single in the bottom of the fourth.
"I thought Cooper pitched a great game," Bailey said. "We made too many mistakes, and you can't have those errors when you play a team like Middlesboro."
Harlan County has been the runner-up to Middlesboro six times in the past seven tournaments and eight times in championship games between the two teams since HCHS opened in the 2008-2009 school year. The Bears have won three district titles, but none since 2014, and finished second 10 times.
Both teams advance to the 13th Region Tournament at Corbin High School.
———
Middlesboro 032 300 2 — 10. 6. 1
Harlan County 011 160 0 — 9. 12. 4
Winterberger, Wilson (5) and Colt Bayless; Cooper, Blakley (7) and Kelly. WP — Wilson. LP — Cooper (6-3). HR — Himes (1), Swanner (3).