Lady Lions rally for win over Harlan in regional tourney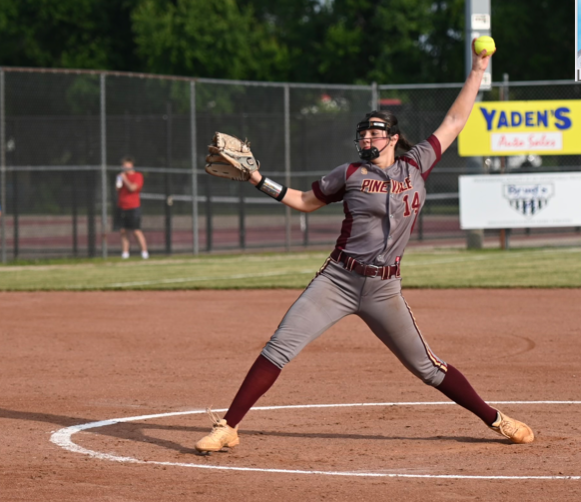 Facing one of the 13th Region's top pitchers in Rachel Howard, the Harlan Lady Dragons had leads of 1-0 and 6-3 before Pineville scored three runs in both the fifth and sixth innings to advance in the 13th Region Tournament with a 9-6 victory Monday at South Laurel.
Howard struck out 14 in seven innings while also allowing 10 hits and four earned runs.
Addison Slone powered the Pineville offense, going 3-for-4 with a home run, three RBI, and three runs scored while McKenzie Laws was perfect at the plate with a 3-for-3 effort while driving in a run, and scoring once. Baileigh Bargo turned in a 2-for-3 effort along with an RBI, and two runs scored while Makenna Partin finished with two hits, and an RBI.
Ava Nunez led the Harlan offense with a triple and single. Ella Lisenbee had two singles. Ella Farley, Addison Jackson, Abbie Fields, All Kirby and Amy Roman added one single each. Kirby drove in two runs, while Nunez, Lisenbee, Jackson and Fields added one RBI each.
Mallory McNiel suffered the loss, allowing 10 hits and eight earned runs with one strikeout and six walks in five innings of work. Lisenbee pitched one inning, allowing one hit and one earned run.
Harlan ended the season at 6-21 but made its first regional tournament appearance since 2018. The Lady Dragons are 0-5 in regional tournament games.
———
Harlan 100 050 0 — 6. 10. 2
Pineville 002 133 x — 9. 11 2
McNiel, Lisenbee (6) and Jackson; Howard and Slone. WP — Howard (12-7). LP — McNiel (5-15). HR — Slone.