HCHS athletes heading to Lexington for 2A state track meet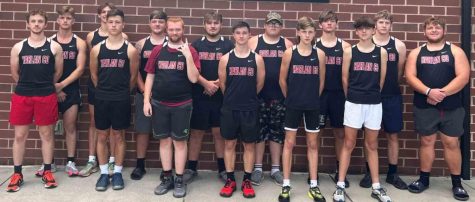 Harlan County's list of competitors in the 2A state track meet on Friday at the University of Kentucky grew from six to 26 after the at-large qualifiers were announced last week.
The HCHS girls placed fourth and the boys finished sixth in their respective Region 5 meets last week at Boyle County. The other 20 HCHS runners made the state field after strong showings in what Harlan County coach Ryan Vitatoe calls the state's toughest region.
"I'm proud of our kids. I knew when we left that our list would grow by quite a bit. (Assistant coach) Abby (Vitatoe) and I spent the entire trip home from Danville crunching results from the other six regions, and we felt good about where we were sitting. Our kids did a great job competing and it paid off," Harlan County coach Ryan Vitatoe said. "I've told them all season that we had to focus on our best effort because in our region you can be sixth or seventh and still get an at-large bid. We have 37 on our total state roster with 26 competing on Friday. That's quite an accomplishment, and I'm really proud of these teams. They competed their tails off and earned their spot that ensures they're one of the top 25 in the state in their event."
Vitatoe likes the team's chances of a strong showing against the best in the state.
"If we are dialed in and are ready to compete, we could have a very high finish as teams. The ultimate goal of every season for us is to qualify as many for the state championship as possible and to score as high as we can team-wise. We are in a position with this group of kids to score really high, and that should be their goal. I'm super excited for them. They've worked hard for this, and I think they will perform well," he said.
Male qualifiers
Austin Crain – 4×800 relay
Jacob Schwenke – 4×800 relay
Kyle Farley – 4×800 relay
Andrew Yeary – 4×800 relay, 800-meter run
Luke Kelly – 100-meter dash, 200-meter dash
Dallas Sergent – 110 High Hurdles, 300 Low Hurdles
Connor Blevins – Shot Put
Tanner Daniels – 3200-meter run
Landon McCreary – Pole Vault
Jayce Brown – Pole Vault
Kaleb Michael/Brayden Clay – Unified Shot
Seth Robinson/Tanner Griffin – Unified Shot
Drew Sergent – 4×800 relay alternate
Gage Bailey – 4×800 relay alternate
Quotes from coach Ryan Vitatoe:
"We should start with the accomplishment Seth Robinson is going for. He has won the state championship in the unified shot in the last two seasons and is going for his third straight title with his partner, Tanner Griffin. They are ranked first again this season. I'm proud of Seth. He's done a great job in his career and deserves another shot at gold. Kaleb Michael has also done a fantastic job in the unified shot and he will have a chance to finish high again this season as well. He and Brayden Clay have a shot to be in the top ten overall in that event."
"We have a great group of senior guys in the 4 x 800 meter relay. Andrew Yeary, Austin Crain, Kyle Farley, along with freshman Jacob Schwenke have been one of the top teams in the state all season long. A medal is definitely possible for them. They are the school record holders in the event, and I'd really like to see them accomplish something special on Friday."
"Andrew will have a great opportunity ahead of him in the 800-meter run. His fastest time this season is among the top three in the state this season. He has a real chance at a high finish on Friday. I can't say enough about his progress in his career and I'm excited for him."
"Connor Blevins is another senior who has meant a ton to our program. He's medaled in the last two state meets, and he has a real chance to do it again this season. He's had a spectacular season and has been breaking through in the last couple of meets. I think a big day is coming for him on Friday."
"I'm super proud of Luke Kelly. He's been on a mission all season long and he's quietly established himself as one of the fastest guys in our program's history. He has a real opportunity ahead of him this weekend, and I'm excited to see how he performs."
"What a great season for Tanner Daniels, and a great accomplishment for a seventh grader to qualify for the state meet. He's had a great season, and I'm excited to see how he performs. He loves the big stage and that bodes well for him."
"Dallas Sergent has established himself as one of the best hurdlers in the state at the 110- and 300-meter distances. This is his second straight year in the state, and he's turned in some great performances throughout the year. The experience last year, combined with his hard work this year will have him prepared for Friday."
"Jayce Brown has had a breakout season in the pole vault. He's really come along and I knew he'd have a big year this year because he's so athletic and he works hard. This is his second straight year, and the sky is the limit for him. I'm really proud of Landon. His first year competing he struggled at region and missed qualifying. He followed that up with back-to-back appearances in the state meet. He's been super consistent this season, and he's ready for a breakout this weekend. I think both he and Jayce could medal."
"Each of these guys should be really proud of their accomplishment of making it here. It's tough to make it out of our region in any capacity and it prepares you for the state level, which is one of the things I really appreciate about our region. If you're successful here, you're a medal contender."
Female qualifiers
Peyton Lunsford – 4×800 relay, 1600-meter run
Lauren Lewis – 4×800 relay
Addi Gray – 4×800 relay
Preslee Hensley – 4×800 relay
Ella Karst – 100 dash, 4×100 relay, 4×200 relay
Taytum Griffin – 4×100 relay, 4×200 relay
Emilee Eldridge – 4×100 relay, 4×200 relay
Leah Deleon – 4×100 relay, 4×200 relay
Paige Phillips – 110 High Hurdles, High Jump
Taylor Clem – Pole Vault
Madison Daniels – Pole Vault
Taylor Lunsford – Shot Put
Ashton Evans – 4×100 and 4×200 relay alternate
Brianna Howard – 4×100 and 4×200 relay alternate
Maliyah Washington – 4×100 and 4×200 relay alternate
Gracie Roberts – 4×800 relay alternate
Kiera Roberts – 4×800 relay alternate
Olivia Kelly – 4×800 relay alternate
Charli Shepherd – 4×800 relay alternate
Quotes from coach Ryan Vitatoe:
"I'm super proud of these girls for qualifying. We've had another great season and it's attributed to their hard work throughout the season and their careers. These seniors have done a great job of setting the tone of the team, and their work ethic is contagious."
"The girls 4 x 100 and 4 x 200 meter relay are both medal contenders. Taytum Griffin, Emilee Eldridge, Aliyah Deleon and Ella Karst have been outstanding all season long and they most definitely deserve to be here. This group set the school record in the 4 x 200 meter relay this season and has been very close in the 4 x 100 meter relay. I think they have a great opportunity to get it this week running against this field of teams. I'm really proud of this group. They've left a great mark on our program, and I'd love to see them accomplish a couple more things before Taytum and Emilee leave us."
"Our girl's 4 x 800 meter relay team has definitely been a 'youth' movement this season with all four girls being a sophomore or less. This group has been really special and broke the school record that was set in 2011. Lauren Lewis, Addi Gray, Preslee Hensley and Peyton Lunsford have done outstanding and they definitely deserve the chance to run at state. If they're dialed in, they can set the school record again on Friday…maybe more."
"Ella has had a remarkable season. She's so coachable and gives everything she has regardless of the event. She and I talked a lot about getting sharp out of the blocks in the 100-meter dash in the last two weeks of the season and she worked hard to perfect it. She was fantastic at region and qualifying as an automatic qualifier in the 100-meter dash in this region is a big, big deal. I'm excited to see what she does on Friday."
"I'm really proud of both Peyton and Taylor Lunsford. It's been a very tough season for them, and they have persevered to accomplish the goals of a return trip to state. I know their grandad would be proud. It's no secret that Taylor has been one of the best in the state her entire career. She's been in the top three at the state meet for the last two years and I look for another big performance from her. Peyton has worked herself back from a significant surgery this past winter and has really hit her stride in the last month or so. I look for her to have a big performance in the 1,600-meter run on Friday."
"Paige Phillips is undoubtedly one of the best athletes in our school and she's established herself as one of the best hurdlers and jumpers in 2A. She's worked really hard this season and her performance has shown. This is her second straight trip to the state meet, and she's a medal contender in both events. The versatility she has to be a great jumper and hurdler is impressive, and I'm excited to see how she performs this weekend."
"Madison Daniels has had a huge season in the pole vault this year. She's really grown this season, she's gotten stronger and her work ethic has developed. To qualify for the second straight year as a top-two finisher at the region meet is quite an accomplishment. She keeps knocking on the door of a big jump, and I think she has a chance to really advance her PR this weekend. If she does, she has a real shot to medal. I'm really proud of Taylor Clem, who is competing in her third straight state meet. She's juggled a lot this spring as a two-sport athlete, but she's done a great job with it. I'm hoping for a big breakout for her this week."
"We have a great group of alternates who will be traveling with us that should be acknowledged as well. They've worked super hard this season, and I know if we have to call on them, they'll be ready to roll. I'm proud of all of them, and they will be the future of our program. I also want to acknowledge a fantastic coaching staff that has worked hard with all these kids this year. Baili Bailey (hurdles and high jump), Abby Vitatoe (pole vault), Josh Sargent (throws), and Miranda Epperson (long/triple jump) have done a great job getting these kids prepared."