Lady Cats found success after slow start
While Lynch, Cawood and Cumberland took turns winning district championships in the early years of girls basketball in Kentucky, the Evarts Lady Cats waited for their time.
That time finally came in 1988 when the Lady Cats upset both Cumberland and Cawood to capture the program's first 52nd District Tournament title. The Lady Cats qualified for the regional tournament in six of the nine seasons between 1988 and 1996, the golden era of the program that also included two regional All "A" Classic titles and two trips to state competition in Richmond.
Evarts was an underdog in the early years as Cawood and Cumberland took turns dominating the district. The Lady Cats made it to the 13th Region Tournament only once in the 1970s, finishing second to Basil Mills and the Trojanettes in 1976. Devonnia McQueen, Vickie Coker, Sheralin Fields and Judy Hicks were all-tournament selections for the Lady Cats, who fell 43-30 to Knox Central in the first round of the 13th Region Tournament and finished the year at 12-7. Other standouts for Evarts in the early years include Nelda McQueen, Sherry Napier, Tammy Hendrix and Donna Fuson.
The Lady Cats didn't post another winning season until 1988 under the leadership of Earl Rogers. Evarts entered the tournament with a 10-9 mark but knocked off Cumberland and Cawood for its district championship before falling 42-38 to Middlesboro in the regional tournament at Bell County. Michele Napier was a senior guard on the 1988 squad. Jaquetta Hopkins was a junior and earned most valuable players honors in the county. Leann Lacey, Kathy Vanover and Kim Huffaker rounded out the lineup.
"The team had worked for three or four years and they got better and better," said Kim Kelley, an assistant coach who had starred at Cawood in the 1970s. "They had gotten past a lot of defeats and heartbreaks. They had a talented group of players from top to bottom and coach Rogers was quite a strategist — just the right combination. The seniors were great leaders and the rest followed. It was exciting to be a part of their long awaited goal."
Four starters returned in 1989 and Evarts had an ever better season at 17-8 but fell to John Bond and Cumberland in a district final showdown at Harlan. The Lady Cats lost to Corbin in the regional. Evarts made a third straight trip to the regional in 1990 and set a region scoring record that year in a win over Red Bird — led by Vanover, Huffaker and Kellie Wilson — but suffered another four-point loss in the regional in Kelley's first year as head coach.
Freddie McCreary took over as coach in the fall of 1991 and led Evarts to four straight winning seasons from 1993 to 1996, including All "A" regional titles in 1994 and 1995 and finally ending Cumberland's stranglehold on the tournament. Shannon Browning was the star center on those teams, earning county player of the year honors twice before going on to a four-year career at Eastern Kentucky University. Wendy Madden, Tara Bailey, Amanda Berry, Joy Campbell and Christa Burkhart were the other starters on the 1994 and 1995 squad that both fell in the district finals.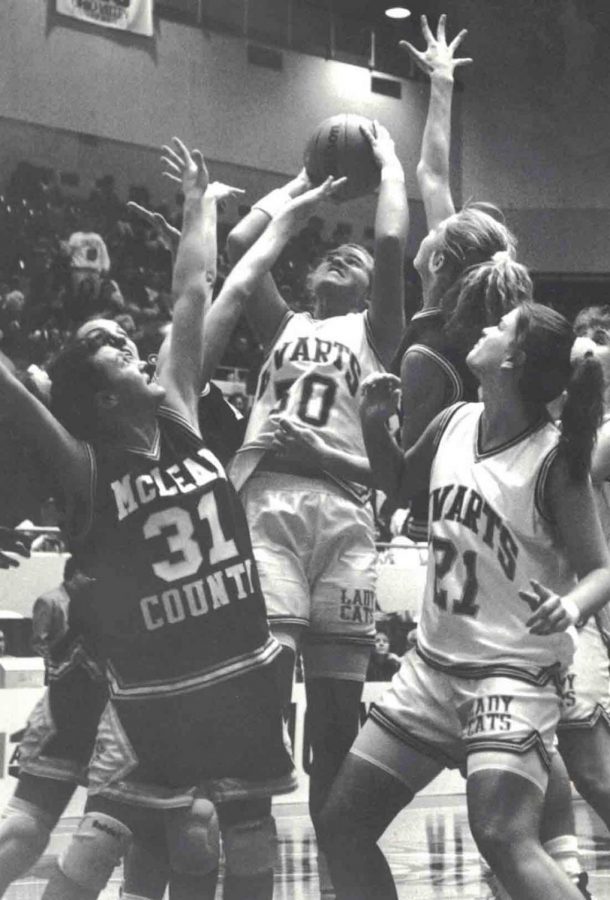 Evarts won a game at the All "A" Classic state tourney in 1994, edging McLean County 41-40, before falling to Louisville Holy Cross in the quarterfinals. Browning was named to the all-tournament team.
"We enjoyed being around each other, especially the players who played the most. We honestly liked each other and pulled for each other to do well. I loved going to battle with those girls," said Browning. "We had great chemistry. We played AAU under Glenn and Alan Ford. I remember coming up to Lexington to play and almost won the tournament. The coaches from the other teams were astonished that we were all going to be on the same team in high school because their team had players from all over Lexington. My freshman year we started three freshmen, one sophomore and one senior. It was a total rebuilding year. We stuck together and just played hard knowing the next year would be better."
Browning, however, is still disappointed the Lady Cats couldn't bring home another district title, even with success on the collegiate level that included two Ohio Valley Conference titles.
"Winning the OVC did not take the pain away from not ever winning the district in high school with the girls I grew up with. I feel like I failed them and coach McCreary," she said. "I know it was not all on me, but I took it upon myself to take responsibility for it. If only I could have practiced/played harder…
Vanover took over as coach the next year, becoming the first former Evarts player to coach, and led the Lady Cats to two winning seasons in three years on teams led by Jessica Cozart, Tracey Moore, Sarah Berry and Jessica Short.
McCreary returned in the 2001 season and posted three winning seasons in four years, including the school's final trip to the regional in 2004 with a squad featuring Erika McCreary, Sabrina Smith and Whitney Reynolds. McCreary stepped down for the second time in 2004 and the Lady Cats never posted a winning record again as Ed Harris, Alan Ford, Megan Messmer and Bill Wilson each coached one season with a combined record of 20-62 with four first-round district exits.
Evarts records:
2008 Bill Wilson 7-15
2007 Megan Messmer 7-17
2006 Alan Ford 5-19
2005 Ed Harris 1-21
2004 Fred McCreary 16-11
2003 Fred McCreary 17-9
2002 Fred McCreary 16-10
2001 Fred McCreary 10-17
2000 Kathy Napier 17-9
1999 Kathy Napier 21-7
1998 Kathy Napier 7-17
1997 Fred McCreary 12-13
1996 Fred McCreary 13-10
1995 Fred McCreary 18-9
1994 Fred McCreary 23-4
1993 Fred McCreary 14-11
1992 Fred McCreary 8-18
1991 Kim Kelley 12-14
1990 Kim Kelley 14-15
1989 Earl Rogers 17-8
1988 Earl Rogers 12-10
1987 Earl Rogers 7-14
1986 Earl Rogers 3-17
1985 Earl Rogers 3-12
1984 Earl Rogers 8-13
1983 Wallace Napier 8-17
1982 Wallace Napier 9-12
1981 Wallace Napier 6-13
1980 Wallace Napier 4-10
1979 Wallace Napier 8-11
1978 Wallace Napier 2-11
1977 Perky Bryant 7-8
1976 Perky Bryant 12-7
1975 Peggy Wynn 5-9
(Won district in 1988; second in 2004, 1996, 1995, 1994, 1990, 1989, 1976)
(Won All "A" Classic regional titles in 1994 and 1995)