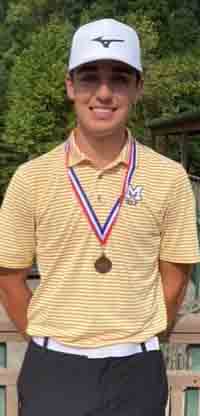 Two years after sending Tyler Harris to the state golf tournament as the Region 10 champion, the Middlesboro Yellow Jackets will again be represented when the first round of state competition opens Tuesday in Winchester.
Garrison Warren, a Middlesboro junior, qualified for the state tournament as he shot a six-over par 78 on Tuesday to finish fifth out of 83 golfers in the Region 10 Tournament at the Wasioto Winds course in Pineville.
"He got off to a rocky start on the first couple of holes, but he held it in check and grinded it out and never quit," Middlesboro coach Allen Wilford said.
The Jackets didn't participate in the team competition this year with Warren and eighth grader Isaac Harris (Tyler Harris' brother) their only golfers.
"We don't have quantity, but we have quality," Wilford said. "We've hit a little down spurt with only two golfers this year. We've graduated everybody out over the the past two years and we're running low on players. That tends to happen at a small school. We've had some good players over the past three years."
Warren was one of five golfers to make first team on the Pine Mountain Golf Conference squad, along with Brayden Casolari, Cole Cornett and Alex Creech, of Harlan County, and Aiden Johnson, of Harlan.