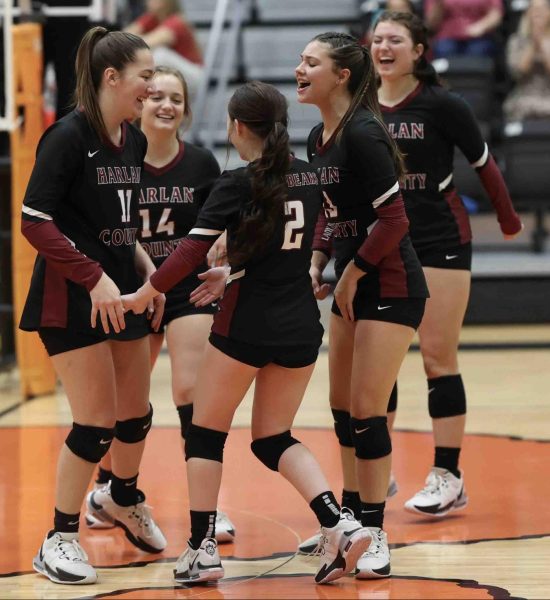 When the Harlan County Lady Bears took on Corbin in the 13th Region Tournament semifinals on Monday it was the seventh time a Harlan County team had made it to the region's final four going back to 2001.
Just like Evarts in 2003, Cumberland in 2007, Harlan in 2015 and 2016 and HCHS in 2013 and 2014, the Lady Bears' season ended a match short of the regional finals.
Harlan County was competitive in both the first and third sets but couldn't break through for the upset as the Lady Hounds advanced to a 13th Region finals rematch with a 25-17, 25-11, 25-19 victory.
The Lady Bears ended the season with a 19-10 record, one win short of the school record of wins set in 2013.
Kalista Dunn led HCHS with 13 digs and two kills. Ashton Evans had nine digs, seven kills and one service ace. Savannah Hill added 10 digs and nine assists. Kylee Hoiska added five digs, three kills, one ace, one block and one assist. Lesleigh Brown contributed eight digs. Ashlynn Williamson added five aces, three digs and one assist.
"I am proud of my girls," Harlan County coach Christina Jones said. "The season was definitely a wild ride with early success followed by some five-set battles that helped our girls be tested from the very beginning. We try to schedule the best opponents so that every game is an opportunity to figure out how we need to be better. I told them all year that they already had the ability, We just had to be tough mentally. Throughout the year, we experimented with different players in different roles to try and see how we could be most effective. As the year went on, we were able to keep fighting and keep winning. Before we knew it, we had nearly 20 wins for the season, which had only been done once in school history. We set goals and were able to achieve everything but a district championship. After some unexpected vacancies, we had to depend on some younger players to step up and fill positions. And those players did just that. They played as a team, they won as a team, and they celebrated their teammates on their success. We persevered and were able to advance in the regional tournament for the first time in my residency as coach."
Corbin will take on Whitley County at 6 p.m. on Tuesday for the regional championship.