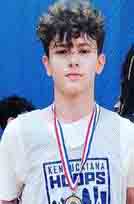 With many teams, the weight of being a district favorite and a regional contender can alter the progress of the team and create an opportunity for a flat start.
Someone forgot to tell the Pineville Mountain Lions this.
The Lions placed four players in double figures to win 95-66 over the home standing Johnson Central Golden Eagles in the McDonalds 15th Region Challenge on Saturday afternoon.
Pineville was led by junior guard Ashton Moser's 30 points. Junior guard Sawyer Thompson added 29. Senior forward Logunn Littles tossed in 12, while Senior guard Wyatt Caldwell pitched in 10.
Central was led by their freshman tandem of center Kyle Rose and Austin Slone's 20 points each.
The Lions came out firing on all cylinders and took an early 26-17 lead behind Moser's 13 points and Thompson's 11.
The second quarter would prove to be the deciding one as the Lions torched the nets for 30 points in the period to blow the game open at 56-30. Moser continued his hot shooting with 16 points, highlighted by four threes from deep.
The pace of the game slowed in the third quarter, but the Lions maintained their lead behind Thompson's nine points and senior center Sam Caldwell's six points and four rebounds in the period to make the score 73-53 Pineville.
Both teams went to their benches in the fourth quarter. Juniors Kaiden Robbins and Zander Garrison made several nice plays for the Lions to help close the game at 95-66.
Pineville will return to action Saturday in the GJ Smith Classic at South Laurel and face Louisville Beth Haven.
———
The Pineville junior varsity fell 49-41 in scrimmage action. Robbins and Garrison scored 15 points each. Sophomore Ethan Jackson added seven. Freshman Gabriel Kells scored four.
———
Pineville (95) — Moser 30, Thompson 29, Littles 12, W Caldwell 10, S Caldwell 8, Garrison 4, Robbins 2, Jackson  0, Kells 0.
Johnson Central (66) — Rose 20, Slone 20, Grimm 10, Shepherd 8, Meeks 4, Preece 4.