Lady Dragons reached top of region five times
At first glance, girls basketball at Harlan High School couldn't be much more balanced as far as wins and losses are concerned. Just by looking at season records, the Lady Dragons/Dragonettes have posted 21 winning seasons, 21 losing seasons and three seasons at .500.
But if you look a little deeper, the Lady Dragons' success can be defined by their five 13th Region championships. Harlan has made the most of its opportunities, working through lean years while building toward championship runs. The Lady Dragons made their first state tournament appearance in the 1980s, then two more in the 1990s and two more in the 2010s with a star playing leading the way each time. There was Debbie Hoskins in 1987, along with Patti Myers. Tiffany Hamm, along with Krissy Hatfield and Kristy Clem, led Harlan to titles in 1998 and 1999. Jordan Brock led the most recent charge with back-to-back titles in 2016 and 2017 as Jourdan Ledford, Mackenzie King, Brooklyn Massingill and Emma Bianchi also played key roles.
Success did not come early, however, as Harlan posted 12 losing seasons out of the first 17. The first Harlan team, led by Maralee Holder, finished 5-10 but made its only regional tournament appearance of the decade as the district runner-up to Lynch. Holder, who later served as an assistant coach at Harlan where she taught for many years, was the first player from the program to play in college as she signed with Sue Bennett.
Doc Gray took over as coach the third season and posted three straight losing campaigns before breaking through in 1980 to finish as district runner-up to Cawood while recording a 13-10 mark. Harlan also won its first regional tournament game that season with a victory over Pineville before falling to eventual champ Corbin by one point in the semifinals.
Glenda Powell, Kim Adams and Sophie Hollingsworth were leaders in the early 1980s as the Dragonettes, their nickname at the time, posted records of 13-11 and 18-7. Adams went on to play at Transylvania and later coached at her alma mater. Harlan had one of the region's tallest frontcourts in that era, led by Holly Lee, Kelly Trosper and Anna Morton. Trosper played at Lindsey Wilson and her daughter, Shelby McDaniel, was on Harlan County's regional championship team in 2018 and now plays at the Cumberlands.
Debbie Brown took over as head coach in the fall of 1982 and slowly built a powerhouse, going from six wins to 24 over the next five years with a lineup featuring Hoskins and Myers, along with P.D. Saylor and P.K. Saylor. Tammy Simms was a leader in 1983 and 1984, but most of the lineup was young at the time and Harlan posted three straight losing seasons through 1985. The Lady Dragons had a 19-9 mark in 1986 but fell in the opening round of the district tournament. Harlan lost to Cumberland in the 1987 finals, but bounced back in the regional tournament to knock off Clay County in the first round and then secured a rematch with Cumberland in the finals at Bell County with a win over the host Lady Cats. Harlan earned a trip to Bowling Green and the Sweet Sixteen with a 44-39 victory over the defending champion Lady Skins in the first all-52nd District finals. Hoskins went on to earn all-state honors and signed with the University of Kentucky before moving on to Lincoln Memorial University.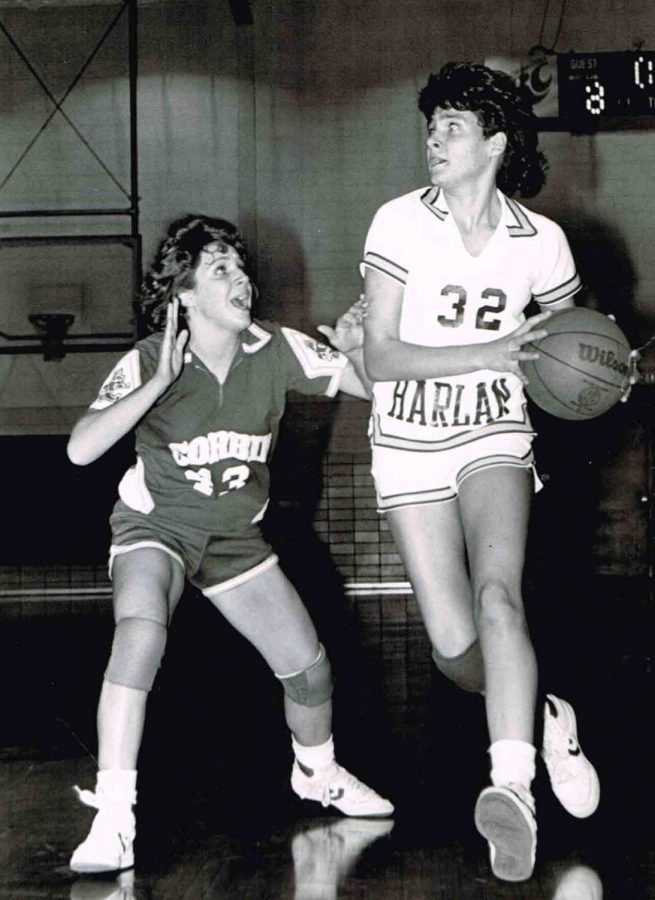 Brown and four seniors were gone after that season and Harlan started over once again, this time with Boys Choir leader David Davies, a longtime coach on the junior high level, taking over as head coach. The Lady Dragons suffered four straight losing seasons before Kim Adams Allison led them to a 15-13 record in 1992, led by Christie Robinson and Anita Nelums. Robinson was selected to the all-county team five times and Nelums was chosen four times.
Gray returned for his second stint as coach in the 1994 season, after Don Estep coached for one year, and had much more success the second time around with five straight seasons of 20-plus wins and five straight 52nd District titles from 1996 to 2000. The 1996 title was the first in school history. Hamm went on to play at Western Carolina after graduating in 2000. Hatfield and Clem were also standouts, along with Nikki Greer, Kathy Sweatt and Robin Jacobs.
Cawood took over as the district's dominant team in the new century and Chuck Mitchell started another rebuilding job with Harlan as the Lady Dragons didn't break .500 again until going 20-10 and winning another district title in 2007. Kendra Latham, Chassidy Lawson, Courtney Bell and Caroline Huff were standouts for Harlan during that era.
Derrick Akal took over in 2011 and led the Lady Dragons to a district title in his first season as Ashley Mullins starred for the Lady Dragons. Brock was an eighth-grader on Akal's only losing team in 2013, but the Lady Dragons followed with four straight 20-win seasons and four straight trips to the regional finals. Harlan lost to Corbin and Bell County in the finals before knocking off Harlan County in the championship games in 2016 and 2017. Brock was an all-state selection twice and went on to play at Tennessee Tech where she Is heading into her senior year.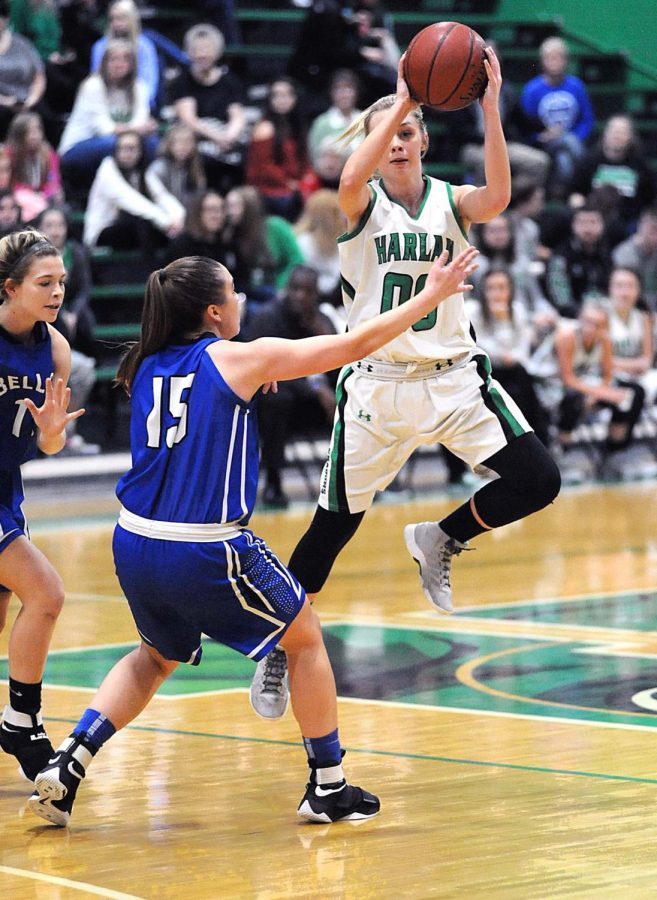 Hamm became the second former Lady Dragon to serve as head coach when she took over in the 2018 season and made it back to the regional her first season with Mackenzie King leading the way as a senior. Harlan suffered first-round losses the last two seasons on teams led by Natalee King, the third King sister to play for Harlan in the decade following Katie King and Mackenzie King.
2020 Tiffany Hamm 11-18
2019 Tiffany Hamm 8-22
2018 Tiffany Hamm 16-16
2017 Derrick Akal 27-9
2016 Derrick Akal 27-5
2015 Derrick Akal 23-11
2014 Derrick Akal 20-13
2013 Derrick Akal 13-15
2012 Derrick Akal 21-10
2011 Derrick Akal 18-13
2010 Chuck Mitchell 17-12
2009 Chuck Mitchell 12-14
2008 Chuck Mitchell 18-14
2007 Chuck Mitchell 20-10
2006 Chuck Mitchell 15-15
2005 Chuck Mitchell 14-14
2004 Chuck Mitchell 8-19
2003 Chuck Mitchell 6-20
2002 Chuck Mitchell 9-17
2001 Doc Gray 15-12
2000 Doc Gray 21-9
1999 Doc Gray 26-5
1998 Doc Gray 26-7
1997 Doc Gray 20-9
1996 Doc Gray 21-8
1995 Doc Gray 10-14
1994 Doc Gray 3-20
1993 Don Estep 4-23
1992 Kim Allison 15-13
1991 Kim Allison 7-18
1990 Kim Allison 11-16
1989 David Davies 4-23
1988 David Davies 4-21
1987 Debbie Brown 24-9
1986 Debbie Brown 19-9
1985 Debbie Brown 16-12
1984 Debbie Brown 13-15
1983 Debbie Brown 6-17
1982 Doc Gray 12-16
1981 Doc Gray 18-7
1980 Doc Gray 13-11
1979 Doc Gray 9-11
1978 Doc Gray 3-17
1977 Doc Gray 7-14
1976 Louis Green/Gennie Smith 7-12
1975 Gennie Smith 5-10
(Won district in 2016, 2011, 2007, 2000, 1999, 1998, 1997, 1996; second in 2018, 2017, 2015, 2014, 2008, 2005, 2002, 2001, 1992, 1987, 1985, 1984, 1982, 1980, 1975)
(Won region in 2017, 2016, 1999, 1998, 1987; second in 2015, 2014)