Jackson edges Middlesboro in All 'A' tourney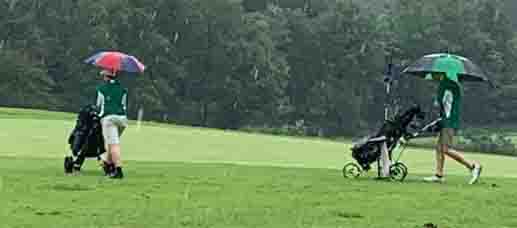 One stroke separated the top two teams Monday in the 13th Region All "A" Classic at the Wasioto Winds Golf Course in Pineville as Jackson County emerged as champions with a team total of 178, one stroke ahead of Middlesboro.
Barbourville finished third with a 190 and Harlan was fourth with a 294. Williamsburg and Lynn Camp didn't field full teams.
Williamsburg senior Micah Steely was the individual champion with a two-under par 34, two strokes ahead of Barbourville's Charleston Dixon and four ahead of Middlesboro's Tyler Harris.
Jackson County featured the most balanced attack in the tournament with all four golfers in the 40s, led by Xander Terry with a 41. Josiah Tyra shot a 43, followed by Tydus Summers with a 45 and Carson Miller with a 49.
Nick Cox was second for Middlesboro with a 45. Warren Vaught and Garrison Warren each shot a 48 and Luke Bayless finished with a 50.
Sam Buchanan was second for Barbourville with a 43. Michael Smith shot a 50 and Colton Poindexter finished with a 61.
Luke Ledington shot a 43 as the only Lynn Camp representative in the tourney.
Aiden Johnson led Harlan with a 50, followed by Carson Murray with a 51, Kevin Thomas Lee with a 59, Chris Taylor with a 65 and Story Miller with a 69.
"I'm proud of these young men for playing through some of the worst golfing conditions I've ever seen," Harlan coach Jeremy Lee said. "For the first four holes, they were playing in a heavy, soaking rain, something they have never dealt with. Today was one of those days you develop mental toughness and character. The lessons learned today will help us in matches later in the season."
The season continues today with a Pine Mountain Golf Conference match at Pineville.