Lady Lions capture All A Conference title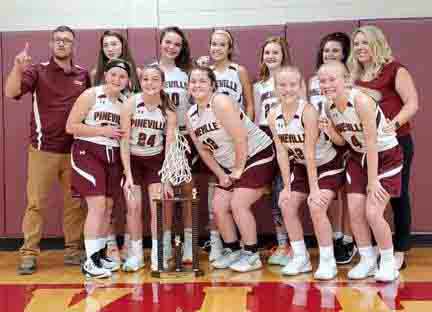 Two years after winning the conference championship on the fifth- and sixth-grade level, the Pineville Lady Lions expected nothing short of another title this fall as eighth-graders.
The Lady Lions completed a 12-0 season by winning the All A Classic Conference Tournament on Thursday at Pineville with a 44-22 victory over Harlan.
Rachel Howard scored 17 points while Alyssa Howard added 15 points and 15 rebounds to lead the Lady Lions.
"They won it as sixth-graders and their goal was to win it again this year just and that's what we've done," said Pineville coach Robert Daniels. "The key to having a good team is always staying in the gym and letting them work. They live in the gym, and I have to run them out when practice is over because they want to stay later. Their parents believe in me and I work them hard."
Abbi Fields, who led Harlan with 10 points, had a couple of early baskets as the Lady Dragons started strong before Rachel Howard heated up with five baskets in the quarter as Pineville built a 17-9 lead. The advantage grew to 30-13 by halftime as Rachel Howard, Alyssa Howard and Malley Smith had baskets.
"Tonight we started out sloppy but got going late in the first quarter and just blew the game open," Daniels said. "Everyone on my team contributed tonight either defensively or offensively."
Rachel Howard and Alyssa Howard had two baskets each in the third quarter as Pineville's lead grew to 44-18.
"I also have to give credit to Kim Yates, my assistant," Daniel said. "She put some new stuff in and the girls caught on quickly. She does a great job helping with them. I've had this same team for four years and it's the best group I've coached. They buy into everything I say."
Harlan finished the season with a 9-3 record. All three losses were to Pineville.
Abbie Jones scored 16 points as Harlan rolled past Lynn Camp 34-7 in the semifinals. Smith poured in 22 as Pineville downed Middlesboro 41-23.
———
Pineville (44) — Rachel Howard 17, Alyssa Howard 15, Kamryn Biliter 3, Malley Smith 6, Gracie Asher 3.
Harlan (22) — Abbi Fields 10, Abbie Jones 3, Addison Jackson 5, Shelby Doan 2, Reagan Goodman 2.
———
Pineville (41) — Ava Arnett 9, Alyssa Howard 8, Malley Smith 22, Gracie Asher 2.
Middlesboro (23) — Keevi Betts 13, Addyson Larew 4, Aieza Ahmad 2, Morgan Martin 2, Trinity Partin 2.
———
Harlan (34) — Jones 16, Jackson 5, Nunez 4, McLain 3, Doan 2, Fields 2, Goodman 2.
Lynn Camp (7) — Moore 5, Henize 2.