HCHS teams qualify for 2A state competition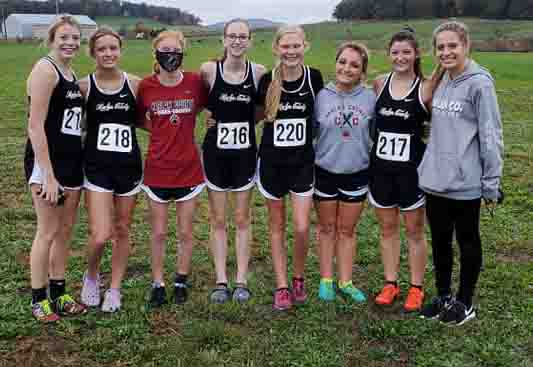 Both Harlan County High School cross country teams qualified for state competition after strong performances Saturday in the Region 5 meet at Wayne County High School. The Black Bears finished third while the Lady Bears took fifth.
"I'm very proud of my kids. This has been the weirdest season with the constant threat of a covid shutdown over their head all year long. These kids have pushed through that, a late start, and all the ups and downs you experience throughout a normal season. It's been crazy, but this group of boys and girls have persevered, and they have had the right attitude about it. They are a very special group of kids, and I have enjoyed coaching them," Harlan County coach Ryan Vitatoe said. "We had a good race plan heading into the region meet and I thought both teams competed hard. I knew coming in the line between a lot of the schools in this region was paper thin, but I felt like they ran well. This has been our goal all season. Now we shift our focus toward the state championship next Friday. We have to determine if it's enough to just be there, or if we are going to try to make some noise."
Corbin, the defending 2A state champion, won the regional with 26 points. Bell County was second with 80 points, four ahead of Harlan County. Boyle County was fourth with 88 points and Russell County was fifth with 121.
Bell County sophomore Caden Miracle had a second-place finish of 16:55.69, behind only Corbin's Sean Simons. Caleb Brock, a senior, led HCHS as he finished eighth with a time of 17:47.58. Daniel Joseph and Matt Yeary placed 10th and 11th, respectively. Andrew Yeary was 26th, followed by Lucas Epperson in 29th and Cooper McHargue in 34th place. Austin Crain was 43rd.
"These guys have worked so hard this season, and they deserve the opportunity to compete at the state meet. They continue a long line of tradition as we've had a male in either the 2A or 3A state championship since 2008. They are a close group and they lift each other up at all times, which is what makes them so special. Even when things have looked tough, they've kept the right attitude. Caleb is our captain, but there is tons of leadership on this team. It's truly been impressive," Vitatoe said. "I thought the boys battled hard. We had a strategy coming in and they ran it well. Seeing that kind of performance from our guys was inspiring in a region where the line between the 2-5 teams is so thin. They competed hard and they did everything I asked. I'm very proud of them. Corbin is the defending state champions, and Bell was ranked ninth last week in 2A and then there's us. That's nothing to be ashamed of."
Corbin won the girls regional title with 41 points. Boyle County was second with 74 points, one point ahead of Lincoln County. Mercer County, with 81 points, and Harlan County, with 86, rounded out the top five. Lincoln County's Lucy Singleton was the individual champion with a time of 20:15.83.
"I'm so happy with my girls. This is a huge accomplishment to build on. You could run that race five times and probably have five different combinations for the teams finishing two through five because those teams were so evenly matched. There was only an 11-point difference between second and fifth, which is nothing in cross country," Vitatoe said.  "This group of girls has grown so much throughout the season. Some ran four or five minutes faster than they did the last time we were here in mid-September. They came into the year ranked last in the region and work their way into contention for the top two. We fell a little short of that, but this is a huge accomplishment for us to build on. Every girl ran great one through seven, and as a coach you cannot ask for more."
Peyton Lunsford, an eighth-grader, again led the Lady Bears as she placed fourth with a time of 21:34.54. Riley Key was 20th, followed by Summer Farley (23rd), Leah Taulbee (25th), Cadance Ferguson (38th), Olivia Kelly (47th) and Lainey Garrett (50th).