Green's confidence growing after career-high night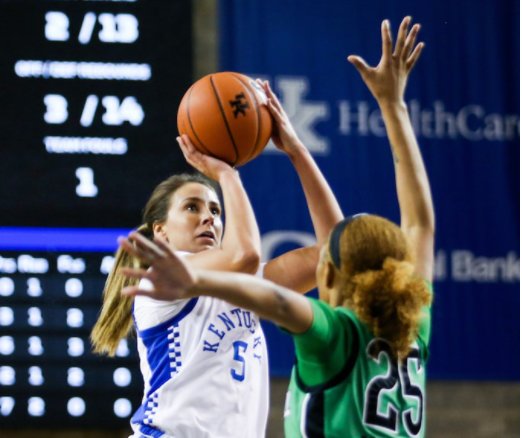 LEXINGTON (KT) — Blair Green is starting to come into her own.
The former Harlan County High School standout has begun her junior campaign on a tear and scored a career-high 17 points in a 79-45 win over Marshall on Wednesday night.
"I really feel like my confidence is up," she said. "I've put in a lot of work. The last game (against Indiana), I didn't shoot very well, but it didn't put my confidence down; I just knew I had to come back out and be more aggressive (against Marshall)."
Although she scored just two points in a 72-68 win over Indiana last Sunday, she has tallied double figures in two of the first five games, including 13 points in a season-opening win over Murray State.
Going into Sunday's game against Samford, she is averaging 9.6 points per game. Her eight field goals made against the Thundering Herd established a new career-high. She also has hit a 3-pointer in each of the team's five games this year.
"Blair has really bought into her role," Kentucky interim coach Kyra Elzy said. "You know, a year ago, she was really set on how she was supposed to score. It was supposed to look a certain way. We really challenged her to let her know that she can score in a variety of ways and to not box herself in as you got to see tonight."
On the court, Kentucky junior Rhyne Howard liked the way Green displayed her versatility on both ends of the court.
"It was great seeing Blair come out and play like that, especially when I'm looking to give it to her every time because she has the hot hand," she said. "She can capitalize on it and make good plays, it's great."
Elzy also noted Green's performance in the open court and praised her defense, which led to some easy buckets for the junior guard.
"She ran in transition, she was so active defensively, proud of her defense, so she scored points off of her defense (and) she hit open shots," Elzy said. "It was a great night for Blair, and we hope to see more of that from her."
Green likes being surrounded by teammates who can score, including Howard, Dre'Una Edwards, Chasity Patterson and other players on this year's squad.
"Everyone on this team is a really great player," she said. "We can all score, we can all rebound. I think that is what makes us really tough and really dangerous about our team. We can all play, and every night is someone else's night and it is even better when we can all pitch in and get in double figures."
Unlike the first two seasons, the game is starting to slow down for Green, leading to more contributions from the junior guard this season.
"Your mind just slows down and you just have to take a deep breath once you get that seriously into it, and yeah, it is definitely slowing down, just through all the practices and all the work that we've done," she said, "it slows down quite a bit."