Allen will get his 'turn to shine' against Mississippi State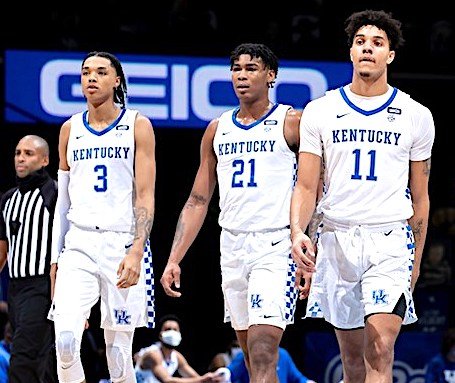 LEXINGTON, Ky. (KT) — Former Kentucky Mr. Basketball and Pendleton County High School standout Dontaie Allen has played just five minutes in the past four games but that could change Saturday.
Kentucky coach John Calipari hinted Allen would play more minutes in Kentucky's Southeastern Conference opener Saturday at Mississippi State and "now it's his turn to shine."
"He was great in practice (Monday)," Calipari said. "I was so proud of him. He started out shaky and I had to be right beside him talking to him on every (shot), pumping him up."
Allen was on the court for a combined 15 minutes in games against Morehead State and Kansas, including a career-high nine minutes against the Jayhawks, but has seen limited action since. He played just one minute in a 75-63 loss to North Carolina on Dec. 19.
Overall, Allen has scored seven points this season, including four in the opener against Morehead State. His first collegiate basket was a 3-pointer against the Eagles.
FLETCHER RETURNS
Cam'Ron Fletcher is back with the team after Calipari recommended the freshman forward return home to ponder his future. The suspension came following an outburst he displayed on the bench in the final minutes of Kentucky's loss to North Carolina earlier this month.
Calipari conferred with Fletcher's mom, high school coach and Fletcher before allowing the freshman to return to the team recently. Calipari laid down the ground rules and wanted to make sure Fletcher understood he may or may not play for the remainder of the season.
"I wanted everybody to hear that so we understood that this is for the long haul," Calipari said. "This is to get you to change. And there were a couple of other things that said to him that I absolutely expected that if you wanted to be a part of it this is how this will be. And he was great. I think the kid feels bad but he had to have a wake-up call. He came in and hugged me and told me, 'I'm going to be a different guy.'"
Fletcher's teammates also chatted with Fletcher during the suspension but trusted Calipari's judgment on the decision at the time.
"We all love Cam and we have talked to him," Freshman Lance Ware said. "Cam brings great energy and he's a great kid. I love Cam. But with the whole thing, that's like him and Coach. Coach has been doing this for a long time and I don't question anything about his judgment."
NO TAKERS
The Wildcats will play just one game this week after the team's scheduled conference opener for Tuesday night against South Carolina was postponed because of a spike in COVID-19 cases within the Gamecocks' program.
There was speculation Kentucky was looking to find a replacement, possibly Hartford or Detroit Mercy, but Calipari eventually opted against the move and focus on his own team, which has won just one game in seven tries this season and carries a rare six-game losing streak into the league opener against the Bulldogs on Saturday.
"We were going back and forth and I'm like, 'do we really want to prepare for another team when we're concerned about our team?'" Calipari said. "There are things that we got to get better, we got to execute better."
Gametracker: Kentucky at Mississippi State, 7 p.m., SEC Network, UK Radio Network.