South Laurel, Bell roll into regional semifinals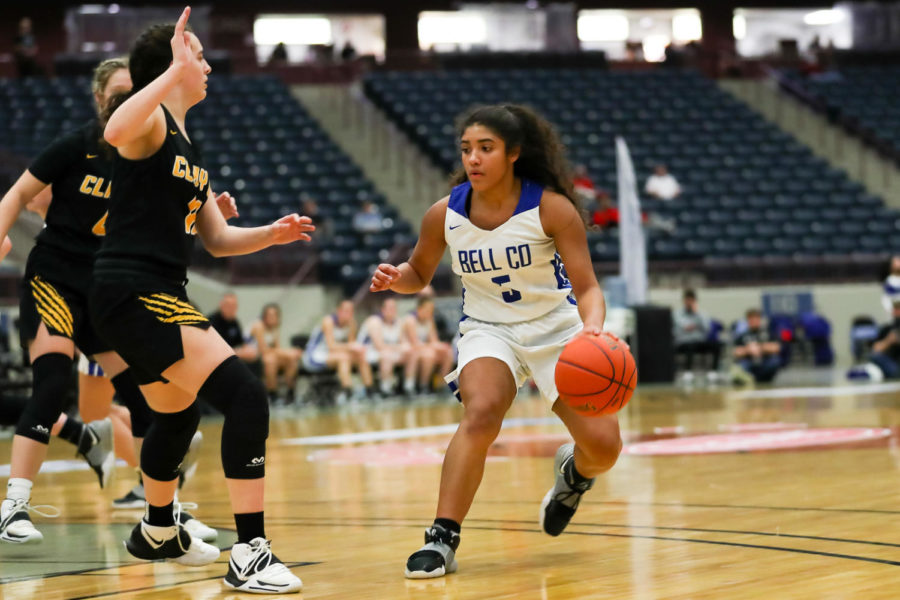 CORBIN — After overcoming some early shooting struggles, the South Laurel Lady Cardinals were able to hit cruise control and defeat Knox Central, 51-32, during Thursday's 13th Region Tournament quarterfinal action.
South coach Chris Souder told his players before the game the key to beating Knox Central would be their defensive play.
"That was key," he said. "I told them we needed to come and play disciplined and not be running around. We knew we had to contest their shots and have a hand in their face."
The Lady Cardinals limited Knox Central's leading scorers Caylan Mills, Brianna Gallagher and Presley Partin to a combined 22 points.
"We knew if we were going to advance we'd have to contain them," Souder said. "I thought we did a great job on them tonight. We knew we couldn't let them get off to a good start. If we left them open, they were going to knock down their shots. I thought we played really good defense tonight."
Reagan Jones and Kylie Clem led South Laurel with 13 points apiece while Brianna Howard finished with eight points. The Lady Cardinals forced Knox Central into 23 turnovers while limiting the Lady Panthers to an ice cold 24 percent (11-of-45) shooting, including a 0-of-9 effort from behind the arc.
South Laurel connected on 19-of-56 shot attempts and 4-of-19 from 3-point range.
"I thought we played well tonight," Souder said. "At this point, you want to win and advance. A lot of our girls played on last season's team and played some last season, but now they're in new roles. To start 1-5, and now we are 18-10, we have really fought to get where we are."
Both teams struggled offensively in the first quarter.
The Lady Cardinals managed to take a 3-0 lead thanks to three free throws by Rachel Presley, while a basket by Kylie Clem gave South Laurel a 5-0 edge with the 3:41 mark.
Knox Central didn't hit its first bask until Caylan Mills knocked down a jumper with 3:18 remaining. A 3-pointer by Reagan Jones and a outback by Presley gave South Laurel a 10-5 edge going into the second quarter.
Gracie Turner's basket to begin the second quarter triggered an 8-0 run that saw Turner score four points while Clara Collins and Clem also scored baskets to push the advantage to 18-5.
A 3-pointer by Jones and another layup by Clem increased South Laurel's lead to 23-9 with 2:25 remaining in the first half while a 3-pointer by Clem and an uncontested layup by Jones gave the Lady Cardinals a comfortable, 30-13, lead at halftime.
South Laurel limited Knox Central to 30 percent shooting (6-of-20) from the floor in the first half while forcing the Lady Panthers into 15 turnovers.
The Lady Cardinals were able to connect on 12-of-30 shot attempts but were outrebounded 16-12. Jones scored 10 points in the first half while Clem added nine points.
Knox Central attempted to put a rally together in the third quarter after baskets by Partin and Mills cut the Lady Panthers' deficit to 40-25, but a basket by Turner with less than a minute left in the period allowed South Laurel to go into the fourth quarter with a 41-25 advantage.
The Lady Cardinals continued to maintain their lead and put the game away during the final eight minutes of play.
The win allows the defending region champion Lady Cardinals (18-10) to advance and face-off against 51st District champion Bell County during Saturday's semifinal round at 2:30 p.m. The Lady Bobcats handed Clay County a 58-26 loss during the first semifinal game played on Thursday.
Bell County won the only meeting (53-32) between itself and South Laurel back on Feb. 23.
———
South Laurel 51, Knox Central 32
Knox Central 5 8 12 7 32
South Laurel 10 20 12 9 51
Knox Central (32) — Faine 4, Liford 6, Mills 8, Partin 3, Gallegher 11.
South Laurel (51) — Collins 4, Howard 8, Jones 13, Turner 6, Cox 2, Clem 13, Presley 5.
———
The Bell County Lady Bobcats moved into the semifinals with a 58-26 win over the Clay County Lady Tigers in the quarterfinals of the 13th Region Tournament on Thursday.
The Lady Bobcats showcased why they have had the region's second best record at 22-4 this season, and that is their stellar defense. Bell County limited the Lady Tigers to just 24 percent shooting from the field, including just nine made field goals for the night.
Entering the game, the Lady Bobcats were giving up just 47 points per game, one of the lowest scoring totals allowed in the region. The 26 points scored by Clay County on Friday was the lowest scoring output the Lady Tigers had put up out of all of their 22 games.
Bell County was led by freshman guard Nadine Johnson with 18 points, eight rebounds, four assists and five steals in the win. Lauren McGeorge added 12 points, while Mataya Ausmus scored 10 and pulled down five rebounds. Talyah McQueen score nine points, grabbed eight rebounds and had three blocks.
Bell County outrebounded the Lady Tigers 40-18 during the game, as they established early on that they were the stronger, more physical team. Sara Kidwell led the Lady Bobcats with 10 rebounds.
It took very little time before Bell County began to dominate the game. The Lady Cats outscored Clay County 14-4 in the first quarter and 18-8 in the second quarter, to take a 32-12 lead at the half.
In the loss, Clay County was led by Courtney Jones with 10 points and seven rebounds. The Lady Tigers wrapped up a season in which they finished with a 13-9 record and as runner-up in the 49th District Tournament.
With the win, Bell County advances to the semifinals of the 13th Region Tournament and will play South Laurel on Saturday at The Arena in Corbin.