Harlan Little League rosters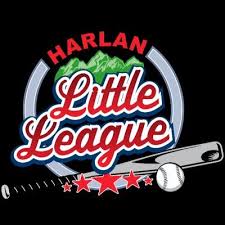 Major League Baseball
KY Mine Supply
Grant Shelton, Luke Luttrell, Trey Creech, Jackson Mackowiak, Cooper Thomas, Micah Shope, Grant Lee, Carson Yount, Micah Tolliver, Hayden Allen and Easton Engle.
Coaches Brad Shelton, Ross Mackowiak and Conrad Thomas
Fuelco
Zachry Boggs, Andrew Vance, Bryson Kelly, Hudson Faulkner, Carson Sanders, Derrick Holman, Landon Coldiron, Aiden Clogston, Gabriel Helton, Elijah Nolan and Brayden Clay.
Coaches Jared Boggs and Walt Kelly.
Baker's Tax Service
Brody Brock, Win Cooper, Cameron Brock, Carter Caldwell, Isaac Noe, Brody Burkhart, Bentley Howard, Gunner Millis, Dustin Pendergrass, Avan Middleton and Eli Joseph
Coaches Michael Sutton, Jerry Cooper and Doug Caldwell
Major League Softball
Super Circuitz
Adelynn Burgan, Raegan Landa, Kenadee Sturgill, Peyshaunce Frimpong, Jordyn Skidmore, Lacey Lemarr, Gracie Roberts, Kiera Roberts, Cidda-Lee Middleton, Kelsie Middleton and Kerrigan Napier
Coaches Scott Lewis and Courtney Burgan
Pennington's Wrecker Service
Jaylynn Pennington, Jaycee Simpson, Elisabeth Hensley, Alyssa Scoville, Arabella Ford, Vanessa Griffith, Kenzie Shepherd, Emily Cooper, Kayleigh Caldwell, Megan Lewis and Carmen Thomas
Coaches Jennifer Pennington and Tierra Sundy
Minor League Baseball Gutter Pro
Judah Shope, Jesse Pendergrass, Aiden Browning, Aidan Burnett, Toby Hensley, Jayden Peck, Michael Simpson, Izaiah Lefevers, Lawton Bolin and Maddox Landa
Coaches Frank Shope, Shaun Burnette and Shawn Browning
Tim's Barbershop
Brylee Southerland, Landon Smith, Seth Johnson, Logan Mills, Nathaniel Thomas, Brantley McArthur, Colt Perkins, Felix Blevins, Kaydon Cornett, Easton Clem
Coaches Chris Southerland, April Southerland and Steve Johnson
Saylor's Auto Sales
Noah Blackburn, Carter White, Gunner King, Xander Owens, Sawyer Crow, Saylor Crow, Allyn Fulst, Alex Hubbard, Thomas Miller and Colton Whitehead
Coaches Adam Blackburn and Joe Freeman
Bubba Fest
Bryson Millis, Grant Caldwell, Ace Lankford, Evan Lewis, Jace Hensley, Andrew Alred, Noah Griffith, Uriah Roberts and Gage Collett
Coaches Joe Millis and Brandon Millis
Minor League Softball
Donell's Pharmacy
Madison Barrett, Josie Bennett, Journee Bennett, Lakynn Clem, Embry Engle, Alivia Eversole, Kelsey Myers, Campbell Thompson, Aniston Burton, Andrea Napier, Ella Brock and Blaklee Hoskins.
Coaches Andrew Burton, Shelby Burton and Drew Chamberlain
Howard Engineering
Mattilynn Ward, Cheyenne Childers, Abigail Tolliver, Jasmine Brock, Cylann Bargo, Isabella Burkhart, Madelyn Craig, Claire Bruce, Emma Curry, Emerson Turner, Aaralyn Middleton and Zoey Collett.
Coaches Beth Craig, Amy Burkhart and Jason Childers
United Industrial Service
Crissalyn Jones, Emma Peck, Zoey Reed, Kialia Phillips, Adalynn Shackleford, Cassidy Meadors, Madelynn Goins, Ryleigh Goins, Blayne Brock, Addison Estes, Kennedy Estes and Mckenna Estes Coach CJ Reed and Amanda Reed
Rookie league
Don's Super Saver
Evan Coldiron, Maddox Helton, Madilyn Helton, Ryder Helton, Elijah Key, Westin Nolan, Sawyer Shackleford, Nolan Simpson, Sadie Shackleford and Paxton Howard
Coaches Anthony Nolan & Tara Nolan
Cash Saver Eli Brock, Nathan Campbell, Bentley Colinger, Liam Cook, slash Etherton, Christian Faulkner, Jace Howard, Waylon Turner and Braxton Swick.
Coaches Edna Bailey and Jason Colinger
421 Vendors Mall
Tripp Ford, Finley Lemarr, Mason Pennington, Kholten Plummer, Mark Sargent, Kinley Middleton, Nolan Niday, Connor Niday and Bryson Stewart
Coaches Jack Maggard, Meredith Maggard and Cassie Maggard.
T-ball
Pace Towing
Piper Sutton, Shelby Reed, Zander Huff, Caleb Asher, Lynnex Blevins, Wyatt Key, Kolden Ward and Kennedy Freeman
Coaches Brittany Sutton and Michael Sutton
El Charrito
Olivia French, Braxtyn Owens, Jasper Hamblin, Kingston Hamlin, Caroline Lewis, Mallory Lewis and Coleman Vance
Coaches Colby French and Tiffany French
Hearthside Bank
Hazel Engle, Kristie Engle, Corben Snelling, Jagger Long, Knox Dempsey, Remington Blevins and Ryder Farley
Coaches Danielle Engle and Steven Engle
VIP
Zoey Phillips, Emerson Sturgill, Braxton Capps, Camden Capps, Hunter Goins, Maverick Helton and Chloe Clogston
Coach Jason Capps
Harlan Masonic Lodge
Axel Boggs, Frank Allen, Zander Hawkins, Scarlett Ward, Carris Napier, Piper Hearld and Lillianna Taylor
Coaches Paul Hearld and Nikki Hearld
421 Gas & Go
Oakley Moody, Asher Shackleford, Tommy Shackleford, Anistyn Engle, Maddox Turner, EJ Helton and Harlyn Clem
Coach Kayla Turner and Danny Soublo
Monticello Bank
Bentlee Adkins, Brantley Adkins, Gunner Adkins, Sophia Huebner, Charlotte Howard, William Howard and Jessalyn Pace
Coach Mary King
Henson & Rich
Levi Bruce, Emmett Alred, Aiden Edens, Michael Edens, Rayna Edens, Everly Freyer and Dylan Cruz
Coaches Greg Edens and Mariah Edens
JRL
Ian Kelly, Benjamin Parsons, Liam Treece, Zackary Daniels, Carson Daniels, William Stamper, Jaxon Couch and Caroline Wilson. Coaches Walt Kelly and Scott Parsons
The Do Gooders
Jaxxon Wilder, Cooper Rowe, Noah Kilbourne, Collin Creech, Isaac Gibbs, Barron Pace and Ben Carmical
Coaches Chris Kilbourne and Rebecca Kilbourne
Lee W Coal
Ava Blanton, Rayleigh Harris, River Landa, Braelynn Robinson, Brooklyn Robinson, Isaac Wynn and Riley Asher
Coach Dalton Asher