Bears overcome slow start to coast past Bell County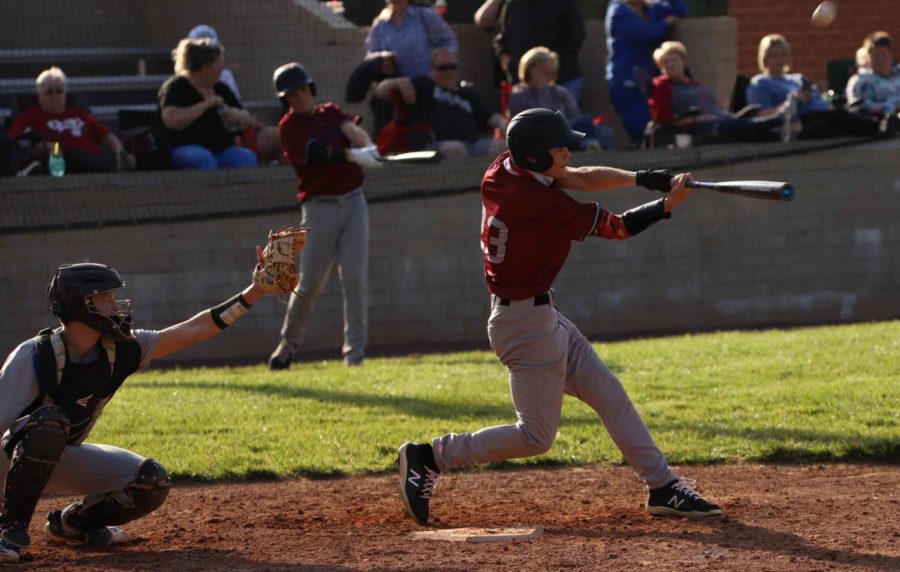 Tristan Cooper and the Harlan County offense each got better as the game progressed Monday against visiting Bell County as the Black Bears moved to within one win of clinching the 52nd District's top seed with a 15-5 six-inning victory.
Cooper gave up four runs in the first two innings, then held Bell to one run the rest of the way.
"The only gripe I have is Tristan gets behind in counts and loses focus, but he's learning. He settled down and started to dominate the last couple of innings," Harlan County coach Drew Chamberlain said.
Cooper struck out 10 and walked four over five innings, giving up five runs on five hits. Nate Shepherd pitched one shutout inning in relief with two strikeouts.
Jonah Swanner had a two-run homer in the third inning to put the Bears ahead for good. Shepherd and Cooper each added a double and single. Isaac Kelly drove in three runs with two singles. Zac Collett added a double. Brayden Blakey, Josh Swanner and Karsten Dixon contributed one single each.
"We put the ball in the play and got some good, hard hits in the gaps, plus Jonah with the homer. We're swinging the bats," Chamberlain said.
Hayden Clark led Bell County (3-8 overall, 2-3 district) with two singles. Cole Hoskins, Alex Mayes and Dalton Stepp added one hit each.
The two teams play again Tuesday at Bell County as HCHS (6-8 overall, 4-1 district) can clinch the district's top seed with a win.
"Our players have stayed positive and show up every day and try to get better," Chamberlain said. "I see improvement each and every game. They are getting better and working hard."
———
Bell County 220 100 — 5. 5. 6
Harlan County 122 334 —` 15. 11 3
Hoskins, Clark (5), Mayes (6), Thomas (6) and Walters; Cooper, Shepherd (6) and Kelly. WP — Cooper (2-3). LP — Hoskins.
———
Harlan.County fell 11-7 to Corbin on Friday and 15-4 to Middlesboro on Thursday in high school baseball action.
Brayden Blakley led the HCHS offense against Corbin with a double and single as part of a 10-hit attack. Nate Shepherd and Will Cassim had two singles each. Tristan Cooper, Zac Collett, Jonah Swanner and Josh Swanner had one single each.
Cooper suffered the loss as he gave up six runs on five hits in two innings. Colby Johnson allowed five runs on eight hits in five innings.
———
Corbin 062 000 3 – 11. 13 4
Harlan County 114 001 0 — 7 10. 3
Landrum, Neal (4), Baker (6) and Combs; Cooper, C. Johnson (3) and Kelly. WP — Neal. LP — Cooper (1-3).
———
Will Cassim led the Bears with two singles in the loss to Middlesboro. Zac Collett, Tristan Cooper and Isaac Kelly added one double each. Josh Swanner, Brayden Blakley and Jonah Swanner had one single each.
Blakley suffered the loss as he gave up eight runs (one earned) on eight hits in four innings, with seven strikeouts and two walks. Nate Shepherd allowed seven runs on five hits in 1 1/3 innings, with three strikeouts and three walks.
Case Bayless earned the win as he allowed two runs on five hits in five innings, with eight strikeout and five walks. Kameron Wilson gave up two runs on three hits in one inning.
Lane Bayless had a homer for the Jackets as part of a three-hit night. Eric Helton contributed two doubles.
———
Harlan County 000 202 — 4. 8 11
Middlesboro 211 416 — 15 13. 1
Blakley, Shepherd (5) and Kelly; Bayless, Wilson (6) and Gent. WP — Bayless. LP — Blakley (2-1).