First round of regional tourney marked by big margins for winners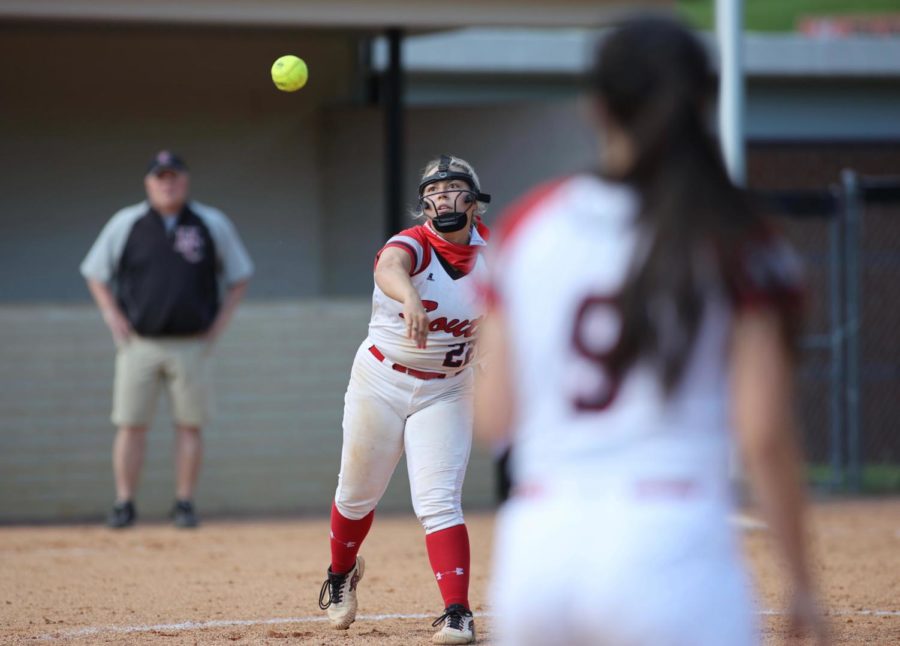 It was a day of blowouts on Saturday in the opening round of the 13th Region Tournament at Harlan County High School.
South Laurel, North Laurel and Corbin claimed five-inning wins while Corbin coasted to a 10-2 victory over Middlesboro. Corbin will play North Laurel at 5:30 on Monday and South Laurel will take on Knox Central at 8 p.m. The championship game is set for 7 p.m. on Tuesday.
———
Karly Gray and Chloe Taylor teamed on a perfect game as South Laurel rolled into the finals with a 10-0 win over tournament host Harlan County.
Gray struck out one in two innings. Taylor fanned three in two innings.
Taylor had a triple and double to lead the offense for the 21-12 Lady Cardinals. Madison Worley added two singles. Addie Baker and Gray each had a double. Aubree Laster, Jaylyn Lewis, Kylie Clem, Katie Jervis and Makayla Blair added one single each.
Kerrigan Creech pitched a complete game for the 13-10 Lady Bears with three strikeouts and one walk.
"Kerrigan didn't pitch badly at all. She was hitting spots," Harlan County coach Tim McElyea said. "We made some mistakes early, and when you get behind a North or South like that you are in for a battle. They are solid. In games like this, you have to build some momentum."
———
Harlan County 000 00 — 0. 0. 2
South Laurel 523 0x — 10 11 0
Creech and Adams; Gray, Taylor (3) and Blair. WP — Taylor. LP — Creech (12-9)
———
North Laurel rolled into the semifinals as Maddie Dagley pitched a no-hitter and Emily Sizemore supplied a two-run homer in a 10-0 five inning victory over Lynn Camp.
Sizemore was one of four Lady Jaguars with two hits as she also added a single. Bailee Root had two triples. Sage McClure and Ellie Adams each contributed a triple and single. Bella Sizemore singled twice. Dagley and Hallie Proffitt added one single each.
Dagley struck out seven and walked none as she was in control throughout.
North Laurel will play Corbin in the semifinals on Monday.
———
Lynn Camp 000 00 — 0. 0. 0
North Laurel 042 31 — 10. 11. 1
Roberts and Shepherd; Dagley and Fawbush. WP — Dagley. LP — Roberts.
———
Shelby Stewart pitched a four-hitter and the Corbin defense came through with several nice plays in a 10-2 win over Middlesboro to open the tournament.
Senior catcher Kaylee Morales led the 16-16 Lady Hounds with a triple and two singles. Alayna Reynolds added a triple and double. Bailey Stewart had a double and single. Kaila Stidham singled twice. Danni Foley had a double. Becky Stewart, Kallie Housley and Kennedy Guiher added singles.
Virginia Marcum single twice for the 15-20 Lady Jackets.. Paige Johnson added an RBI double.
———
Corbin 042 030 1 — 10. 13. 1
Middlesboro 010 000 1 — 2. 4. 3
S. Stewart and Morales; Miller and Marcum. WP — S. Stewart. LP — Miller.
———
Freshman outfielder Abi Beller drove in seven runs on two triples and a single as Knox Central rolled to a 17-7 five-inning win over Jackson County.
Amber Partin added two doubles for the 22-9 Lady Panthers and also earned the win on the mound as she struck out three and walked none while giving up eight hits. Caitlyn Jackson and Hannah Melton each added two singles. Makayla Hinkle had a triple. Mara Wilson, Presley Partin and Morgan Bright added one single each.
Hannah Creech and Justina Rubla led the 20-13 Lady Generals with a double and single each. Larrysa Hillard added a double. Emily Mays, Madison Belt and Blakelyn Fee had one single each.
Knox Central will play South Laurel in the semifinals on Monday.
———
Jackson County 013 03 — 7. 8. 3
Knox Central 147 5x — 17. 13. 3
Williams, Ward (3) and Creech; A. Partin and Bright. WP — A. Partin. LP — Williams.