Paschal looking forward to 'normal season' with Cats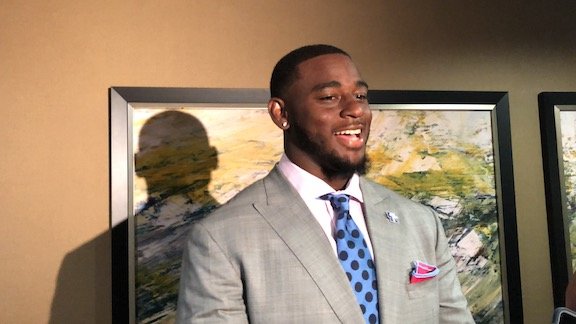 LEXINGTON (KT) — Josh Paschal can't wait to begin his final season at Kentucky.
 "I'm looking forward to being back to a normal season," the senior defensive end said. "I'm just thankful to get back to a regular season, to get back to full capacity with fans, to get back to a full schedule."
A year ago, the Wildcats maneuvered through a 10-game Southeastern Conference schedule while enduring a pandemic that gripped the state, nation and the world. Kentucky didn't skip a beat and played all of its games, defeating North Carolina State in the Gator Bowl. The Wildcats dealt with adversity following the loss of offensive line coach John Schlarman near the end of the regular season.
"We've been through a lot, not only in Kentucky football but in our athletic program," Paschal said. "We took a lot of losses in our athletic program, especially with Coach Schlarman and the football program, and of course with (the injury to) Chris Oats. Playing lightly is something that we don't do, so I think we're all good with that."
Paschal added the Wildcats don't want to put Schlarman or Oats in the rearview mirror, "because you want to keep them next to you."
"He was going through the most difficult time of his life, but at the same time, he did it all for the team," Paschal said of Scharman. "He showed up to every practice. No matter what he was going through health-wise, he always put the team first. And that's something we always want to keep next to us and keep on our mind."
During his career with the Wildcats, Paschal has overcome a cancer scare and wants to be a "light" to others within the program because of his experiences.
"it could be a time or it could be a moment where a player could be going through something where all they can see is darkness," Paschal said. "You want to be able to shed a light to someone. That's what I try to do. I try to bring the energy wherever I go. We could be running sprints and be dead tired, but you're going to see me smiling and see me having fun. That's something I take personally. I just want to be able to be the light to guys on the team."
Paschal has shared his testimony and experiences throughout the nation and even appeared on the "Today" Show where he met Jennifer Lopez.
"We (made) complete eye contact and she winked at me," he said. "I hope that wink was real because I've been telling this story ever since it happened. When I tell you I melted, I melted."
Kentucky was picked to finish third in the SEC East and Paschal believes the Wildcats can compete with Georgia and Florida for bragging rights this season.
"We just have to execute," he said. "We put in the work this off-season, and we're going to continue to. During camp, we're going to continue to preach our goal, which is to get to Atlanta, and we're going to compete. That's the thing that we have to do. We have the players, we have the talent, and now we just have to execute our goals and execute what we have to do."