Johnson reaches end zone four times in four ways as Dogs down HC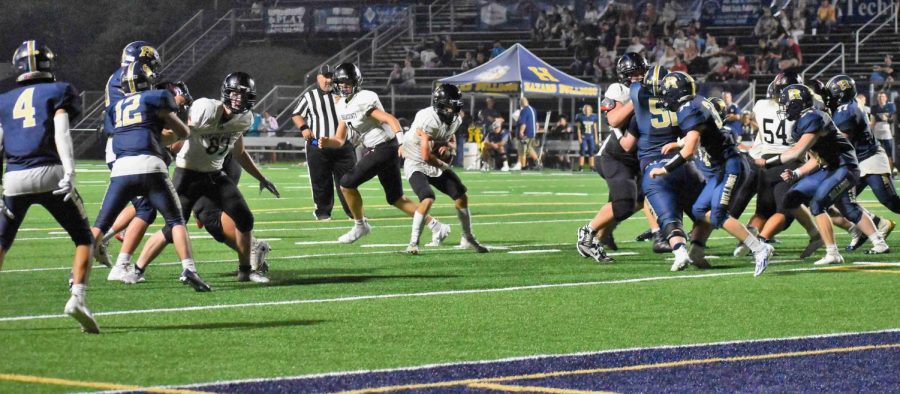 HAZARD — Max Johnson plays quite a few roles for the Hazard Bulldogs and he plays them quite well as demonstrated Friday in a 48-24 win over visiting Harlan County.
Johnson scored on a kickoff return, a punt return, a run and an interception return while also taking over kickoff duties after a teammate was ejected as the Bulldogs bounced back from a season-opening loss to Middlesboro by posting a surprisingly easy win over the Black Bears, who had opened the season with a blowout victory over South Laurel.
"He did just about everything one player can do in a ballgame," Harlan County coach Amos McCreary said of Johnson. "It was a super night. He's a good player, and we saw him on film. He had some big plays."
Johnson set the tone for the night on the opening kickoff as took it back 72 yards for a touchdown. Mia Rouse followed with the first of four extra points. Johnson touched the ball again four plays later and just like the previous play, he was untouched in returning a punt 70 yards for a score and a 13-0 lead at the 9:36 mark of the first quarter.
McCreary blamed himself for the Bears' special teams problems early in the game.
"I was looking right at it and saw they moved 20 up there, and we kicked it on a line drive right to him, and the boy is an athlete," he said. "He makes one miss and he's to the house. It was a good call."
Harlan County had success on the ground, like in the win over South Laurel, with 217 yards rushing on 58 carries. But unlike a week earlier, the Bears were unable to get outside for big plays. Hazard contained HCHS star tailback Demarco Hopkins, limiting him to 82 yards on 25 carries a week after he ran for 291 yards. Defensive back Andrew Ford brought down Hopkins several times in the open field.
"They saw that on film and, they weren't going to let it happen," McCreary said. "They were determined to take away that pitch. They weren't going to let that pitch beat them. They did a good job. The big plays weren't there for us tonight. Their free safety is pretty good. He made some big plays."
Senior halfback Adam Carr led the Bears with 99 yards on 22 carries as HCHS picked up 17 first downs compared to 10 for first downs. Hazard struck quickly on offense and special teams and didn't attempt a punt all night.
Harlan County played without two starters in sophomore receiver/cornerback Jonah Swanner and sophomore outside linebacker Carter Howard. Swanner scored two touchdowns in last week's win.
In addition to his kickoff and punt returns and 147 yards rushing on five carries, Johnson had three of the four interceptions against Harlan County quarterback Ethan Rhymer. Ford had the first interception of the night late in the first quarter, setting up Tyson Turner's 29-yard touchdown run. Rouse's second extra point pushed the lead to 19-0.
Harlan County marched 54 yards in eight plays in a drive capped by Hopkins' 2-yard TD run. Hank Pelfrey blocked Issac Downs' extra point try.
Johnson broke free for a 34-yard run on the Dogs' first play of their next drive on a play that led to a fight and a pair of ejections after a long conversation by officials at midfield. Hazard lineman Cameron Caudill was ejected, as was HCHS assistant coach Denny Farmer following an argument with officials. Max Pelfrey found Hank Pelfrey for a 23-yard touchdown pass two plays later. Johnson went in for two points on a botched snap, pushing the lead to 28-6 with 8:58 left in the second quarter.
A 63-yard kickoff return by Thomas Jordan set up the second HC touchdown as Carr went in from the 8. Rhymer teamed with Gavon Spurlock for a two-point conversion, cutting the deficit to 28-14 with 7:13 left in the half.
The Bears couldn't get the stop they needed as Johnson raced through a huge hole in the defense for a 50-yard touchdown. Rouse's kick made the score 35-14.
HCHS picked up two points when Pelfrey threw the ball out of the back of the end zone when he fumbled on a second-and-32 play near the goal line.
Harlan County had a chance to get back in the game with a 13-play drive to open the second half, but Johnson ended the threat with an interception. Johnson had runs of 27 and 30 yards, then Max Pelfrey raced 22 yards for a touchdown on the third play of the drive for a 41-16 lead with 1:40 left in the third quarter.
Johnson took back his third interception 60 yards for a score when he stepped in front of a pass intended for Hopkins.
The Bears covered 63 yards in 10 plays as Jordan closed the scoring with an 8-yard run followed by a two-point conversion.
Harlan County (1-1) will return to action Friday at home against Whitley County.
Hazard 46, Harlan County 24
Harlan County 0 16 0 8 —24
Hazard 20 15 6 7 — 48
H — Johnson 72 kickoff return (Rouse kick)
H — Johnson 30 punt return (Rouse kick)
H — Turner 29 run (Rouse kick)
HC — Hopkins 2 run (kick blocked)
H — H. Pelfrey 23 pass from M. Pelfrey (Johnson run)
HC — Carr 8 run (Spurlock pass from Rhymer)
H — Johnson 50 run (Rouse kick)
HC — Safety (ball pitched out of back of end zone by M. Pelfrey)
H — M. Pelfrey 22 run (kick failed)
H — Johnson 60 interception return (Rouse kick)
HC — Jordan 8 run (Jordan run)
HCHS HHS
First downs       17.    10
Rushing-Yds   58-217 58-224
Passing              22       97
Comp-Att-Int 1-5-4. 3-5-0
Penalties              8-74  8-85
Punts                     1-36  0-0
Fumbles                 1-0   1-0
RUSHING—Harlan County, Carr 22-99, Hopkins 25-82, Jordan 5-25, Sergent 6-12. Hazard, Johnson 5-147, Turner 1-29, Olinger 1-25, M. Pelfrey 4-7, H. Pelfrey 2-5, Davidson 3-4.
PASSING — Harlan County, Rhymer 1-5-4-22. Hazard, M. Pelfrey 3-5-0.
RECEIVING—Harlan County, Hopkins 1-22. Hazard, H. Pelfrey 2-82, Ford 1-15.