Back to full strength, Harlan County coasts past Bell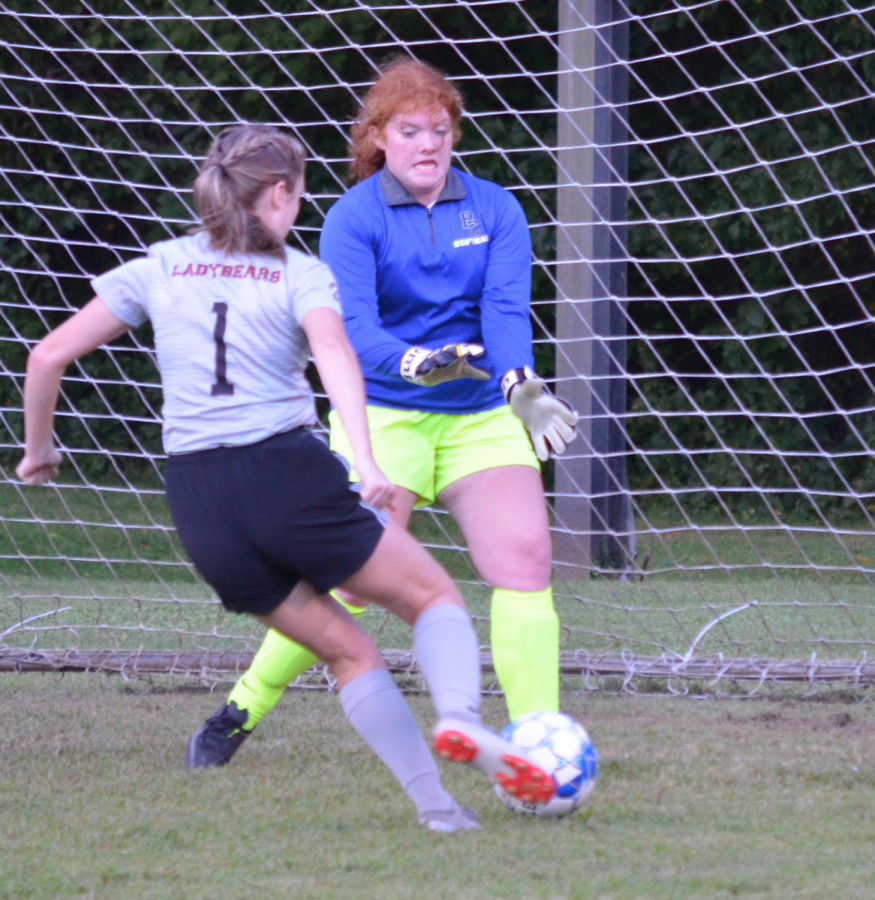 The Harlan County Lady Bears earned their first win of the season Thursday with an 11-1 victory at home against district foe Bell County.
"We are finally healthy and back to somewhat of a full roster. Due to injury, quarantines and other factors this was only the second game that we had a full 11 on the field. We even had a sub," said first-year Harlan County coach Troy Gaw.
After playing makeshift lineups earlier, Harlan County was finally able to put everyone at their natural positions and it showed.
Abigail Gaw led the Harlan County attack with four goals and one assist. Riley Key followed with two goals and two assists. Leah Taulbee scored two goals, Livia Gilbert, Natalie Bolin and Victoria Day each scored one goal and had one assist and AnnaBelle Williams had one assist.
"We were on the attack tonight. Abigail had a great game. Hopefully, this will give her the confidence to really be a big-time scorer that we need," Gaw said. "Riley Key, one of three returning seniors, is a huge part of our team. She is our rock on our defensive line and I was glad that she was able to move her up to the offense and she scored a couple times tonight. Leah and Natalie, both seniors, played well tonight with both still coming back from injuries sustained in the offseason.
"Our other returning players played the way they know how to play, Kenzie, Livia and Victoria played well. Kenzie is a rock in the goal, and Livia and Victoria control the midfield. For the rest of the team, this was only their fifth game ever on the high school level. Several girls had never played soccer before this year. The growth in these girls in a short time is tremendous."
———
In previously unreported action, the Lady Bears started their season with an 8-1 loss at Estill County. Natalee Bolin scored Harlan County's only goal with the assist from Victoria Day.
Harlan County was only able to field 10 girls that day and play down a player the entire game.
Harlan County visited Middlesboro for its district opener. Once again, injury and quarantine played a big role as HCHS started the match two players down and finished the game three players down in what turned out to be a 2-0 loss.
Gaw said it was a gutsy performance from his team.
"Our goalie was under the weather with allergies but hung tough as long as she could," Gaw said. "We held them out of the goal for 60 minutes and without Kenzie's performance during that time the match could have gotten out of hand quickly."
South Laurel handed the Lady Bears an 8-0 as HCHS could only field a partial team of nine players throughout the game.
"I was very appreciative of the South Laurel coach," Gaw said. "He could have played his 11 best players and ended the game quickly, but he chose to only play with the number of players we had on the field. We were definitely outmanned and outgunned that day but fought hard."
The Lady Bears lost 5-0 at Letcher Central.
"This was our first game that we had a full 11 eligible and available. We didn't have any subs and fatigue got to us a little," Gas said. "Our girls fought hard and that is what I ask for — 100 percent effort 100 percent of the time."
The Lady Bears travel to Bell County on Saturday for another district matchup. The match is scheduled to start at 11:30 a.m.