Calipari moving on from last year's disappointing season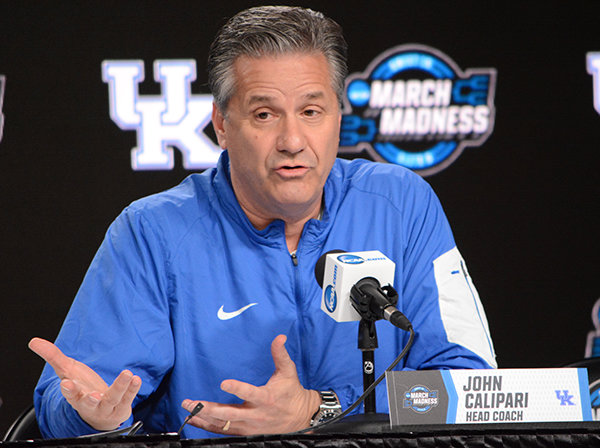 LEXINGTON (KT) — John Calipari has already forgotten about last year.
The Kentucky coach endured his first losing season as coach of the Wildcats with a gut-wrenching 9-16 campaign. It marked the team's first losing season since Eddie Sutton's last season in 1988-89. Calipari admitted it was an "awful year for a bunch of coaches, but it was an awful year for everybody."
"It was painful for every one of us to go through," he said. "Every one of us. And I'm not talking just coaches, everybody, every student. It was painful."
As the Wildcats begin preparing for the upcoming season, Calipari is forging ahead with a squad that features a mixture of returnees, transfers and newcomers.
"I'm moving on," he said. "I'm excited about coaching. That's going to be a blip in the screen. … I'm not looking back. I don't have the rearview mirror. I'm looking forward. I'm jacked about where we are, where we're going, how the recruiting's going, all that. You could tell that I'm like, let's go, let's get this started."
During the off-season, Calipari added two coaches to his staff, bringing back Orlando Antigua as his associate coach, while adding Ron "Chin" Coleman to the bench. Antigua and Coleman were instrumental in Illinois' recent success and both coaches have been heavily involved on the recruiting trail.
"I think we've had the No. 1 or 2 class every time I've been here but we may not have the momentum," Calipari said. "I think we've missed on some guys, which I've always said it, we will. We don't get everybody." 
Calipari hasn't changed his stance of no open promises with a given player and called those types of recruiting techniques "embellishing."
"The kids that we're talking to, most cases have said their dream was to play here for me," he said. "You know what, we've just got to hope that they're not talked out of it."
As the Wildcats and other college programs begin a new era of name, image and likeness, the Kentucky coach wants his program to be the gold standard when it comes to NIL.
"That means let's teach and educate.  I want you all to hear this: It's not inducement if they're already on your campus," he said. "That's not inducement. They're here. What we do with them now that they're on campus to educate and protect, they need to have someone look at a contract to know what they're signing."
Calipari admitted there likely will be some tweaking along the way and is prepared for the task at hand.
"I would rather fail fast than be in the caboose," he said. "We don't know what's going on, but let's not be in the caboose now. We're going to fail some. We're going to have to change. There's going to be things we try that aren't going to work, but there's going to be things going on six months from now that works now that we all say, well, that's something great. 
"It helps the kids. It helps the programs. We don't want to be too locked in."