Harlan County sixth-grader captures national title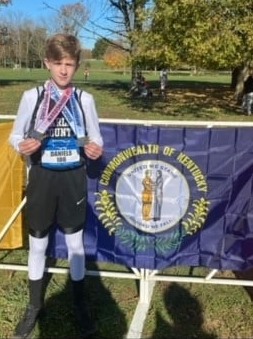 An undefeated regular season followed by being ranked first in the state in his division was already enough to qualify Tanner Daniels' sixth-grade cross country season as one for the record books.
He added another achievement on Saturday that topped them all. Daniels, a sixth-grader who competes on the Harlan County High School cross country team, won the national championship in the sixth-grade division at Tom Sawyer Park in Louisville.
Daniels covered the 2,000-meter course in a time of 7:01, defeating his nearest competitor by 13 seconds. His time was a 44 second personal record and broke his own county record for the distance. Daniels captured a regional title during the 2021 season and completed an unbeaten regular season.
"I'm so proud of Tanner. He finds himself in uncharted territory for the sport in our county and it's well deserved," said Harlan County cross country coach Ryan Vitatoe. "He's insanely talented and has a work ethic that is off the charts. This is only the first of many accolades for him."
"I thank God for everything I've accomplished. Without him, it wouldn't be possible," said Daniels. "I have a great support system with my family, friends, coaches, teammates, church and teachers at Wallins Elementary. I'm glad I could represent Harlan County and bring home a national title. Never give up, work hard and you will succeed."
Daniels, who has been part of the HCHS program for four years, was the elementary champion this season in the conference, area and regional races, as well as winning in races at Lynn Camp, Bell County, Wayne County and Harlan County.
Ranked first in the state in his age group in both the 1,600-meter and one-mile races, Daniels finished fifth in the state in his cross country division after a tripping incident that reportedly cost him a chance to win the state title.