Third-quarter surge carries Lady Dragons past Middlesboro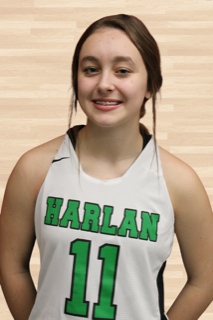 An 11-0 spurt early in the third quarter combined with a 9-0 run to close the period sent homestanding Harlan past Middlesboro 57-42 in 52th District action on Tuesday.
Sophomore guard Faith Hoskins powered the Lady Dragons with 15 points on six-of-nine shooting. Freshman forward Kylie Noe struggled from the field, but finished with 14 points. Aymanni Wynn scored 10 while Emma Owens collected eight.
Harlan held a 34-31 rebounding advantage. Wynn had a game-high 10. Noe pulled down nine.
Senior guard Grace Gent paced Middlesboro with 14 points. Kailey Owens, also a senior guard, scored 12 points and had nine rebounds. Freshman guard Keevi Betts added 10 points.
The Lady Jackets were hampered with 28 turnovers, including 16 in the second half.
A 3-pointer by Hoskins and basket from Noe and Owens allowed Harlan to lead 7-1. Gent hit four free throws and Owens had a jumper as Middlesboro trailed 9-7 after one quarter.
The Lady Jackets started the game missing their first shots.
The contest was close the entire second period. A 3-pointer by Hoskins gave Harlan a 14-9 advantage but Middlesboro used a 7-2 run and tied the game at 16 with three minutes left. The game was tied at 20-20 at halftime.
Hoskins scored seven points in the decisive third period. Owens added five points as Harlan put the game away by taking a 45-26 advantage into the final quarter.
Middlesboro managed to outscore the Lady Dragons 16-12 in the final eight minutes. Owens knocked down seven points in the period. Davis and Wynn had three apiece for the Lady Dragons.
After opening the season with three straight wins, the Lady Jackets have dropped two consecutive games.
Harlan (2-4) will visit Letcher Central on Thursday in the Pine Mountain Classic.
Both Middlesboro and Harlan will open play in the Jack Burford Chevy Christmas Classic at Madison Central from Saturday to Tuesday, each playing four games.
The Lady Dragons will take on Lincoln County, Henry Clay, Madison Central and Pulaski County while Middlesboro (3-2) faces Rockcastle County, Boyle County, Lincoln County and Madison Central.