Lady Cougars defeat Harlan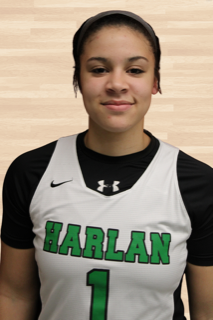 WHITESBURG – Letcher Central capitalized on a busy night at the free-throw line, hitting 18 of 45 on the way to a 70-55 win Thursday over visiting Harlan.
The Lady Dragons were playing with heavy hearts. Harlan coach Tiffany Hamm-Rowe was admitted to a Lexington hospital with complications with her pregnancy. Letcher Central's players and coaches met with the Harlan players at mid-court before the game for a circle of prayer for the coach.
The Lady Dragons were under the direction of assistant coach Mike King.
"We lost our general for the night," said King. "Our hearts are with Tiffany and the baby."
Senior guard Kaylee R. Banks led Letcher Central with 19 points. Loren Boggs, a senior guard, scored 17 and grabbed 12 rebounds while Keira Couch, a sophomore forward, contributed 11. Junior guard Tori Holcomb added eight points.
The Lady Dragons were paced by freshman forward Kylie Noe with 22 points. Freshman guard/forward Aymanni Wynn collected 13 points and 12 rebounds.
The Lady Cougars outrebounded Harlan 32-27. The Lady Dragons committed 20 turnovers while LCC had 17.
In a high-scoring first quarter, Banks poured in eight points as Letcher Central took a 21-14 advantage. Noe scored seven for the Lady Dragons.
The Lady Cougars used a 20-10 run as Harlan had eight turnovers and missed four free throws. Banks led LCC with six points in the period and Boggs tallied four.
The Lady Dragons showed fire in the second half. Harlan outscored the Lady Cougars 15-11 as Noe knocked down three baskets and Wynn scored four points. Letcher missed eight of 11 shots from the field and was five of 14 at the free-throw line.
Wynn's basket with 44 seconds left cut the deficit to 47-39, but Boggs made two jumpers as LCC reeled off five straight to lead by 12 entering the final quarter.
"I can't say enough about that third quarter. We dug in and cut that lead," said King.
A pair of baskets from Peighton Jones and a three-point play by Noe pulled Harlan within 56-47 at the 6:10 mark.
Boggs scored four points in a 6-0 run and Banks completed a three-point play as Letcher Central cruised to the win.
"Letcher is a 14th Region contender," said King. "I think the girls grew up a little bit tonight and this will help us down the road for the All "A" and district (tournaments)."
Harlan (2-5) will be taking on Lincoln County on Saturday, Henry Clay on Sunday, Madison Central on Monday and Pulaski County on Tuesday in the Jack Burford Christmas Classic at Madison Central.
The 6-2 Lady Cougars travels to Lawrence County on Monday and plays host to Owsley County on Tuesday.
———
Letcher Central dominated inside on the way to a 59-20 win in junior varsity action.
Sophomore center powered Letcher Central with 23 points. Molly Caudill and Kara Holcomb each scored seven. Allie Bailey and Taylor Baker followed with six apiece. Kara Breeding, Macie Kincer, Emma Paulik, Myra Ward and Jayleigh Wright each added two points.
Eighth grade forward Raegan Goodman led Harlan with eight points. Addison Jackson and Destiny Williams each contributed four points. Annie Hoskins scored three while SaraKate Fisher added one.