HCHS earns five medals in first wrestling competition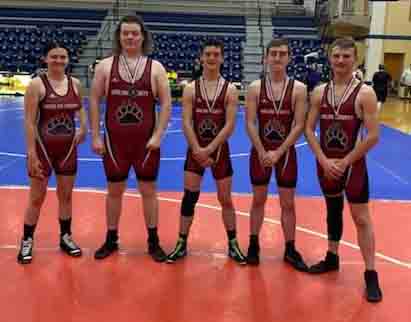 Harlan County made a successful wrestling debut Saturday in the Knox Central Individual Competition, competing against wrestlers from Knox Central, Perry Central, Bell County, Letcher Central, Whitley County, Knott Central, Grant County and Somerset.
"Being a first-year program, along with the other obstacles leading up to the tournament, our team went in Saturday with a lot of pressure," said Harlan County assistant coach Deric Jeffers. "But they've been working hard in practices and it showed. I was very proud of how they handled themselves on and off the mat. While there is a lot to learn for all of us, we  are doing so together as a team. Coach (Daniel) Dennis and I are very proud of these kids and we are looking forward to the rest of the season."
Tucker Dennis earned the initial first-place finish for the program as he won the 132-pound class. Stephen Fee was second in the heavyweight class. Logan Magon placed second in the 165-pound weight class. Brennen Bennett was third in the 150-pound class. Daisha Marlow was third in the 157-pound class.