Dragons reached top of Kentucky basketball in 1944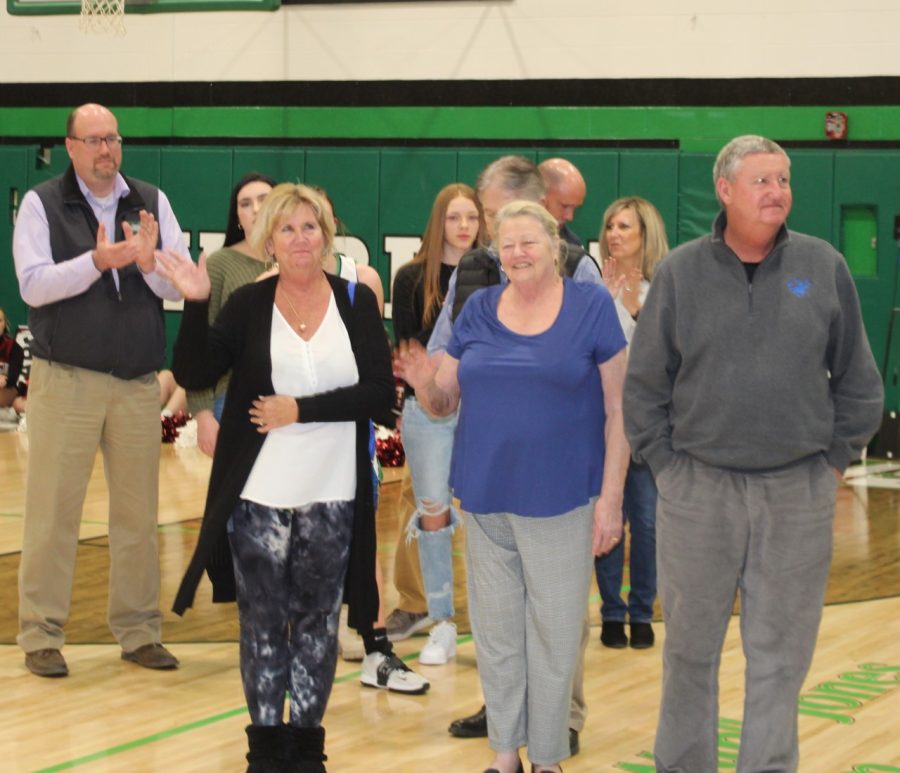 (Editor's note: This story originally ran on March 31, 1994, to mark the 50th anniversary of Harlan's 1944 state championship team. The Harlan High School gym was named in honor of Wallace "Wah Wah" Jones on Tuesday)
Fifty years ago, the Harlan Green Dragons capped a storybook season by posting a 34-6 record and capturing the boys state basketball championship.
The team featured one of the state's most respected coaches in Joe Gilly, a high school legend in Wallace "Wah Wah" Jones, and a cast of supporting players who helped Harlan rise from relative obscurity to the top of Kentucky prep basketball.
But when they gather for reunions, such as the one held Feb. 17 celebrating the golden anniversary of their championship season, members of the 1944 team don't talk much about any particular play or game.
It's not that they don't remember beating Loyall 53-37 in the district championship or Jones' dominating performance in the state tournament. Simply put, the friendships they developed and the memories they shared will always outshine their on-court heroics.
"You know, Happy Chandler always began his speeches the same way," said Humsey Yessin, a starting guard on the 1944 team. "He would say, "I feel like the mosquito that flew over the nudist colony…I don't know where to begin.' That's how I feel about this team. Where do you begin?"
Most would agree you begin with Jones, who was one of the state's top players as a junior.
The star
Jones was a 6-foot-4 package of pure athletic ability. In addition to basketball, he was also a star football and baseball player. While at Harlan, he was recruited by both Kentucky an Tennesee, but he says he never knew "which sport they were recruiting me for."
Obviously, the Volunteers showed a keen interest in his football talents. Meanwhile, Wildcat coach Adolph Rupp tugged at Jones' love for basketball, a sport which he once held the national prep scoring record of 2,311 points.
Kentucky eventually won Jones' services and he went on to become an All-American on the basketball court, an All-Southeastern Conference performer in football and a standout pitcher for the baseball team.
Jones scored 1,511 points during his Kentucky career, which included Rupp's first two NCAA championships in 1948 and 1949. He also averaged 9.3 points as the Wildcats took the gold medal in the 1948 Olympic Games.
But to the Harlan Green Dragons, Jones will always be remembered for his days in the mountains of eastern Kentucky.
"I think the thing I remember most was the closeness of our team," Bill Rice said. "Of course, 'Wah Wah' was the team. He'd be the last to admit that, though. He's really and truly one of the greatest athletes ever, the greatest I've ever personally known."
"'Wah Wah' was the man," Jim Webb said. "But 'Wah Wah' was the unselfish man, too. He always thought about his teammates first."
To the last man, Jones' cohorts praised their leader for his team-first attitude.
"It's hard to believe from some of those scores," Rice said, referring to games such as Harlan's 29-11 win over Cumberland in the 1944 district tournament, "but 'Wah Wah' once scored 68 points in one game.
"And let me say this: Even though he had all that ability to score, he was one of the most unselfish players there ever was. He was one of those players that if you were open, he'd get you the ball."
During the reunion, Jones joked about the selfish nature of today's players and the way the rules have changed to facilitate one-on-one play."
The 3-point play has made a whole lot of difference in the game," he said. "Most of points in college would have come from behind the 3-point line.
"And the rules of dribbling the basketball and carrying it three or four yards before they put it back down have changed. We might have been a lot better if we had the chance to play like that."
Nicknames
The Green Dragons may not have had the highest-scoring offense or the most smothering defense, but there's no question they led the state in colorful nicknames.
After all, who else could claim a cast of characters such as "Wah Wah," "Snooky," "Humsey" and "Sonny."
"If there's one thing I've learned, you never outlive nicknames," said Webb, who was known as "Snooky" during his days at Harlan. "And we had a bunch of 'em."
Most people are quick to ask how the Green Dragons' star went from Wallace to "Wah Wah."
The story has been highly publicized with different twists, but Jones says the credit goes to his younger sister and a former Enterprise sportswriter.
"My sister had a lot of trouble pronouncing my name," Jones said. "She always called me 'Wah Wah' and the local sportswriter picked up on it and started using it in the newspaper."
As for the others, no one seems to remember the origin of their nicknames. Some did not even realize they were nicknames.
"One of the boys, his name was Alvin Rutherford," Webb said. "But I didn't know he was an Alvin. We always called him 'Sonny.' We didn't find out he Alvin for years later."
Laughing matters
When a group celebrates its 50th anniversary, there's never any shortage of humorous anecdotes.
Webb told one of his favorite stories at the reunion dinner:
"Sonny's daddy owned a grocery store," he said. "We went Hazard one night…I don't know Humsey and you guys remember this, but he brought a big sack of carrots with him and he went on and on about how carrots are good for the eyesight…
"Well, he began to eat them that night…ate the whole bag at the hotel…After a while, he said 'Jim, my stomach's a hurting'. So that night they had to take him to the emergency room. They said he had what they call 'carrot polyps.' I'll never forget that."
Jones said he remembers people making jokes about his height compared to the rest of the team.
"A coach in western Kentucky made the statement that when Harlan came on the floor, it looked like the mother hen leading out the little chickens," he said. "And in a sense, I was the mother hen."
"I can remember we were on an extended road trip…Back then, I think it was the first time high schools took road trips. We got on a train in Corbin and rode to all the way to Mayfield, which was about as far as you could get. Then we started playing our way back to Harlan.
"But while we were in Paducah, none of us had ever seen a river like (the Mississippi). Clark (Bailey Jr.), Humzey and Billy (Rice) wanted to walk down to the river and get into one of the boats and play around a little bit. They wanted me to go, too, but I said 'huh-uh."
"So, they got out of there and a wind came up and took them further away. It kept taking them further out…They ended up on the other side of the river and I had to go tell coach Gilly. Tears came to his eyes and he was just sure he had lost his players. But they were able to walk through the fields and make it across the bridge…That night, I think they played the best game they ever played."
Yessin said among his fondest memories were the attempts made by other county schools to get Jones in the Army.
"Every month that draft bus came here. 'Wah Wah' was on it," he said. "Everybody at Hall High, Loyall High and Wallins Creek were out there protesting to get him on there. I guarantee you he took more physicals than anybody in the history of Harlan."
During the latter part of Jones' high school career, he developed a bad case of shin splints and cracked a bone in his foot. Word of his injury spread throughout the mountains and it didn't take long for opponents to use it to their advantage.
Bailey recalls a game at Cumberland when the Redskins' tactics went too far.
"All the teams knew he was hurt," Bailey said. "And Cumberland had this big boy that would try to step on his foot every time 'Wah' got the ball under the basket.
"I remember because coach Gilly called me over and said "Clark, that boy's a steppin' on his foot, trying to hurt him. 'Can't you take care of him"' So, I went up and got a big rebound and meant to hit him with an elbow in the stomach. But I wound up hitting him in the mouth. Coach Gilly called me back over and said 'I told you to take care of him, not kill him'
"But 'Wah' was a horse. He never quit, even when his foot was hurting him like that. I believe that if he hadn't been hurt, we would have won it again the next year."