Lady Dragons close regular season with win over Red Bird to break skid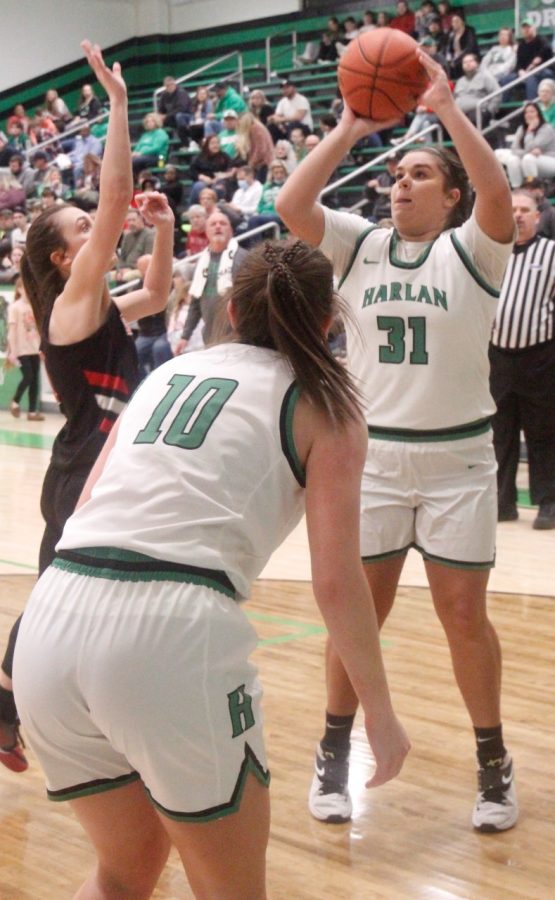 After seven straight losses and the 52nd District Tournament only a week away, the Harlan Lady Dragons weren't too concerned with stats or style points Monday in the regular-season finale. The Lady Dragons just needed a win and that's what they got, taking control early and leading from start to finish in a 74-63 victory.
"It was good to get back in the win column to make our girls feel good," Harlan assistant coach Mike King said. "We didn't shoot especially well or even defend especially well. We just out-athleted them. It's just good to get the win."
Freshman forward Kylie Noe was one of three Lady Dragons in double figures with 23 points and seven rebounds. Aymannie Wynn added 16 points and six rebounds. Emma Owens contributed 15 points.
The Lady Cardinals were led by senior guards Alyssa Gibson with 26 points and Halee Jackson with 16.
Harlan scored the game's first six points and built a 19-6 lead by the end of the period with Scarlett Rowe and Owens each recording two baskets.
Red Bird fought back in the second quarter with the help of four 3-pointers, led by Liberty Taylor with two, to cut the deficit to three midway through the period. Four straight points by Noe and a basket by Owens pushed the Harlan advantage to 31-22 by halftime.
Noe and Wynn took over in the third quarter with three baskets each as Harlan outscored the Lady Cardinals 24-14 to build a 55-36 lead.
Jackson hit four of four shots and Gibson hit three of five in the fourth quarter as Red Bird made another run, getting as close as nine in the final minute before Raegan Goodman closed the scoring for Harlan. Wynn hit two 3-pointers in the period for Harlan.
Harlan (9-17) will play defending champ Bell County on Monday in the first round of the 52nd District Tournament. Red Bird (6-17) will travel to Harlan County on Thursday.