HC explodes with 15 in 4th to rally past Lady Dragons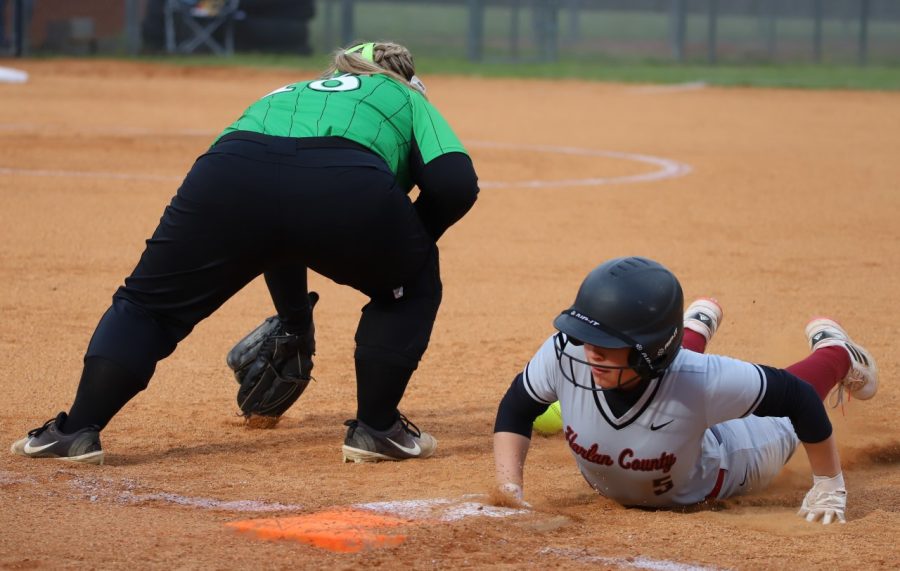 Leading 4-2 after three innings, the Harlan Lady Dragons had clutch hitting, good pitching and flawless defense in their favor and appeared well on the way to a win Thursday at Harlan County.
Momentum switched in a big way in the fourth inning as the Lady Bears sent 21 batters to the plate in a 15-run explosion that sent HCHS to a 17-4 five-inning victory.
"This is something we've been waiting on. It was like we finally got over the top today," Harlan County coach Shelby Burton said. "We've been in this situation before, being down. I'm so proud of them to not let being down get to them mentally. I saw a lot of growth, and I liked the way they battled tonight. The last couple of games we've been hitting the ball. Our girls have seen a lot of good pitchers and they've been battling. I've been expecting a night like this for them."
Jenna Wilson and Lesleigh Brown each had a double and single to lead the HCHS offense. Madison Blair, Jade Burton and Brlttleigh Estep had two singles each. Riley Maggard had a double. Hailey Austin, Halanah Shepherd and Halle Raleigh added one single each.
Blair pitched a complete game, giving up five hits while striking out three and walking two to earn the victory.
Addison Jackson led the Harlan offense with two singles and a walk in three trips to the plate. Carley Thomas added a double. Ella Lisenbee and Ella Farley each had singles
Thomas gave up 14 runs on 12 hits in 3 1/3 innings, with two strikeouts and five walks. Mallory McNeil allowed three runs on three hits with one strikeout and two walks in two-thirds of an inning.
Harlan County scored single runs in the first and second innings to take a 2-0 lead. Wilson, Shepherd and Burton had hits in the first inning, then Brown doubled in the second and scored on Blair's two-out hit.
Lisenbee and Jackson had hits sandwiched around Ava Nunez reaching on an error in the third inning to put Harlan on the board. Thomas brought in two runs on a double to left. The final run of the inning came in on a wild pitch.
A hit by Estep and walks to Raleigh and Brown got the HCHS rally started in the fourth inning. Blair singled in one run and Wilson and Maggard each followed with two-run doubles. After three straight walks, the Lady Bears followed with consecutive hits by Estep, Raleigh and Brown. Burton had a two-run single and Austin added a bunt hit to close the scoring.
Harlan County (4-11) will play host to Letcher Central on Friday and Knott Central on Saturday. Harlan (3-5) will be at home against Bell County on Friday.
———
Harlan 004 00 — 4. 5. 2
Harlan County 110 (15)x — 17. 14. 4
Thomas, McNiel (4) and Jackson; Blair and Burton. WP — Blair (3-8). LP — Thomas (3-5).
———
Harlan County fell 16-4 at Lee, Va., on April 4.
Jade Burton led the Lady Bears with three singles. Brittleigh Estep had a double and single, driving in two runs. Halanah Shepherd, Hailey Austin and Jenna Wilson added two singles each. Halle Raleigh, Rylie Maggard and Madison Blair added one single each.
Blair gave up seven runs on eight hits in four innings on the mound, with three strikeouts and five walks. Estep allowed six runs on two hits in two innings, with three strikeouts and eight walks.
Harlan County lost 16-14 at Lynn Camp on April 1.
Wilson, Blair and Maggard led the Lady Bears' 23-hit attack with four hits each. Raleigh, Shepherd and Estep had three hits each. Burton had two hits. Raleigh scored three runs, while Shepherd and Wilson scored three times each.
Blair gave up 11 hits while striking out three and walking four.
———
Harlan lost 16-4 on April 1 at Knox Central.
Ally Kirby, Addison Jackson, Ella Lisenbee and Carley Thomas had one single each for the Lady Dragons.
Thomas gave up 12 runs on nine hits in three innings, with two strikeouts and one walk. Mallory McNeil allowed four runs on four hits in one inning.
The Lady Dragons lost 12-2 on April 4 against McCreary Central.
Lisenbee had a double and single for the Lady Dragons. Emma Eversole and Jackson added one single each.