Casolari places third in ACC Junior Amateur event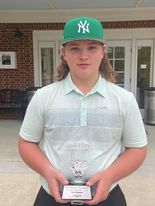 Harlan County High School golfer Brayden Casolari competed for the second consecutive year in the Atlantic Coast Conference Junior Amateur Tournament at the University of North Carolina. This elite-level event features some of the best players from around the country.
In 2021, Casolari struggled the entire tournament and experienced his worst finish of his season with a last-place effort. This year was a different story. A solid three-over par 75 on the opening day put him tied with several golfers in sixth place, four strokes off the leader.
Casolari played a solid one-under par front nine on day two, keeping himself in contention, however he dropped two strokes through the next three holes, dropping him down the leaderboard at one-over par on the day. He managed a birdie and two pars through the next three holes, and with only three holes to play the battle for a podium finish was a log jam of 12 golfers.
The final three holes belonged to Casolari as he drove the 313-yard par four 16th and made the eagle putt followed by a birdie on the par five 17th. A par on the finishing hole topped off an impression finish, playing the final three holes at three-under par and securing a third-place finish.
Casolari will continue playing tour events all around the southeastern United States throughout the spring and summer before teeing it up for the Black Bears in July.