Clay capitalizes on walks to defeat HC in regional opener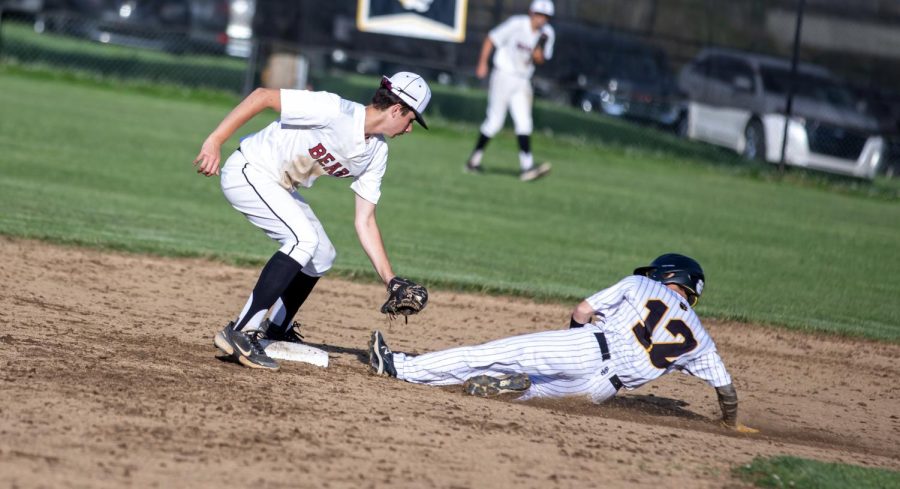 MANCHESTER — For a young Harlan County squad that features only one senior in its starting lineup, Tuesday's trip to Clay County for a first-round game in the 13th Region Tournament was a learning experience – in more ways than one.
Clay County, one of the 13th Region favorites, built a big early lead on the way to a 9-2 win. The Tigers collected only three hits against HCHS ace Tristan Cooper, who battled to find the strike zone in the early going. Cooper walked a season-high nine, including seven in the first two innings as the Tigers grabbed a 5-0 lead. Cooper, who had won five of six decisions coming into the game, didn't appear to get his usual calls on pitches high in the strike zone and on the corners.
"I thought Tristan threw well and hit his spots. I guess you could say we got squeezed a little bit, especially early," Harlan County coach Scotty Bailey said. "He didn't get some calls he normally does, and I think that threw him off a little bit. He was trying to hit spots. You have to hit spots to beat a great team like Clay County. It's tough if you have to throw it right down the middle."
Zach Saylor and Brandin Crawford each had doubles for the Tigers. Ethan Jackson added a single.
Cooper had a two-run double to lead the HCHS offense. Will Cassim also added a double. Jonah Swanner, Nathan Shepherd, Samuel Henson and Alex Creech added singles.
Senior right-hander Ben Buttery pitched a six-hitter with eight strikeouts and two walks in a complete-game effort for the Tigers.
Clay scored twice in the first inning without the benefit of a hit as Cooper walked four and hit one batter. Hayden Crockett walked to force in the game's first run with two outs in the first, then Tony Hacker was hit by a pitch to bring into another run.
After two more walks with one out in the second inning, Ethan Jackson brought in a run with Clay's first hit. Crawford followed with a two-run double off the fence in left.
Saylor added an RBI double in the third inning after a two-out walk to Thomas Jackson, who drew four walks from the leadoff spot.
Harlan County started to battle back in the fourth inning as Cassim doubled and Shepherd singled. Cooper doubled home courtesy runner Carter Howard and Shepherd.
The Bears had several other chances, leaving two runners on base in the fourth inning, one in the fifth, two in the sixth and another in the seventh.
"We had some runners in scoring position and I had faith we'd produce, but we couldn't get those hits today," Bailey said.
Clay added three insurance runs in the sixth with the help of two walks, an error and one hit batsman. Crawford walked to force in one run and Buttery brought in another with a ground out.
Cooper gave up eight runs on three hits over five-plus innings, with six strikeouts and nine walks. Colby Johnson gave up one run on no hits with one strikeout and one walk in one inning.
Bailey hopes the experience will help his squad in preparation for next season. The Bears finished 2022 with a 10-20 record.
"I'm proud they didn't quit today. They stayed hungry the whole game," he said. "We are about to get after it this summer. I saw a bunch of sophomores and freshmen who were teary-eyed because they are hungry and want it. We're young and we'll continue to get better and grow. I'm excited to see what the future holds for them."
The 18-12 Tigers will take on Corbin in the regional semifinals at 5:30 tonight at South Laurel. Whitley County will play Middlesboro in the other semifinal matchup.
———
Corbin defeated Knox Central 9-2, Middlesboro routed Barbourville 14-4 and Whitley County edged Jackson County 4-2 in other first-round games. Corbin blanked Clay County 6-0 and Middlesboro downed Whitley County 7-3 in the semifinals. Corbin knocked off Middlesboro 4-1 in the championship game and will play the Region 5 champion in the first round of the state tournament on June 3 in Lexington.
———-
Harlan County 000 200 0 — 2. 6. 2
Clay County 231 003 x — 9. 3. 2
Cooper and Kelly; Buttery and T. Jackson. WP — Buttery. LP — Cooper (5-2).