Brothers Perry back together on Harlan football coaching staff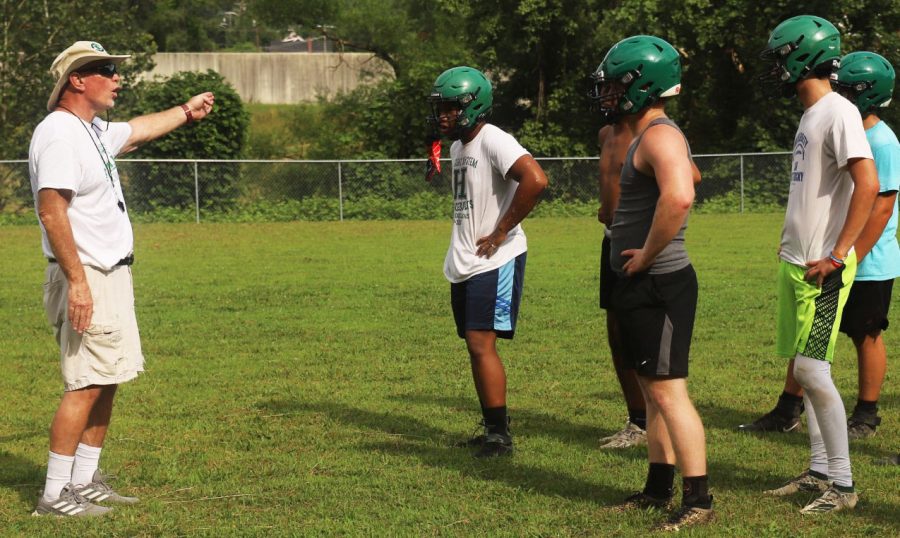 Over 30 years after Eric Perry began his coaching career working with his older brother, Jerry Perry finds himself on the Harlan football field in the heat of a late July afternoon returning the favor.
In his 38th season of coaching, Jerry Perry has taken over as the Green Dragons' defensive coordinator and brings an impressive resume that includes two stints as head coach at Garrard County. He coached the defense on four state championship teams at Danville and also worked at Anderson County and Boyle County.
"We're tickled to death to have him," Eric Perry said. "Not every day are you lucky enough to get someone with four rings. He's been on four state championship staffs as a defensive coordinator, so that's pretty good experience to have."
A 1981 Western Hills graduate, Perry was admitted to the U.S. Military Academy at West Point and played football for one year before moving on to the University of Kentucky as a sophomore. He started his coaching career in 1985 as an assistant under Sam Harp at Anderson County, his former coach, and then moved on to Danville before taking a job as head coach at Garrard County from 1990 to 1996. Perry returned to Danville in 1997 and remained on the Admirals' staff until 2007 before a one-year run on Larry French's staff at Boyle County. He then went back to Garrard County for his second stint as head coach from 2009 to 2021.
Eric Perry worked for his brother at Garrard County when he was still a student at Eastern Kentucky University.
"He started working for me back in 1990 and I told him if I had a chance I would come down and help him or (former Harlan coach) J.B. (Donahue) or whoever," Jerry Perry said. "Football is football. Kids are the same. I enjoy it very much, and I'm glad I'm getting the opportunity to do this. He helped me a long time ago, so this is sort of payback."
Jerry Perry doesn't plan any major adjustments with the Harlan defense but hopes to take advantage of the Dragons' athleticism. He said he plans more nickel coverage on defense with both odd and even fronts.
"There won't be a ton of change. We're looking at some things to try to get more speed on the field, but there will be a lot of the same concepts," Jerry Perry said. "From the tapes I've watched, they've been so young. They flopped around a lot because of youth, not because they can't play or anything like that. We have a lot good looking kids. If we can get them playing fast and playing lower, we have a chance to be OK. Staying healthy will be a big key for what we can do."
"It's been no adjustment whatsoever. We just went on like we always have," Eric Perry said. "He doesn't care if he's the head coach. He just loves the game and loves working with the kids. Our staff has taken to him and the kids have taken to him and vice versa. It's been a good move."
The Green Dragons open the season Aug. 19 at home against Berea.