Morris bounces back from injury with 4-TD performance to lead Bears
After sitting out a game due to injury, Harlan County eighth-grade running back Brayden Morris made a triumphant return Thursday as he rushed for 240 yards on 19 carries and scored four times in a. 52-30 win over visiting South Laurel.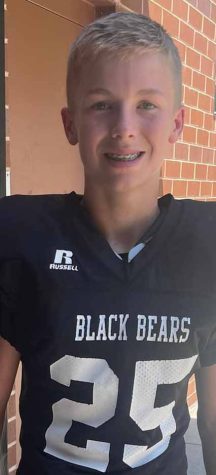 South grabbed an early lead off a fumble recovery returned for a touchdown, but Morris answered with an 11-yard touchdown run followed by a two-point conversion run by Braydon Middleton.
South went back on top before Morris raced 56 yards with 4:02 left in the first half. Landon Brock teamed with Isaiah Cornett for the two-point conversion and a 16-12 lead.
The teams traded scores once more before halftime as South scored on a 25-yard pass followed by a 22-yard pass from Brock to Kayden Adams and then a Morris conversion for a 24-18 lead.
South scored twice on passes for go ahead 30-24 before Middleton went 6 yards for a touchdown then added the two-point conversion.
Morris had touchdown runs of 30 and 14 yards in the fourth quarter, and Cornett added a two-point conversion on the second TD. Adams closed the scoring with a 70-yard interception return.
Brock completed three of six passes for 34 yards.
Jacob Sage was a leader on defense with seven tackles and a forced fumble. Morris had five tackles, including two sacks. Cornett added three tackles with a fumble recovery and one and a half sacks. Cooper Blevins and Middleton each had two tackles and a sack.
Harlan County will return to action Thursday at Knox Central.
———
Harlan County fell 34-8 in the seventh-grade game.
Sam Carr scored on a 2-yard run for the Bears in the second quarter, then Ashton Anderson followed with the two-point conversion.
Carr led the Bears on offense with 29 yards on seven carries. Braydon Howard added 27 yards on seven carries. Anderson had 19 yards on five carries.
Anderson was also a leader on defense with seven tackles. Colby Shepherd had two tackles. Ryland Thomas added a tackle for a loss.