Black Bears shock Knox with 302-yard ground attack
BARBOURVILLE — After a long night of helping clear holes for Harlan County running backs in a 302-yard rushing performance, senior lineman Connor Blevins had enough energy for a brief history lesson as the Black Bears waited in the end zone at Union College to celebrate an unexpected 45-18 win over Knox Central.
Blevins told his teammates their victory was the first for the Bears in Barbourville.
He didn't have to tell them they had just shocked much of eastern Kentucky with a win over the previously unbeaten Panthers, who knocked off Bell County just two weeks earlier and came into the game ranked second among all 13th Region teams.
Harlan County dominated in all phases of the game, running for over 300 yards in a big-play attack that featured three touchdowns covering over 60 yards. Junior tailback Thomas Jordan ran for 214 yards and three touchdowns behind a HCHS offensive front that dominated the line of scrimmage after struggling to move the ball a week earlier in a loss at Whitley County. Junior receiver/running back/quarterback Jonah Swanner added two touchdowns and three two-point conversions and 49 yards rushing.
Harlan County also had a good night on defense, making the Panthers work for every yard, including star quarterback Steve Partin, who had over 500 yards through the first three wins. Partin fought his way for 98 yards on 23 carries despite leaving the game briefly in the first half with an ankle injury. He added 125 yards passing, even though standout junior tight end Gavin Chadwell watched the game from the sideline due to a knee injury.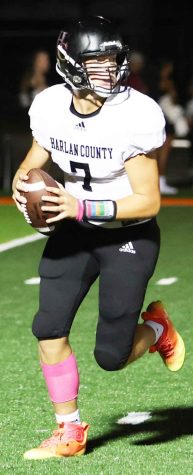 "It's a great feeling. I'm ticked to death for them. This is a huge victory," Harlan County coach Amos McCreary said. "I hope our kids realize now we can play with anybody on our schedule. I think we can compete if we don't have three or four sitting over there hurt."
The Bears set the tone for the night on the game's opening play as quarterback Ethan Rhymer, who threw two interceptions in last week's loss, threw a perfect pass down the right sideline to Luke Kelly for a 65-yard touchdown. Issac Downs' extra point gave the Bears a 7-0 lead only seconds into the game.
"Coach (Scotty) Bailey said he had something, and I told him he had the green light. Let's let it go tonight and see. He had been running it all week in practice," McCreary said. "It was a beautiful pass and catch."
Partin picked up two first downs on the Panthers' opening drive but came up limping on a three-yard gain to the HCHS 6. Mason Griffin took over at quarterback and threw an incomplete pass on third-and-seven, then threw a jump ball to 6-4 receiver to K.T. Turner in the corner of the end zone. Kelly made his second big play of the night when he wrestled the ball away for an interception.
The Bears' special teams made the next big play when Griffin ran down a bad snap on a punt and got away a kick for minus nine yards, giving HCHS possession on the KC 28. Swanner scored six plays later on a 6-yard run out of the wildcat formation. Downs missed the extra point, but the Bears led 13-0 with 1:27 left in the opening quarter.
Partin used his bruising style of running to direct a 13-play, 40-yard march following a short kick. He found Cayden Collins for a 4-yard TD pass with 9:11 left in the first half, but the Bears held on the two-point try, just as they did on all three conversion attempts.
Jordan needed only one play to answer, zig-zagging his way for a 65-yard touchdown. Swanner added another two-point conversion out of the wildcat as HCHS led 21-6 with 9:04 to play in the second quarter.
"Having him back out here at full strength was big for us," McCreary said of Jordan. "He came out here tonight ready to play. He hit it up in there and got loose."
Will Cassim provided the pressure on fourth down to stop the next Knox drive and set the stage for a 14-play, 70-yard march that ate up most of the remainder of the half. Jordan and James Ryan Howard each picked up first downs before Jordan went in from the 10 with six seconds left. Swanner's two-point conversion pushed the lead to 29-6.
Carter Howard ran Partin out of bounds on the final play of the half as the Bears held Knox 12 yards on 12 carries in the second quarter, dropping Partin for losses four times in the period. Partin had 17 of the Panthers' 19 carries in the first half.
Howard led a strong defensive effort with 16 tackles, including three sacks and six tackles for losses. Josh Sergent and Dallas Sergent added 13 and 12 tackles, respectively.
Knox drove 69 yards in 13 plays to open the half in another time-consuming drive. Partin picked up three first downs in the drive and found Turner for another, then connected with Turner for a 6-yard touchdown pass with 7:36 left in the third quarter.
"They had probably liked to have played a lot faster. Maybe that did work in our favor a little," McCreary said. "We didn't want to give (Partin) anything big. We knew he'd get his four or five yards, but we preached about getting three or four people up there hitting him. We wanted to slow this thing down and run that clock."
Harlan County answered with an eight-play, 49-yard drive capped by Swanner's 26-yard TD run, picking up a block by receiver Gavon Spurlock along the way, one of numerous big down-field blocks for the Bears. Swanner's conversion made the score 37-12 with 1:54 left in the third quarter.
Partin connected with Zach Carroll for a 5-yard TD pass on the first play of the fourth quarter, but Jordan put an exclamation mark on the night when he raced 68 yards for his third touchdown with 11:33 left. Cassim, a 290-pound guard, bulled his way into the end zone for the final two-point conversion of the night.
The Knox Central coaching staff waved the white flag at that point, pulling Partin to make sure he didn't join Central's injury list that included several other starters, In addition to Chadwell.
The Bears also went to their reserves and turned the ball over twice down the stretch, but neither team scored again.
Harlan County (2-2) will play host to Pike Central on Sept. 16. The 3-1 Panthers will travel to Paintsville.