Lady Cats hold off JACES to capture third straight county title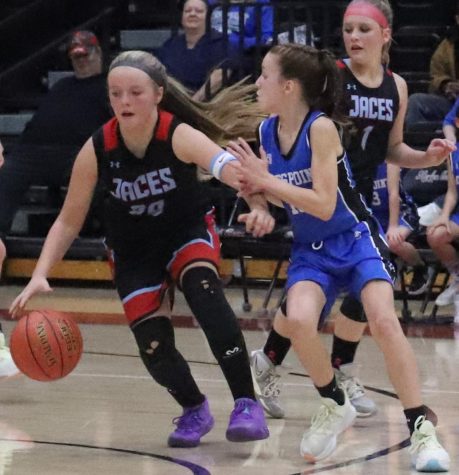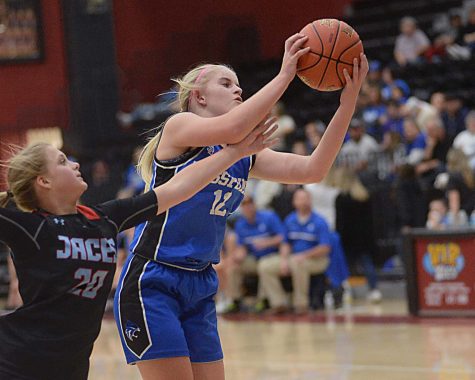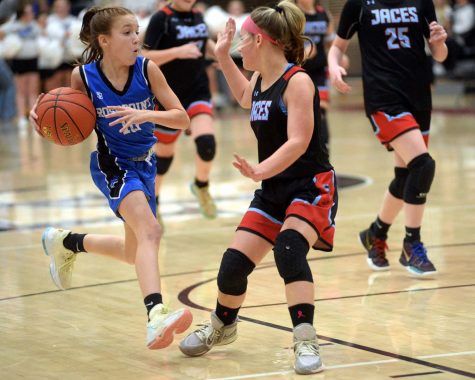 As the minutes, and then the quarters, slowly ticked away, the Rosspoint Lady Cats found themselves in a strange position Thursday in the fifth- and sixth-grade county championship game at Harlan County High School.
Rosspoint coach Johnny Simpson had to wonder how his Lady Cats would handle their first close game in county competition all season as the score was tied at 15-15 at halftime against James A. Cawood. The Lady Cats used a 10-2 run to close the third quarter to build an eight-point lead, then held off another JACES comeback down the stretch to win 38-34 and capture their third straight county championship. The Lady Cats were the first county team since Rosspoint in 1984-86 to win three straight fifth- and sixth-grade titles.
It was the first time all season anyone in the county played the Lady Cats closer than 10 points. Rosspoint finished the year 20-1 with their only loss coming at Burning Springs, in Clay County, in a 24-20 game.
"I'm proud of my girls with how they handled this game down the stretch," Simpson said. "Going to Clay County in that close game atmosphere and playing in other out of county games prepared them for this moment, and that's the exact reason why we play those games."
Jaycee Simpson and Shasta Brackett each scored 12 points to lead the Lady Cats.
"Losing three starters from last season, I wasn't sure what to expect coming in, but these girls worked hard from the spring all the way through and improved as much as any group I've had," Simpson said. "Jaycee and Shasta were a tough 1-2 punch to return, but I'm proud of how Aiselynn (Sexton), Kenadee and Brooklyn (Daniels) all stepped up and contributed this year in their new starting roles. More than anything, I'm excited for the future of Harlan County girls basketball. There's tons of talent all around, and if we can keep them all together and continuing to play I believe the sky is the limit."
Taylynn Napier poured in 20 points to lead the 15-3 Trojanettes, who suffered all three losses this season against Rosspoint.
Simpson and Napier each scored five points in the opening quarter as Rosspoint took a 9-7 lead. Brackett scored six points in the second quarter to match one basket each by four Trojanettes as JACES pulled even by halftime.
A Napier 3-pointer pulled the Trojanettes even at 21-all midway through the fourth quarter before Rosspoint closed with a 10-2 surge to go up 32-23 after three quarters.
The Rosspoint lead grew to 10 early in the fourth quarter before JACES fought back one more time, getting as close as two on a 3-pointer by Napier with 4.2 seconds left. Kenadee Sturgill put the game away by hitting two free throws with 1.5 seconds left.
"Congratulations to JACES on a great year and a great game," Simpson said. "They're always well coached and prepared and had a good game plan tonight."
———
Kelsie Middleton scored 15 points and Vanessa Griffith added 10 as Black Mountain captured third place with a 39-20 win over Wallins.
The Tigerettes closed the season with a 12-7 record.
Brooklyn Haywood scored nine and Brylie Wilson added seven for the 6-11 Lady Devils.
———
Rosspoint (38) — Jaycee Simpson 12, Shasta Brackett 12, Kenadee Sturgill 7, Aiselynn Sexton 4, Brooklyn Daniels 3.
James A. Cawood (34) — Carmen Thomas 6, Lia Kate Carter 6, Taylynn Napier 20, Clarissa Yost 2.
———
Black Mountain (39) — Kelsie Middleton 15, Gracie Youngs 8, Vanessa Griffith 10, Mylee Botts 4, Dani Bennett 2.
Wallins (20) — Brylie Wilson 7, Brooklyn Haywood 9, Mahalah Hall 2, Jessalyn Galloway 2.