Carmical's clutch 3 finishes off Bears' second win in two nights over a top 20 opponent
Basketball 101 has strict rules on what a team does with a three-point lead and the ball in the closing seconds of a game.
Harlan County senior guard Daniel Carmical broke them all when he released a corner 3 with 36 seconds left in Friday's game against visiting Pulaski County, the second top 20 opponent in two days for the Black Bears.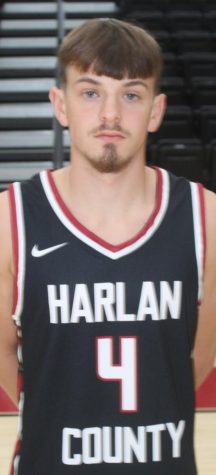 As he often does, Carmical hit nothing but net. It was the dagger in the Bears' grueling 75-71 victory, an impressive follow-up to a six-point win a night earlier at Harlan.
"I told him in the locker room that he might be the only man on the planet I'd let shoot a corner 3 in that situation," Harlan County coach Kyle Jones said. "A corner 3 is like a layup for him."
"When he turned it loose, most of the times you are ready to take that chance when you're behind, but he's a nice player," Pulaski County coach John Fraley said.
Both coaches said the game provided a perfect atmosphere to help their teams prepare for the postseason.
"This is the reason we play games like this during this time of year to get as many of these regional tournament atmospheres as we can get," Fraley said. "That was what we had tonight. We lost (Carmical) a few times and boom there you are."
"We knew this would a tough stretch for us," Jones said. "I don't think we played our best tonight. Our shots were coming up a little short after an emotional game at Harlan last night. We beat a really good team. I've heard all my life mental toughness would win a lot of games, and we showed some tonight."
Carmical scored 25 to lead the 20-4 Bears as he provided the long-range threat with seven 3-pointers. Trent Noah and Maddox Huff did most of their damage off the dribble with 24 and 17 points, respectively.
"Trent and Maddox kind of took control going off the dribble," Jones said. "We're trying to get better at attacking the rim. We're trying to change our M.O. We want to take open 3s, but we also want to penetrate and put pressure on the defense."
Senior guard Barek Williams had a big night for the 21-4 Maroons, hitting 14 of 20 shots in a 36-point night. Cayden Lancaster, a senior forward, added15 points and six rebounds.
Harlan County trailed 15-9 after one quarter after hitting only three of 11 shots, but heated up in the second period with Carmical hitting three 3-pointers and Huff adding three baskets and pulled even at 30-all at the break.
Noah took over in the third period, hitting six of eight shots as the Bears connected on 11 of 20 to take a 56-50 lead. Huff and Carmical each added two baskets.
Harlan County missed its first six shots in the fourth quarter as Pulaski opened with a 7-0 run to take the lead. Huff and Williams then traded three-point plays before Carmical hit the first of three 3-pointers over the final 3:20. Swanner also had a big steal down the stretch before Huff hit two free throws with 3.1 seconds left to seal the victory.
Harlan County will play Newport on Saturday at 5:30 at Woodford County High School as part of the Ed Stepp Classic. Pulaski County travels to Madison Southern on Feb. 7.
———
Led by 11 points from Mack King and 10 each from Gavin Cook and Ethan Idlewine, Pulaski County coasted to a 63-37 win in junior varsity action.
Freshman guard Reggie Cottrell scored 16 to lead the 6-5 Bears. Ethan Simpson and Hunter Napier added six each. Brody Napier scored five. Brennan Blevins and Taelor Haywood added two each.