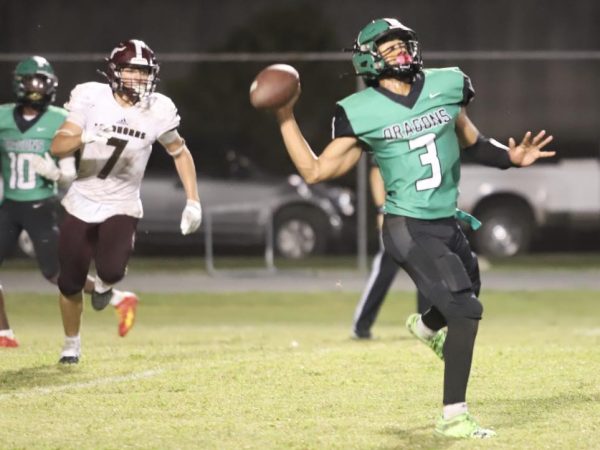 Visiting Johnson County, Tenn., trailed 14-6 early in the second half before reeling off 39 unanswered points in a 45-14 victory Friday at Harlan.
Senior quarterback Connor Simcox threw for 241 yards and four touchdown passes, including two to junior receiver Jace Stout, to lead the 3-2 Longhorns. Sophomore halfback Juan Mejia ran for two fourth-quarter touchdowns as the visiting Longhorns put the game out of reach.
Senior quarterback Donovan Montanaro threw a 15-yard touchdown to his brother, Nate, in the first half, then scored on a 1-yard run in the third quarter to give the Dragons a short-lived lead.
Harlan was limited to 85 yards on the ground as Darius Akal picked up 81 yards on 20 carries and Sedrick Washington added 19 on eight carries. Donovan Montanaro completed five of is passes for 90 yards. Nate Montanaro had three receptions for 70 yards, while Noah Kirby, Tayquan Vick and Connor Daniels added one catch each.
Akal and Hunter Clem led the team in tackles with seven each. Washington added six.
The 1-4 Dragons open district play on Friday at Pineville.
Johnson County 6 0 32 7 — 45
Harlan 0 6 8 0 — 14
JC — King-villa 55 pass from Simcox
H — Nate Montanaro 15 pass from Donovan Montanaro
H — D. Montanaro 1 run
JC — Rhudy 40 pass from Simcox
JC — Stout 34 pass from Simcox
JC — Stout 20 pass from Simcox
JC — Mejia 10 run
JC — Mejia 17 run