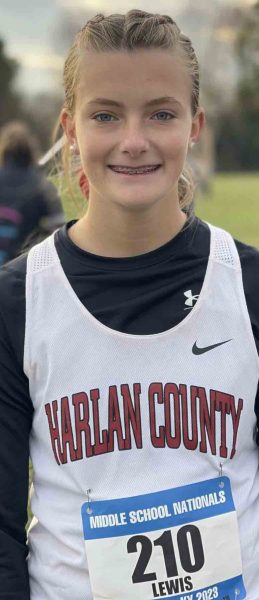 With the official cross country season over, a few area runners found another opportunity Saturday to extend competition.
Eighth-graders Tanner Daniels and Lauren Lewis represented Harlan County at the Middle School Cross Country Nationals in Louisville.
Daniels placed third overall in the boys 4K race with a time of 12:53.6.
Lewis finished 71st in the girls 4K race with a time of 16:19.7.
Members of the Harlan cross country team competed as well.
In the girls 2K race, Priscilla Stewart was 34th with a time of 8:37.1. Mckenzie Petrey (8:47.7) and Zoe Lawson (8:51.2) finished 44th and 48th, respectively.
Aiden Browning placed 45th with a time of 8:17.2 in the boys 2K race. Colt Sullivan was 82nd with a time of 8:52.9. Kash Bailey (102nd) finished with a time of 9:40.4.