Harlan County's best 1-2 tandems
Standout running backs entertained county football fans through the years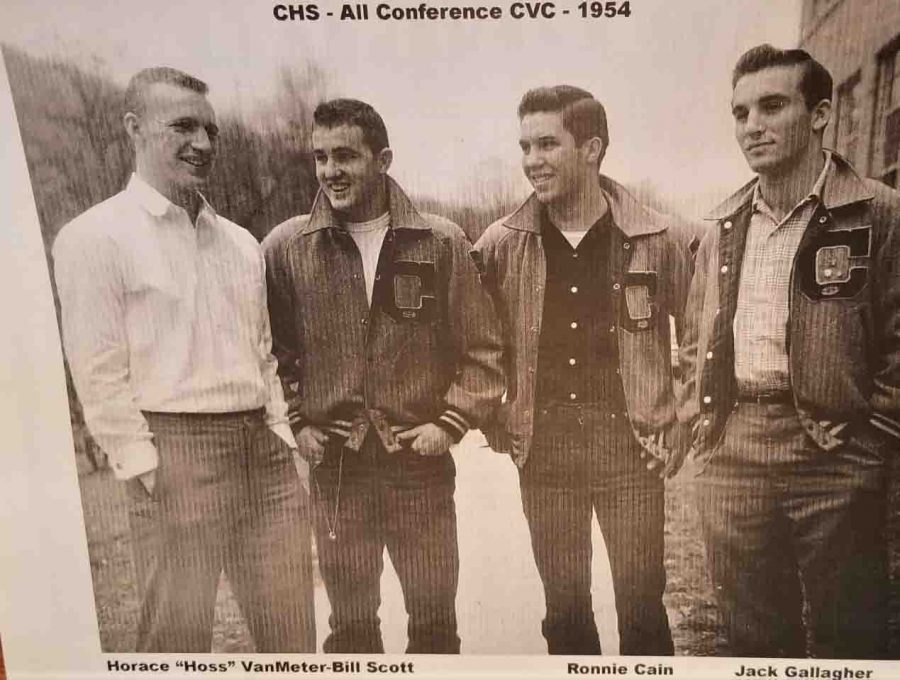 From his perch in the football press box at Cumberland High School, Roland "Pee Wee" Cornett saw most of Harlan County's greatest football players through the years.
He viewed one of the best running back tandems in county history, perhaps the best ever, from a much different perspective in his high school days. Cornett was the wingback in Cumberland's "Notre Dame Box" offense in 1953 and 1954 when fullback Ronnie Cain and tailback Jack Gallagher were all-state running backs and finished 1-2 in the state in scoring. The Redskins were 9-0 in the 1954 regular season, under Roy King. Both Cumberland and Danville were undefeated in the days before the playoffs and agreed to play in Danville with the Admirals winning 13-7 with the help of a late goal-line stand. Cumberland edged Pikeville 7-0 the following week in the Big Sandy Bowl in Paintsville, ending the season 10-1.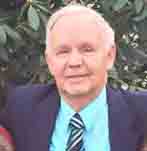 Cornett says the Redskins of 1954 were a senior-dominated team with 10 senior starters on both sides of the ball, but Cain and Gallagher were the stars. Both went on to sign with the University of Kentucky. Cornett has joked that he help turn both players into all-staters with his blocking out of the unorthodox offense that didn't include a quarterback. Cornett also noted that the Redskins played their home games at Benham, some on Monday nights, while the current field at Cumberland was being constructed
"They were both great players but with different styles," said Cornett, a teacher and administrator at Cumberland for many years while serving as the public address announcer during most of that time. "Jackie just wanted me to get in front of him, and he would make a move. He was very elusive. Ronnie told me to get out of the way. He would run over the defender, and me too on occasion. He was a lot like Benny Snell when he was at UK."
While he declined to say which was the best duo of all-time, Cornett also watched another great tandem in the 1990s when Charles Tinsley and Anthony Ravizee starred for the Redskins.
"They were two of the best, if not the best, I have ever coached," said Randy Frazier, who coached the Redskins from 1990 to 1996 and is now the head coach at Pineville after a stint at Middlesboro. "Charles was a strong powerful runner and Anthony was one of those guys you had a hard time touching. He could change direction as well as I have ever seen. They took care of each other on the field and off. In that position, they were the very best tandem I have ever coached. You miss guys like that these days."
Tinsley, a first-team Associated Press all-stater on defense as a senior in 1992, was a finalist for Mr. Football and played professional baseball with the Philadelphia Phillies organization before going on to play linebacker under Roy Kidd at Eastern Kentucky University. He rushed for 3,008 yards over his final two seasons.
Ravizee rushed for 2,360 over his final two seasons and became one of the most prolific ball carriers in Morehead State history. He still ranks second in career rushing yards with 2,930 and holds the second-highest single-season rushing total in program history when he carried the ball 210 times for 1197 net yards in 1997 while also scoring 13 times. During his sophomore campaign in 1995, he became only the fourth-ever MSU player to gain more than 1,000 rushing yards in a season. He accomplished all these accolades despite only being a running back for three seasons. He played defensive back as a freshman.
After a 1-10 mark in 1990, the Redskins turned around almost over night with their explosive running game. Cumberland improved to 10-3 in 1991 and lost 22-7 to Pikeville in the regional finals. The Redskins had their best team in 1992 with Tinsley and Ravizee leading the offense. George Massey was an all-state lineman who went on to play defensive tackle at Kentucky. Sanford Baskin was a star tight end who went on to Eastern. Jon Evans was a standout quarterback.
The Redskins were 9-4 in 1992 and had their best chance to win a regional title since the 1986 squad advanced to the state finals. Cumberland fell 8-7 at Pikeville in the regional finals, the second of four straight years that the Redskins were eliminated by the Panthers.
"Tinsley and Ravizee let their postsecondary play speak for them. The two of them were amazing," said former Evarts and Perry Central coach Ovie Canady, who was a standout linemen for the Wildcats in the early 1990s. "I hated facing them as a player. Charles not only was a special athlete, he would hit you so hard you'd feel it the next day. I think his two sacks his senior year at EKU (against Tim Couch at UK) validates him as one of the best to play in the county. I'm pretty sure his running mate went on to become the leading rusher at Morehead. That's a significant achievement."
Canady knows something about standout running backs as he blocked for Scott Russell and Brad Kirby in the 1990s, including the 13-1 team in 1990 that won the only regional championship in Evarts history with an 8-7 victory at Pikeville. Russell went on to win Kentucky's Mr. Football honors in 1991 with a state record 7,090 yards rushing. Kirby was also a standout running back and defensive back who was often overshadowed by his teammate but was a key player in the Cats' run to the state semifinals.
"Scott Russell was the heart and soul of our football team back then. He received all the accolades and deservedly so. He ran with power. He had the most amazing balance I've seen in a high school back in person until I saw Derek Homer years later. Scotty was a great leader. I never once remember him complaining over blocking but he was the first to credit his team," Canady said. "His running mate, Brad Kirby, was a heck of a high school football player. He did a lot of the grunt work but when he got his chances with the ball he excelled at that also. I can remember Brad being touted as one of the top defensive backs in the state at that time as well. Both players were great to be around and were great complements to one another."
Canady joined Tom Larkey's coaching staff at Harlan County in 2008 following the merger of Cawood, Cumberland and Evarts, and the Bears found immediate success with regional titles in 2010 and 2012 and a runner-up finish in 2011 with one of the state's most devastating ground attacks. Nathaniel Gilliam ran for 1,869 yards in the Bears' first season and his only one at HCHS after three strong years at Cumberland. Marcus McMillian and Jake Middleton each went over 1,000 yards in 2011 with McMillian running for 2,010 and Middleton adding 1,420. Middleton gained a school record 2,141 yards as a senior in 2012. Carson Whitehead (1,277) and Fred Massey (1,186) each topped the century mark in 2013.
"During my time helping Tom Larkey, our running game was special. We were at the top of the state many times," Canady said. "We had some amazing duos. Jake Middleton was a power runner with good speed. Marcus McMillian was a very quick back with great ability to make people miss and break tackles. He had great strength for his size. Jake was a tireless worked. He was a leader by example for that group. I remember his breakout game at Perry in 2010. We were struggling to move the ball at first. We insert Jake and, bam, we ran all over them, winning 50-6. Marcus was always solid and dependable. He took care of the ball and was a threat to break on for 80 yards at any time. Jake not only was a part of that duo. He was also part another fantastic duo. He was paired with Carson Whitehead. Ironically, Carson's breakout game was against Perry in 2012. He was dragging guys all over the field."
Joe Washington is considered by some to be the greatest running back in county history before moving on to Eastern. Washington ran for 166 yards on 23 carries and Mickey Roscoe added 121 yards on 22 carries and each scored a touchdown in the first quarter as Lynch defeated Frankfort 14-6.
Lynch, led by Johnny Powell's 225 rushing yards and Adam "Bull" Hoiska's three touchdowns, routed Henderson Douglass 40-0 at UK's Stoll Field to win the first Class A state title in 1959.
Lowell Flanary was a second-team all-state selection in 1962 and was a key member of Lynch squads that finished as the state runner-up in 1961 and 1962.
———
There were many other great running backs through the years with memorable individual seasons and careers.
Harlan's Hugh "Booney" Black established a Kentucky high school football record at the time by scoring 238 points for the unbeaten 1950 Cumberland Valley Conference champion Green Dragons. Black narrowly missed a state scoring title as a sophomore when he gave up a touchdown by pitching back to center Ben Cox while in the clear for an easy score. His 154 points in 1948 only trailed Louisa's Dave Preston by three points for the state scoring crown. Black earned first team all-state honors on three occasions and was the leading vote-getter for the 1950 squad selected by the Louisville Courier-Journal.
Andrew Link holds the Harlan school record with 3,971 yards rushing from 2006 to 2009. Teddy Thompson ran for 3,741 yards from 2003 to 2005. T.J. Dunson was the star on Harlan's 1996 district championship team and ran for 3,072 yards. Star backs in the late 70s were Ray Mason and Vic Mills, followed by Kelly Raglin and Duncan Jacobs in the early 80s.
Evarts' Perky Bryant earned 13 varsity letters in four sports before going on to a standout football career at the University of Kentucky. Bryant saw action as a fullback at UK between 1961 and 1963. He ranked ninth in the SEC with 326 rush yards in 1962 as part of the fabled "Thin Thirty" Wildcats. Bryant also keyed one of the great football teams in Evarts history as he led the 1959 'Cats to an 11-1 record during his senior year. EHS finished second in the Cumberland Valley Conference with only a 7-6 loss to eventual Class A state champ Lynch. The Wildcats downed Harlan in the Black Diamond Bowl. Bryant scored 195 points in his senior season and tied for 15th in voting for the Louisville Courier-Journal's top high school football players of the 1950s.
Homer Goins followed Bryant as a star running back for the Wildcats and also went on to play at Kentucky. Rex Estridge was a star running back for Charlie's Hunter's outstanding teams in the late 1960s and earned all-state honors in 1968. Russell has the school and county record for Evarts with his work from 1988 to 1991 and was named to the all-state team twice. He played with several other great running backs, including Kirby, as well as Doug Martin and Scottie Napier. Zack Thomas came along later and is second in modern stats with 2,566 yards, followed by Josh Snelling, Jason Snelling and Frank Middleton.
Rick Fox was a standout running back/linebacker at Cawood in the early years of the program before going on to play at Morehead. Frank McDaniel was an all-state fullback and defensive end and was a member of Cawood's regional championship team in 1975 before going on to play tight end at Kentucky. David Wright, Frank Carr and Roger Broyles were other standout running backs for the Trojans in the 1970s. David Hensley was an all-state running back for Cawood in the early 80s and ran for just under 3,000 yards in his final two seasons of 1981 and 1982 before going on to play at Eastern Kentucky University. Tommy Hensley was a star running back/defensive back on Jim Cullivan's teams in the mid 80s. Russell Alred led Cawood's running game in the late 80s and went on to play at Centre. Hiram Fields ran for 3,324 yards in the late 90s as a four-year starter under coach John Luttrell. Jacob Napier and Michael White each topped 2,000 yards in the first decade of the 21st Century.
Bobby McIlquham appeared on his way to being the best running back in Cumberland history before a knee injury sidelined him as a senior in 1983 after the Skins had made back-to-back appearances in the Class A state finals. Edward "Pee Wee" Clark provided a second threat for the Redskins when quarterback Freddie Maggard led them to the state finals in 1986. Tinsley and Ravizee were stars in the 1990s, along with Tim Dixon later in the decade. Gilliam ended up with 4,281 yards with three seasons at Cumberland and one at HCHS.
Quintin Mickens helped lead the Black Bears to their third regional title in 2017 and finished with 1,668 yards for his career to rank sixth in school history. Dylan Cornett ranked third behind McMillian and Middleton with 1,988 yards from 2012 to 2015.