As shots start to fall, HCHS pulls away for win at Middlesboro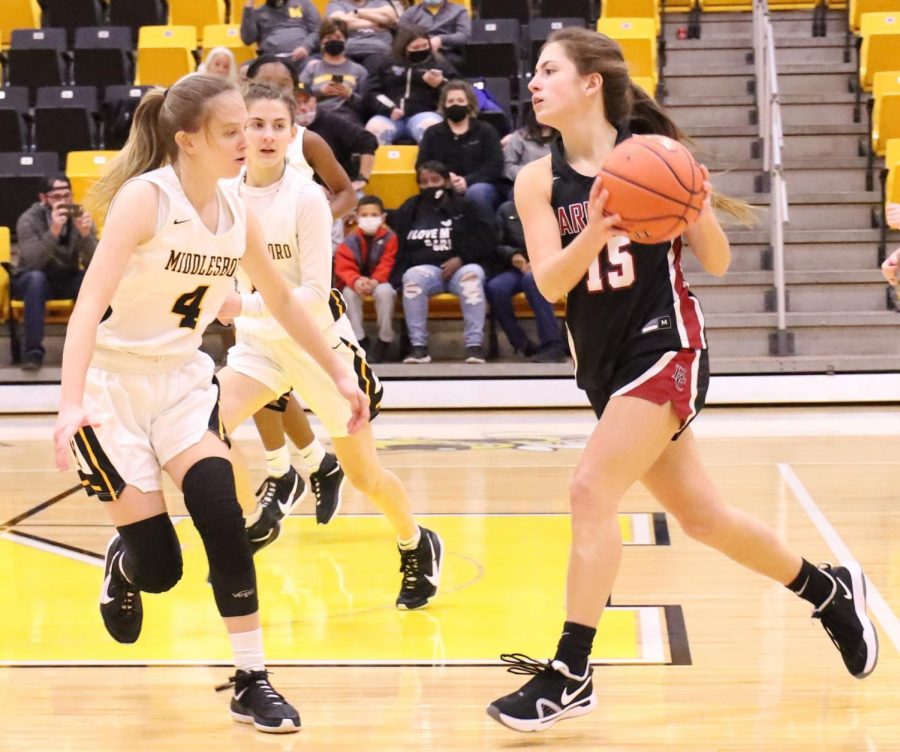 MIDDLESBORO — Trailing 7-2 midway through the first quarter and in danger of their fourth loss in five games, the Harlan County Lady Bears found a way to shake themselves out of their early-season malaise.
The Lady Bears held Middlesboro without a basket over the final 11 minutes of the first half to ignite a 26-3 run on the way to a 64-46 district victory Tuesday.
Senior guard Jacey Lewis broke out of her shooting slump with four 3-pointers in a 19-point effort. Freshman point guard Ella Karst took over in the second half and also finished with 19. Senior forward Kassy Owens had a strong game in several areas with 10 points and 11 rebounds as the Lady Bears improved to 2-3 overall and 1-1 in district action.
The goal tends to grow when you see shots go down. I could see our confidence grow in areas we had been struggling," Harlan County coach Anthony Nolan said. "Jacey stepped up and played like we need her to tonight. Ella plays hard every possession, and we are confident in her making plays. We also got big minutes from our bench tonight. Taylor (Lunsford) gave us strong minutes inside and Taytum (Griffin) gave a spark also."
Middlesboro (2-5) was led by junior forward Kailey Owens with 22 points and senior guard Grace Gent with 15.
Lewis and Taylor Lunsford each converted three-point plays to help HCHS turn the momentum in the opening period. Lewis added a 3-pointer to give the Lady Bears an 11-7 lead after one quarter.
Owens had two baskets in the second period as HCHS moved out to a 28-10 halftime lead by limiting Middlesboro to zero-of-10 shooting from the field in the quarter.
Lewis, Karst and Owens each had two baskets in the third quarter to lead the Lady Bears. Owens and Gent each had two baskets for Middlesboro as the two teams each scored 16 points.
Both offenses picked up in a run-and-gun fourth quarter that featured 20 points for each team. Owens had three baskets for Middlesboro while Karst had three in transition for Harlan County.
Harlan County returns to action Thursday at Harlan. Middlesboro will play at Bell County on Friday in a girls/boys district doubleheader.