Lady Bears take control in fourth quarter to defeat Harlan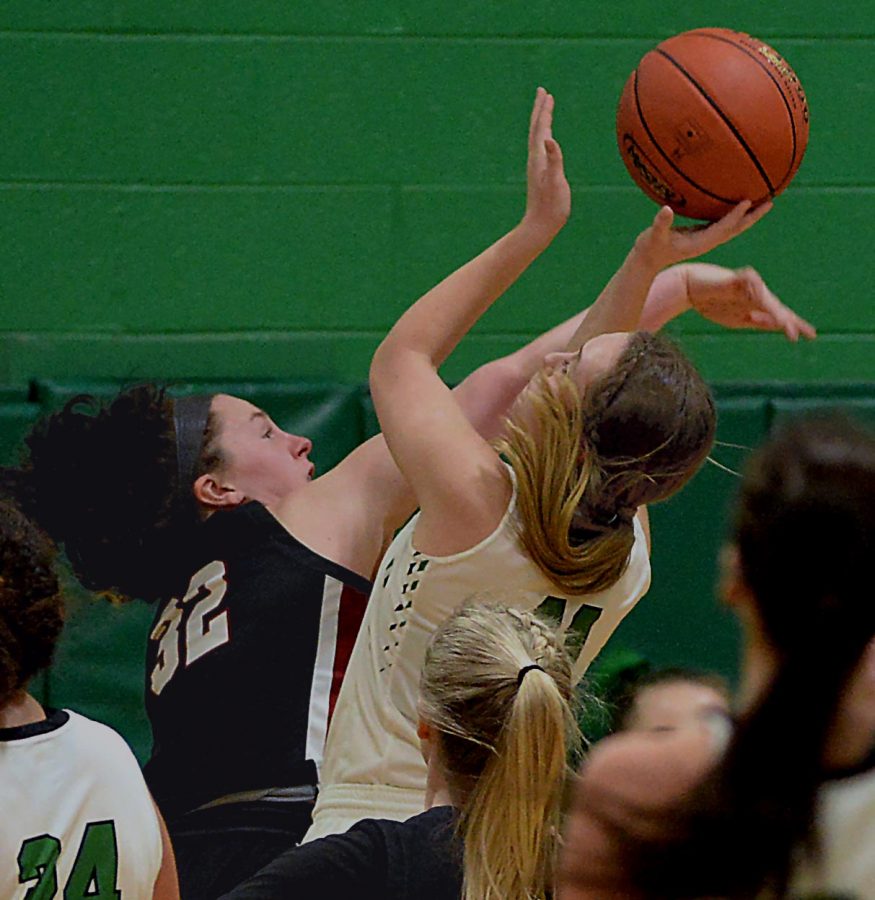 Opponents in the 13th Region Tournament finals only four years ago, the Harlan County Lady Bears and Harlan Lady Dragons have found themselves at a much different place in 2021.
The two county rivals squared off Thursday in a game dominated by turnovers (53 combined) and missed shots (84 between them). The game was tied at 31 going into the fourth quarter when Harlan County put together four good minutes, reeling off seven unanswered points while hitting four straight shots in an 11-2 run on the way to a 53-45 victory.
"That's the way it should have looked for four quarters instead of four minutes. The kids get so wrapped up in the rivalry and it was wild," Harlan County coach Anthony Nolan said. "When we settled down in the second half and executed, that's the way it should look. We played well and executed during a couple of segments. Other than that, the game was wild and undisciplined."
Harlan County shot 25 percent (13 of 51) from the field and 54 percent (24 of 49) from the line. Harlan shot 18 percent (10 of 56) from the field and 54 percent (21 of 39) from the line. Harlan had 28 turnovers while HCHS had 25 turnovers, but only two in the decisive fourth quarter.
"We didn't shoot well. I think the stats show that," Harlan coach Tiffany Hamm said. "I felt this defeat was on us. We didn't control things we can control, like layups and free throws. You can't control a ton in this game but you can control that. There are things we can clean up, but I'm still very confident about our situation in the district."
"We have to take more pride and value the ball," Nolan said. "We were taking the first available shot, and that's not our style. We were shooting 3s on the fast break, and that's not our style. We were forcing bad passes and didn't play our roles. We also have to hit free throws. We were caught up in the emotion of the game, but that's behind us. This is a tough road win. Harlan plays hard. Any time you get a district win on the road it's big."
Senior guard Jacey Lewis hit consecutive shots in the decisive run as part of her 14-point night to lead the 3-3 Lady Bears. Junior forward Jaylin Smith added 11 points.
Freshman forward Aymanni Wynn led the 0-4 Lady Dragons with 15 points and 10 rebounds.
Senior forward Kassy Owens, who led both teams with 14 rebounds, scored off a turnover to end the 7-0 run in the fourth quarter and give HCHS a 42-33 lead with 5:44 to play. Harlan missed its first 11 shots from the field in the period as the Lady Bears extended their advantage to 48-37 before Wynn broke the drought with a 3-pointer. A three-point play by Faith Hoskins cut the deficit to 48-43 with 50 seconds left. Jaylin Smith and Ella Karst put the game away at the free throw line.
The first quarter was especially ugly with 11 turnovers on each side. Harlan County hit only two of 14 shots and Harlan hit one of eight but took an 8-6 lead by the end of the period on a 3-pointer by Angel Wynn.
Harlan built its biggest lead at 21-16 with 1:17 left in the half on a putback by Kylie Noe to cap a 6-1 run. Karst, Kylie Jones and Taylor Lunsford scored in a 5-0 run to pull the Lady Bears even at 21-all going into the break.
Each team scored 10 points in the third quarter as HCHS hit three of 14 shots and Harlan hit two of 14, both continuing a game-long trend of missing open shots.
Both teams return to action Saturday as Harlan plays host to Leslie County and Harlan County is at home against Knott Central.