Bears grab momentum in second half on way to win over Breathitt County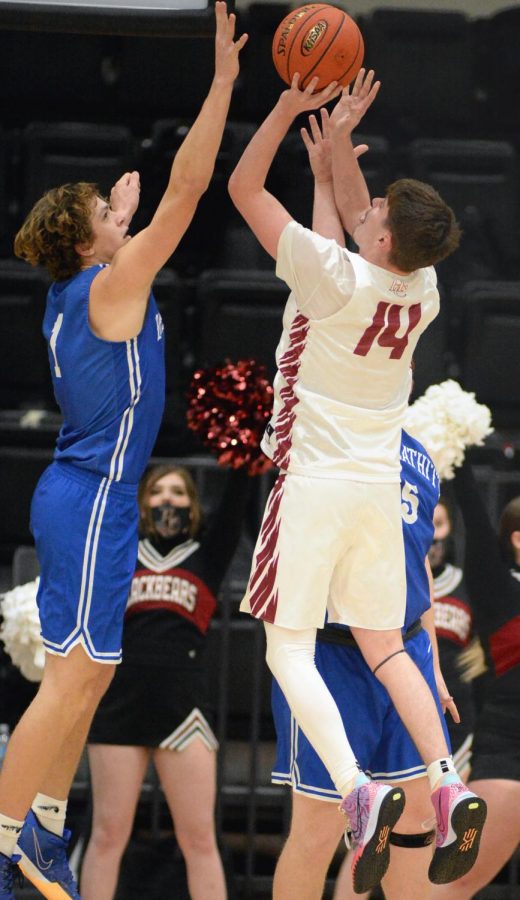 In a matchup of two of eastern Kentucky's top teams, the Harlan County Black Bears took visiting Breathitt County's best shot early then took over in the second half on the way to a 77-67 victory Tuesday.
Breathitt hit eight of its first nine shots in racing to a 19-10 lead before HCHS battled back to within four after one quarter and within one at halftime. The Bears turned up the pressure on the defensive end in the second half and grabbed the momentum
"They shot it very well the first half and they are as athletic from one to six as any team we've played all year," Harlan County coach Michael Jones said. "I tried to tell the kids that. They have a really nice club."
Breathitt shot 54 percent (14 of 26) in the first half before cooling off to 45 percent (14 of 31) in the second half while watching the Bears take control of the backboards.
"We did a really good job of running our stuff and shared the ball the really well," Breathitt County coach John Noble said. "We got a lot of paint-touch 3s, which is where we're good at. When the shooting fades, everything else has to get better. They killed us on the boards. They got up on us a little bit and slowed us down offensively, but I keep coming back to rebound."
A 3-point outburst by sophomore guard Daniel Carmical sparked the Bears to a 16-5 run in the third quarter that turned a one-point deficit into a 51-41 lead. Carmical hit four straight 3-pointers as part of a 17-point performance.
"He got hot and that turned the tide in their favor," Noble said. "They are a good basketball team, and coach Jones does a good job with them. They didn't do anything we didn't expect, but we didn't do enough little things."
"It was nice to see him come out of the little slump he was in," Jones said. "Once he makes one, his confidence skyrockets and he could hit 20 in a row. I was also really proud of Tyler (Cole) and Trent (Noah) for attacking downhill and getting in the paint. It makes us better when they play that way."
Trent Noah, who led the 14-4 Bears with 27 points, and Tyler Cole, who added 17, each had two baskets in the third quarter as the built a 57-45 advantage going into the final period
Freshman guard Austin Sperry, who led the 12-4 Bobcats with 26 points, was limited to only one basket in the fourth quarter. The Bears moved out to a 68-54 lead on consecutive baskets by Noah, Cole and Josh Turner.
"We played harder after the halftime talk," Jones said. "We felt like we needed to get it out of (Sperry's) hands as much as possible. He's a heck of a freshman. I thought we wore him down ant that was the difference in the game"
Luke Bellamy and Tyler Christy added 16 and 12 points, respectively, for the Bobcats.
Harlan County will play host to Whitley County on Thursday. Breathitt County is at home against Perry Central on Thursday.
———
Harlan County evened its junior varsity record at 3-3 with a 45-35 win.
Sophomore guard Jeremiah Clem scored 15 points and freshman guard Caleb Johnson added 11 to lead the Bears. Ethan Rhymer scored seven, followed by Tristan Cooper with six, Jared Rhymer with four and Samuel Henson with two.
Issac Bellamy led Breathitt County with 14 points. Dillon Stacy and Caden Turner scored six each. Aaron Stallard added four. Blake Ritchie scored three. Jaxon Hamilton chipped in with two.